The 'American Crime' Cast Got Even Better For S3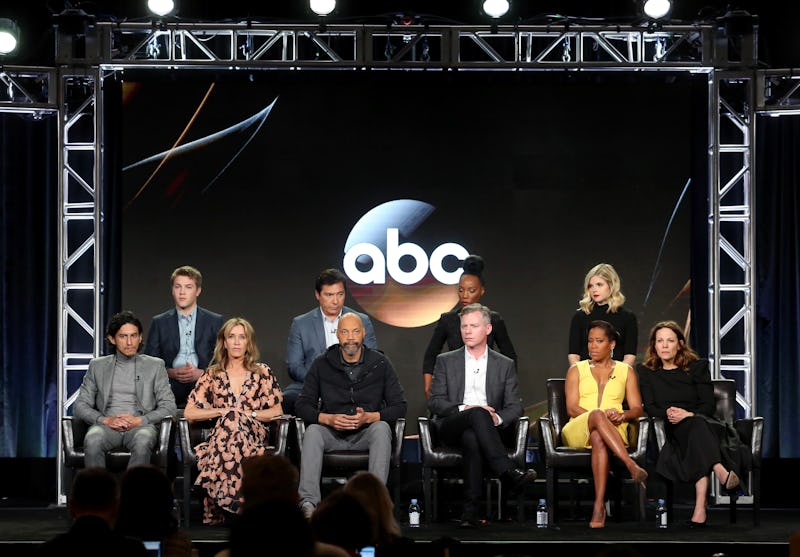 Frederick M. Brown/Getty Images Entertainment/Getty Images
The key to any anthology series is its cast; Ryan Murphy proved that with American Horror Story, the show that kicked off our current anthology craze with its roster of talented actors like Jessica Lange and Sarah Paulson. And the American Crime cast has already solidified its place next to AHS in the anthology series canon — as evidenced by its plethora of critical accolades and Emmy nominations — despite the fact that ABC's entry in the genre has only been around for two seasons compared to AHS' six. Now entering its highly-anticipated third season, the show created by Oscar-winner John Ridley (12 Years A Slave) is mixing veterans of the franchise with big-name newcomers to create American Crime's most potent cast list yet.
Of course, not every anthology series retains the same cast members every year; True Detective and Fargo both completely reset the onscreen talent with each iteration — and it remains to be seen whether any actors from Feud: Bette And Joan will remain onboard for Season 2's Charles And Diana. But we should thank our lucky stars that American Crime retains the same core cast from year to year, since it means we get to see award-winning actors like Felicity Huffman and Regina King craft breathtakingly different and compelling characters every year.
Here's who you'll see onscreen — some for the second or third time, some for the first — when you tune into the American Crime Season 3 premiere this Sunday.
1. Felicity Huffman
Huffman has been a main cast member in all three seasons of American Crime. In Season 1, she played Barb Hanlon, the grieving mother of murder victim Matt. In Season 2, she played Leslie Graham, the principal of a prestigious private school that's rocked by a sexual assault scandal. And in Season 3, she'll play Jeanette Hesby, a member of a family who runs a farm and finds herself troubled by the family's exploitation of undocumented workers.
Huffman was nominated for one Emmy and one Golden Globe each for her work on both prior seasons of American Crime; she also has two more Emmy nominations, five more Golden Globe noms, and one Oscar nom for her work on shows like Desperate Housewives and Sports Night and in the 2005 film Transamerica.
2. Regina King
King was a recurring presence in the show's first season as Aliyah Shadeed, the Islamic convert sister of murder suspect Carter Nix. She was promoted to a series regular in Season 2 for the role of Terry LaCroix, a protective mother whose son was embroiled in a sexual assault scandal. In Season 3, she remains a main cast member as Kimara Walters, a social worker attempting to help a teenage sex worker.
King won an Emmy Award for her work on both prior seasons of American Crime, and she can also currently be seen on HBO's The Leftovers.
3. Connor Jessup
Jessup was a newcomer to American Crime last year, when he played Taylor Blaine, the traumatized victim of sexual assault. This year he'll remain a series regular on the show in a very different role: Coy Henson, a young drug addict. You may also have seen him on TNT's sci-fi drama Falling Skies.
4. Richard Cabral
Cabral started his tenure on American Crime as a series regular in Season 1, playing former gang member Hector Tontz. He had a more minor part in Season 2 in the recurring role of computer hacker Sebastian De La Torre; but he'll be back to full-time status in Season 3, playing Isaac Castillo, the crew chief on the Hesby family farm. Cabral also currently has a recurring role on FOX's small screen adaptation of Lethal Weapon.
5. Benito Martinez
Like Cabral, Martinez started in Season 1 as a series regular, playing Alonzo Gutierrez (the hardworking father of a murder suspect), but was only a recurring presence in Season 2 as Dominic Calderon, a member of the school board who opposed Principal Graham. Also like Cabral, he's back to main status the third time around, as Luis Salazar, a man searching for his missing son. Martinez also just wrapped work on How To Get Away With Murder Season 3, on which he played the conniving D.A. Denver.
6. Timothy Hutton
Hutton was a main member of the cast in both of American Crime's first two seasons: as Russ Skokie, the grieving father of a murder victim, in Season 1; and as Dan Sullivan, the coach of a basketball team embroiled in scandal in Season 2. Season 3 will be his first time taking a step back, playing the recurring role of Nicholas Coates, a man who hires a Haitian au pair. Hutton is one of the youngest Oscar winners of all time, taking home the Supporting Actor trophy for 1980's Ordinary People when he was only 20 years old.
7. Lili Taylor
Taylor started her American Crime career in Season 1 in the recurring role of Nancy Straumberg, a victims' rights advocate. Season 2 saw her step up to the main cast as Anne Blaine, the mother of a sexual assault victim. Now Season 3 will see her back in recurring status as Clair Coats, the wife of Hutton's Nicholas. Taylor has been nominated for three Emmys for her work on American Crime, Six Feet Under, and The X-Files.
8. Cherry Jones
As Laurie Ann Hesby, the oldest sibling of the Hesby family farm, this is Jones' first season on American Crime. But viewers will likely still recognize her from her roles in movies like Erin Brockovich, Signs, and The Village, or on TV shows like Transparent, Black Mirror, and 24 — the latter of which earned her an Emmy role for her performance as President Allison Taylor.
9. Tim DeKay
This is also DeKay's first time at the American Crime rodeo; he'll be portraying J.D., one of the three Hesby siblings, in Season 3. The actor is most famous for his starring role on USA's White Collar, but you may also know him from his parts on Party Of Five, Sports Night, Everwood, Carnivàle, The New Adventures Of Old Christine, Marvel's Agents Of S.H.I.E.L.D., and more.
10. Dallas Roberts
Roberts will portray Carson Hesby, brother of Laurie Ann and J.D. and husband of Jeanette, in his first role on American Crime. Viewers may recognize him as Woodbury doctor Milton Mamet from Season 3 of The Walking Dead, as Major Crimes boss Elliot Delson on Unforgettable, or as Alicia Florrick's gay brother Owen Cavanaugh on The Good Wife.
11. Sandra Oh
Her performance as social worker Abby Tanaka won't just be Oh's first role on American Crime; it will also be the actress' first recurring presence on a live action TV show since departing Grey's Anatomy three years ago after 10 seasons on ABC's medical drama. Her other prominent credits include the HBO sitcom Arli$$ and movies such as The Princess Diaries, Under The Tuscan Sun, Sideways, Hard Candy, For Your Consideration, Rabbit Hole, and Catfight, which is currently in theaters.
12. Janel Moloney
Single mother Raelyn will be Moloney's first role on American Crime — but like co-star Regina King, she also currently appears on HBO's The Leftovers. You're also probably familiar with her from her long-running role as Donna Moss on The West Wing.
See this terrific cast in action when American Crime Season 3 premieres this Sunday, Mar. 12, at 10:00 p.m. ET.