Keri Russell & Matthew Rhys Weigh In On Why That Brutal 'Americans' Finale Was Also "Very Fair"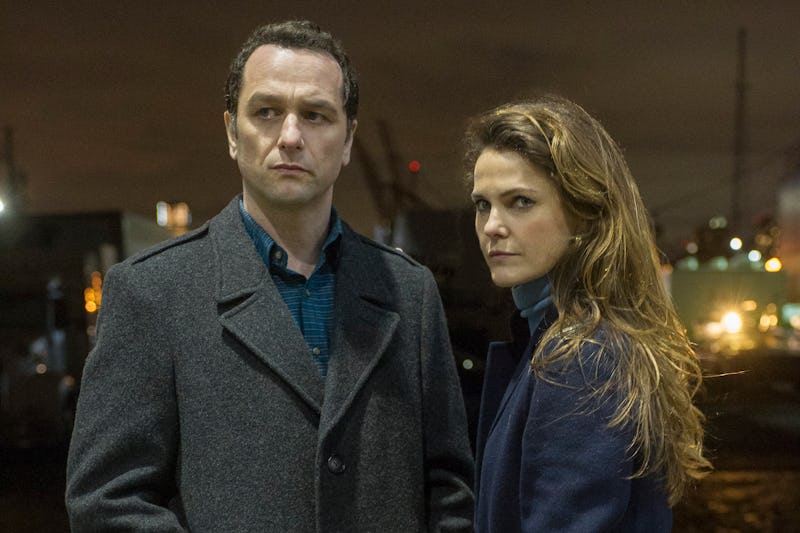 Jeffrey Neira/FX
"I'm glad this is ending." Those maybe aren't the words you'd expect the star of one of television's most acclaimed dramas to say in regards to that show's dreaded swan song. But in a conference call ahead of series finale of The Americans, Keri Russell can't help but express a bit of relief. As for how The Americans ends, she and co-star Matthew Rhys seem pretty content with where they're leaving these characters. MAJOR spoilers for The Americans series finale ahead.
"As sad as I am to go, it just feels like the right time," Russell tells reporters. "I would hate to be involved with something that I thought was creatively so interesting and then watch it sort of peter out. As much as this sixth and final season coming to a head was hard, in some ways it felt right. So that was sort of comforting."
The show's hard-working stars have also earned a bit of a break after all those wig changes and chase scenes. "To be totally honest, especially at the beginning of the season I was working so many nights that I was so tired most of the time that I think I was probably like, you know, 'I'm glad this is ending because I can't do this anymore.'" Russell confesses.
After months of speculation from fans about how The Americans would end — Would Philip and Elizabeth get killed? Get arrested? Get away with it? — the series finale, "START," wraps up in perhaps the most devastating way possible: the married spies are forced to return to Russia after their next-door neighbor Stan uncovers the truth… but without either of their children, both of whom remain behind in the States to face the mess their parents had left behind.
In regards to whether the Jennings' truly "deserved" this brutal ending, Rhys thinks it "was very fair," considering all they'd done over the course of the series.
"There was such an expensive cost they had to pay for the price of their newfound freedom," he says. "You know, on one hand they spent their life living a lie. I'm sure the relief from not doing that would be enormous, but the cost of not being with your children — and the betrayal and abandonment of your children — is kind of unfathomable."
Russell agrees: "One could have died or one could have gone to prison or something, but to take your kids away is pretty hardcore," she says. "I don't know about deserved. I don't know what anyone deserves, you know. But I think it fits with the show and it was good storytelling."
Given that, at its core, The Americans has always been a show about marriage, Rhys thinks it's appropriate that the finale ends with Philip and Elizabeth both alive and together, with only each other to lean on. "You don't really know how it will work out. Ultimately, the only allies that they have are each other," he says. But at least "they have someone else who understands this incredible journey they've been on."
His co-star echoes this sentiment, saying that while, "It's pretty devastating what the loss of children will do to a marriage," Russell is hopeful that things will working for the Jenningses. "When we were talking about this scene, about those end moments, I think what [showrunners Joe Weisberg and Joel Fields] wanted to convey — which was hard at times — was, no matter what, we're going to have each other. We've come this far together and we're going to get each other through this. And ultimately it was this story of this marriage, of this relationship. So I think the hope is that they will pull each other through this moment."
Russell sees a silver lining in the bleak conclusion in one other way. "We obviously know in today's age that the Berlin Wall does fall and Communism doesn't win," she says. "The hope is that, in a couple of years, they'll go back and try to find the kids. But that's the only saving grace I have as a parent, you know, as a fan of the show, is to go, 'Oh, but it's all going to change in a couple of years and they can go back and find them.'"
There are plenty of devastating scenes in the finale leading up to their ultimate fate — Philip's face-off with Stan, Paige's decision to get off the train — but Rhys singles out the phone call with Henry as his favorite moment of the final episode. Incidentally, the Jennings' farewell to their son was also their farewell to the series itself. "Ironically, it was the last scene in the season we ever shot, and it was in a snowstorm at 4:30 a.m. So, a lot of things going on during that one," he says.
While that was the last big sequence they worked on, Russell reveals that it wasn't actually the last shot recorded. After filming the Henry scene, she and Rhys had to go back and shoot a "pick-up" (a minor shot taken later to aid in continuity during the editing process) for an earlier episode, "Harvest," the season's seventh installment. "The truth is, there was one tiny little pick-up scene we had to do on another day, which was literally a quick shot of me noticing Philip taking the ax out of the case and going, 'Oh sh*t, he's going to chop her head off.' And that was really the last scene of the whole series. And we all clapped, and… that was the end of The Americans. That's a high and a low right there."
While part of Russell may be a bit relieved that the grueling series is over, there is one thing she's dreading letting go of: working with her fellow Emmy-nominated co-star. "It's sort of like playing tennis with someone; you're only as good as your partner," she says of Rhys, who's also her partner in real life. "So I will definitely miss that. And, you know, just the intimacy you have with someone that you're so familiar with. We had a lot of fun together. I think it's time for it to end before we kill each other, but we had a good run for sure."