The Creators Of 'The Americans' Have Been Planning The Series Finale For Years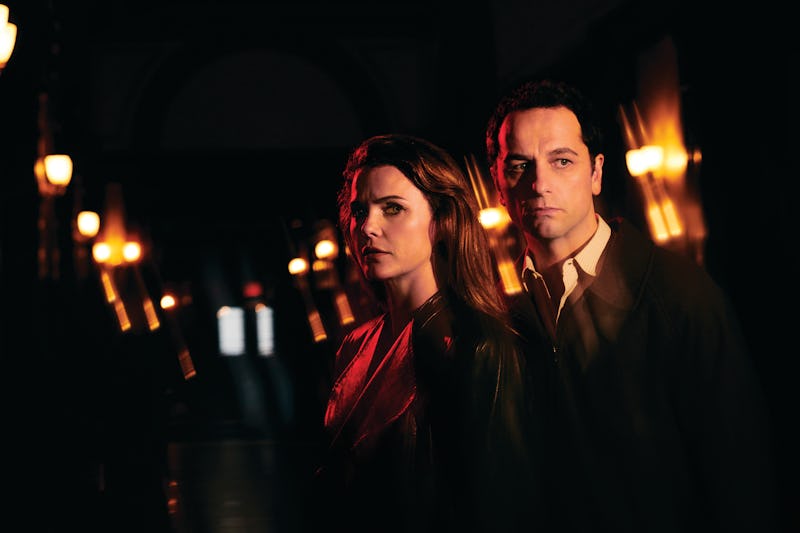 Pari Dukovic/FX
It's the end of an era. I'm not talking about the impending dissolution of the Soviet Union — although Philip and Elizabeth Jennings (if they survive) will soon be faced with the reality that the country they've been fighting for is on the brink of collapse. No, I'm talking about the fact that The Americans won't return for Season 7 after the May 30 Season 6 finale. Ironically titled "START," the hour is not just the end of a terrific season of the FX drama… but a final farewell to the series as a whole.
Although it's always hard to say goodbye to a beloved television show, it should be no small consolation that The Americans is going out on its own terms. It wasn't cancelled early due to low ratings, nor did it outstay its welcome until it became irrelevant; six seasons is a respectable run for any series, and one that allowed the writers to tell a complete story with a promising beginning, a well-crafted middle, and a (hopefully) satisfying end that has been in the works for years.
The end date for The Americans was announced almost exactly two years ago, with the show being renewed for two final seasons as the fourth was ending, giving fans — and the writers — plenty of time to prepare. And showrunners Joel Fields and Joe Weisberg have had a plan for the way their story would wrap up for even longer than that.
"We've had a good idea since Season 2 where we want the show to end, and to our great surprise, that idea has stuck," even in the face of resurging tensions between the United States and Russia, Weisberg told Bustle in advance of the Season 5 premiere last year. "Nothing about the current situation, insane though it is, is going to alter it." As for the call to end the show with Season 6, "We've just felt really good about that decision, from the beginning," Weisberg told Collider in a 2017 interview. "We had the feeling that we had a lot of story let to tell, and that we could tell it in two seasons."
As they approached the endgame through the final two seasons, Fields and Weisberg also narrowed down their possibilities for the story's conclusion. "We've known [the end] for a long time, with three different variations, which are just variations of the same thing," Weisberg told Collider. "As we get closer and closer to it, we're down to one or two variations, instead of three. We always say that we can always change our minds, but I think we're getting closer and closer to thinking that we're not going to change our minds."
Still, that knowledge is likely going to give little solace to fans who are sad to see such a consistently excellent series depart the airwaves. But The Americans is leaving behind a lasting legacy: not just of amazing wigs and musical montages, but of awards and accolades. The series has been a consistent hit with reviewers, being "Certified Fresh" on RottenTomatoes for all six of its seasons and hitting a critical peak with a 100% Fresh rating in Season 3.
It has been nominated for 14 Critics Choice Awards and 14 Emmy Awards, winning two back-to-back Guest Actress Emmys for Margo Martindale. It was awarded with a Peabody in 2014, alongside such programs as Last Week Tonight With John Oliver, Jane The Virgin, and FX's own Fargo. And in 2016, it was named one of the 100 Greatest TV Shows Of All Time by Rolling Stone, coming in at #43, right between the classic '70s detective series Columbo and the formative NYPD Blue, which is often credited as helping to shepherd in the current Golden Age of TV, of which The Americans is a shining example.
So, will Fields' and Weisberg's plan end with one or both of Philip and Elizabeth dead? Arrested? On the run? Will Paige reconcile with her mother? Will anything happen to Henry? Will Renée turn out to be a Russian spy? There are so many questions left to answer… and only one episode left in which to answer them. Tune in to the Americans series finale to find out, but bring a box of tissues — and a bottle of vodka — just in case.