The Best Part Of ASOS' New GLAAD Collaboration Isn't Even The Clothes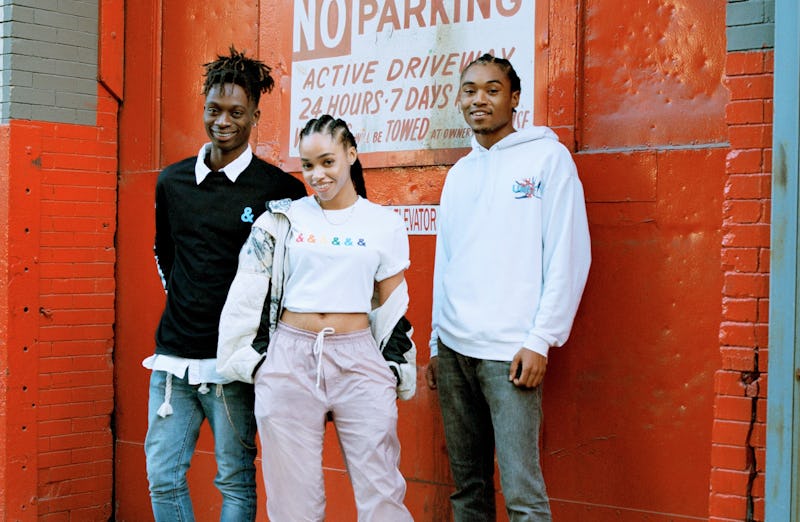 Courtesy of ASOS
ASOS is getting charitable with its newest collection, and you're going to love it. The popular online retailer partnered with GLAAD, the leading LGBTQ media organization, to create a capsule wardrobe that makes a vital statement.
The line is part of GLAAD's "Together" campaign, which launched to push back against the Trump administration's attack on civil rights and regressive orders. The campaign was created to express how now is the time for us to come together and stand for all communities subject to discrimination. GLAAD adopted ampersand, which appears in a light blue circle, as the campaign symbol.
"The ampersand represents the power of our voices together," reads a description of the campaign on GlAAD's Together webpage. "We must stand in unity and resist the forces that seek to divide us. All of us. Because no one is just one identity, and many of us are under attack."
Now you can take that concept and wear it. The ASOS x GLAAD capsule launches Friday, Nov. 3, and is called a "gender-fluid collection" that holds an assortment of streetwear staples and jewelry. And all of it will rock that GLAAD ampersand logo.
Pricing begins at only $8, and proceeds from the collection go directly to GLAAD to support the growth of their work. The face of the campaign is 13 Reasons Why star Tommy Dorfman, along with LGBTQ influencers Richie Shazam and Adam Eli.
"This collaboration reflects the urgency and need to engage in standing up for social issues. Standing on the [sidelines] under the guise of neutrality is no longer enough," ASOS's press release reads. "Duly recognizing this importance, ASOS has teamed up with GLAAD to amplify their message of inclusiveness."
To give you an idea of the capsule, see some of the selection below: