'Baby Driver's Soundtrack Is Too Cool For School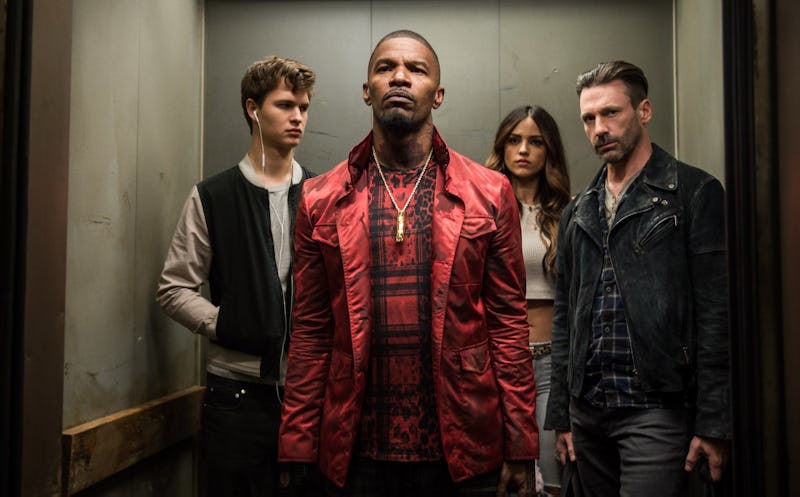 Sony Pictures
Baby Driver is probably the most important film of 2017 — at least sonically. The movie is an action-packed heist/chase film with an ensemble cast full of stars including Ansel Elgort, Lily James, Kevin Spacey, Jon Hamm, and Jamie Foxx, and it's written and directed by cult favorite filmmaker Edgar Wright. Yet, despite all it has going for it, it seems all anyone can talk about is the Baby Driver soundtrack.
The movie if full of music. The film's protagonist is Baby, portrayed by Elgort, a getaway driver for bank robbers. As he suffers from tinnitus, Baby listens to music constantly to drown it out. The music is used throughout the film to coincide with the action, making the film the equivalent of an action movie opera. The soundtrack is available now in mp3, CD, and vinyl formats wherever music is sold, and the track list is immense. The collection consists of 30 songs and covers loads of different genres from several decades. There's classic rock, hip hop, indie rock, R&B, and more; plus three original new tracks: "Easy" by Sky Ferreira, "Chase Me," by Danger Mouse featuring Run The Jewels and Big Boi, and "Was It Easy?" by Kid Koala. You can find the full track list below:
Jon Spencer Blues Explosion – "Bellbottoms"
Bob & Earl – "Harlem Shuffle"
Jonathan Richman & The Modern Lovers – "Egyptian Reggae"
Googie Rene – "Smokey Joe's La La"
The Beach Boys – "Let's Go Away For Awhile"
Carla Thomas – "B-A-B-Y"
Kashmere Stage Band – "Kashmere"
Dave Brubeck – "Unsquare Dance"
The Damned – "Neat Neat Neat"
The Commodores – "Easy"
T. Rex – "Debora"
Beck – "Debra"
Incredible Bongo Band – "Bongolia"
The Detroit Emeralds – "Baby Let Me Take You (in My Arms)"
Alexis Korner – "Early In The Morning"
David McCallum – "The Edge"
Martha Reeves & The Vandellas – "Nowhere To Run"
The Button Down Brass – "Tequila"
Sam & Dave – "When Something Is Wrong With My Baby"
Brenda Holloway – "Every Little Bit Hurts"
Blur – "Intermission"
Focus – "Hocus Pocus"
Golden Earring – "Radar Love"
Barry White – "Never, Never Gone Give Ya Up"
Young MC – "Know How"
Queen – "Brighton Rock"
Sky Ferreira – "Easy"
Simon & Garfunkel – "Baby Driver"
Kid Koala – "Was He Slow"
Danger Mouse (feat. Run The Jewels and Big Boi) – "Chase Me"
And since music is meant to be heard, not seen, here are a few of the standout tracks from the film.
"Chase Me" - Danger Mouse Feat. Run The Jewels & Big Boi
One of the originals for the film, this will pump you up.
"Radar Love" - Golden Earring
A true classic.
"Baby Driver" - Simon & Garfunkel
The title track, sort of.
"Debra" - Beck
Who doesn't love Beck?
"Never, Never Gonna Give You Up" - Barry White
So smooth.
The music is the most important aspect of Baby Driver, and if the film's excellent soundtrack is any indication, the movie should be pretty great, too.