Taylor Swift Has *Finally* Revealed Who The Baby On "Gorgeous" Is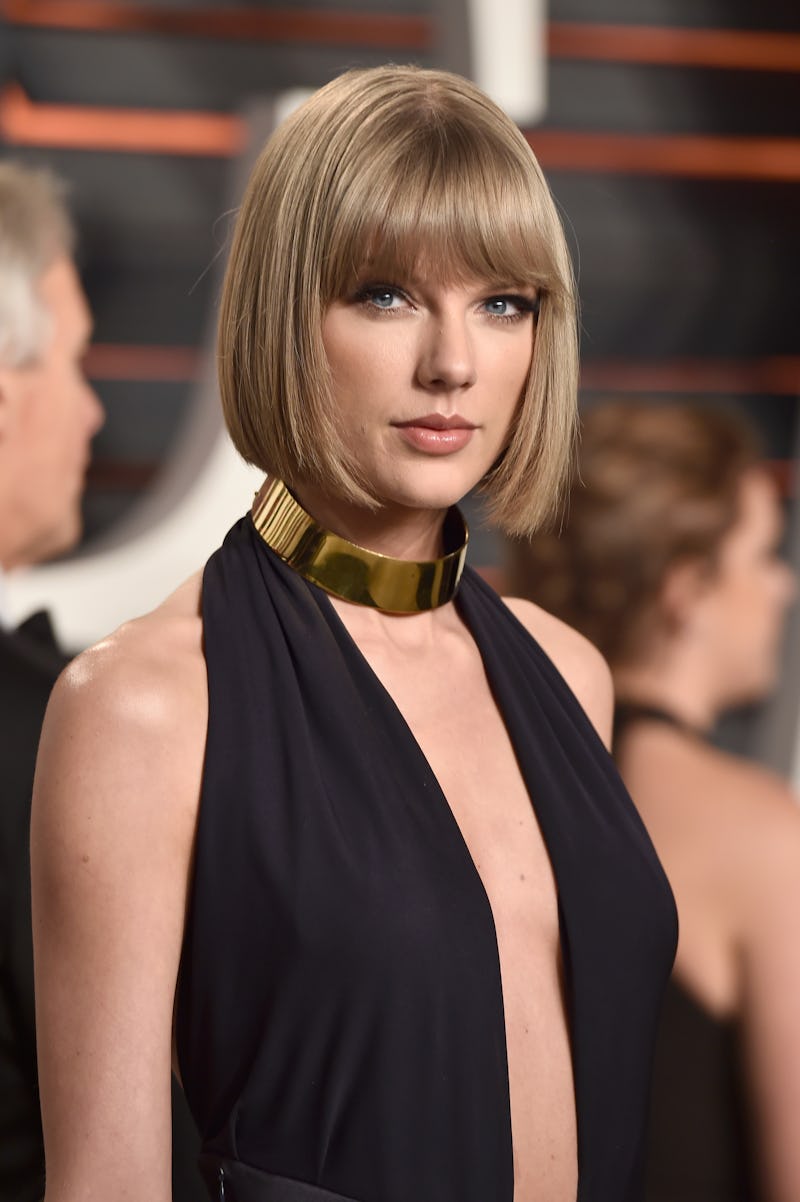 Pascal Le Segretain/Getty Images Entertainment/Getty Images
This might be something that is still bothering Swifties, but now they can rest easy in knowing the truth. As reported by People, the baby on Taylor Swift's "Gorgeous" is James Reynolds. Yes, Blake Lively and Ryan Reynolds' eldest daughter's tiny voice is used in one of the most-anticipated albums of the year. According to the publication, James was credited in Reputation's album booklet as follows: "Baby intro voice by James Reynolds."
One can only imagine how Lively and Reynolds feel about their 2-year-old child being featured in a Taylor Swift song. Hello, James has basically already made it and she's only a toddler. Of course, it would be Lively and Reynolds' child who would become a huge star at just two. Yeah, that sounds about right. Who else is ready for them to provide comment on this? The celebrity couple always seems to know the right thing to say — and they're also freaking hilarious — so you know they would have the best response.
When Swift released "Goregous" in October, she teased it with several Instagram posts, including a video with a child saying the word "gorgeous." Of course, many thought it could be the voice of Swift as a child, but that obviously isn't the case.
People also reported that fans who attended Swift's Secret Sessions, a private listening party for Reputation, were told the voice belongs to James. Apparently, Swift also previously announced on Tumblr that she revealed the piece of information to those who were lucky enough to attend the secret event before her album dropped Friday.
As it usually goes with anything Swift does, but especially her music, her supporters couldn't help but speculate over the child's voice. There were many theories, including that it could belong to her godson, Jaime King's son, Leo. However, soon after the 27-year-old artist announced the release of "Gorgeous", one fan tweeted that both Lively and Reynolds liked Swift's Instagram. At the time of this Swifty's tweet, Bustle searched the "likes" on Swift's IG and confirmed that Lively liked the post, whereas Reynolds' name didn't show up, but he could've simply just unliked it.
Whatever the case, this tweet got fans' talking and wondering if maybe one of the couple's daughters' contributed to the song. Well, that answer is finally known. A Swift fan who seems to have attended a secret session for Reputation, tweeted about how the singer reportedly chose James. "Taylor was with Blake and Ryan at the beach and was playing gorgeous for them on her guitar, and then their daughter, James, kept saying 'gorgeous' over and over .. so Taylor was like, 'could i use that?' and the intro was born," the tweet reads.
For those unaware, Swift is friends with Lively. They made their friendship known in 2015 by sharing Instagram posts from their time at a Queensland theme park in Australia. Of course, who can forget that time Swift, Lively, Reynolds, and Tom Hiddleston took that photo during the Fourth of July in 2016. Their friendship seems to be so much more than holiday celebrations and having fun at theme parks, because, as E! News reported in October 2016, Swift visited Lively and Reynolds after they welcomed their second child, Inez.
Lively and Reynolds are pretty private when it comes to their children. So much so, both James and Inez didn't make their first public appearance until December 2016 during Reynolds' Hollywood Walk of Fame ceremony. As soon as the photos were released, James became a huge star — and not just for her cuteness and her curly blond hair. She made the funniest facial expressions and even strutted around with a microphone in her hand.
Clearly, James is destined for greatness and now that she has made her official debut as a star in "Gorgeous," one can only imagine what's ahead for her.