'Bachelor' Fans Missed This Major BSB Date Moment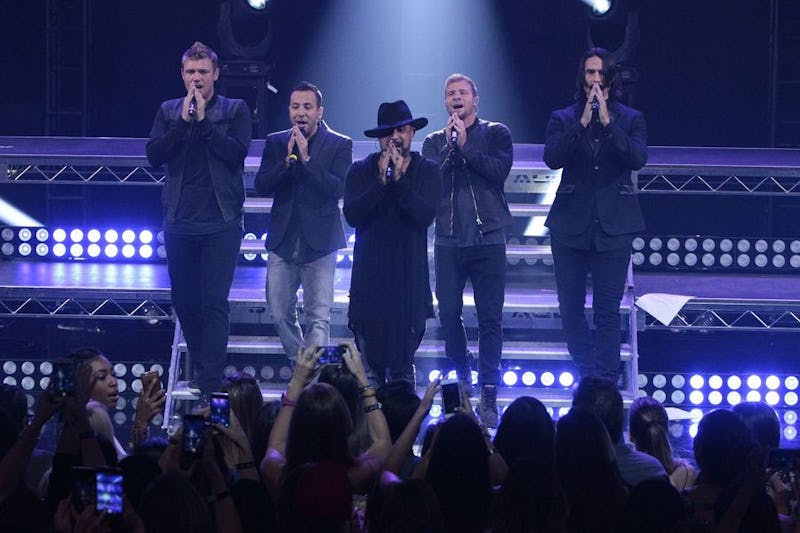 Rick Rowell/ABC
As with all reality TV shows, there's a lot that happens behind-the-scenes on The Bachelor that a casual viewer never sees. After all, editors are condensing days of footage into just two hours, so some stuff is bound to be left on the cutting room floor. Fortunately, sometimes the cast of the show will share some juicy filming details with us fans. That's exactly what happened when Bachelor Nation alum Jared Haibon dropped by Bustle's Bachelor podcast. He spilled some unseen secrets about Nick's Backstreet Boys date — and you won't believe what (or rather, who) the show left out.
On a special episode of Will You Accept This Podcast?, which you can find here, Bustle Senior Entertainment Editor Kelsea Stahler and Romper Senior News & Entertainment Editor Allison Piwowarski chatted with Jared about his good pal Nick (they were on Kaitlyn's Bachelorette season and Bachelor in Paradise together) and how he thinks this season is shaping up for the newest Bachelor. Jared also let listeners in on a little behind-the-scenes knowledge...
Monday's the group date let seven ladies have the amazing opportunity to dance on the stage with none other than the Backstreet Boys. But, what you didn't see is that Becca Tilley and Ashley I. we're actually at the show as well. They even got serenaded on stage just like Nick's Bachelor women. The two former contestants weren't shown during Monday's episode, but Jared confirms that they we're definitely there. He says that Ashley was texting him the entire time, but that they got kicked off stage when Nick and the other ladies showed up.
During his time on the podcast, Jared also opened up about what Nick can do to show the women who he really is, what kind of woman Nick needs (in Jared's opinion), and his many thoughts on Corinne. Make sure you tune in to hear the inside scoop.