'The Bachelorette' & 'Game Of Thrones' Share A Major Connection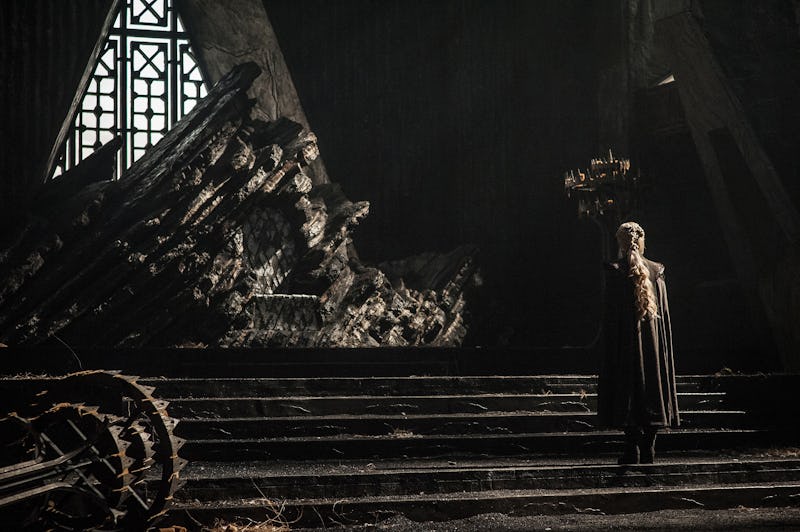 Helen Sloan/courtesy of HBO
Love can be brutal, but not quite as brutal as three hungry dragons, so there doesn't seem to be much of a connection between The Bachelorette and Game of Thrones. But the two hit shows actually have one surprising thing in common: They seemingly have the same travel agent. Rachel revealed on Twitter that Monday's Bachelorette filmed in the same location as Game of Thrones for her overnight date with Eric. The location of their romantic sojourn was the beautiful San Juan de Gaztelugatxe, Spain. That same beautiful, Spanish beach is reportedly the filming location for Dragonstone according to IndieWire, with the area's recognizable staircase featured in the Season 7 premiere. Dragonstone a pivotal location for many reasons, not least because it's now the home of Daenerys Targaryen.
Rachel had her date in the same place that the Mother of Dragons is plotting to take over Westeros? Seems appropriate. They're both strong women with specific points of view, a council of trusted advisors, and would never get married to someone who isn't suitable. According to Eusko Guide, San Juan de Gaztelugatxe was also a location where prisoners of the Spanish Inquisition were held... but I doubt Rachel wants to emulate that. Let's focus on the Game of Thrones connection, because honestly, Rachel is going to need to be just as savvy as a literal military leader when it comes to making her final decision. Lady Olenna warned Dany not to listen to "clever men," and that seems like the Westerosi version of Rachel's family grilling Bryan.
While Rachel is not quite sending her Dothraki hordes after the men who don't fall in love with her, there's definitely a similarity there. The set is reportedly the location where Jon Snow and Daenerys will meet for the first time, which Rachel even references in her Tweet. Even a Spanish tourism board is already hyping the romantic location as the place that the King of the North and the Breaker of Chains will finally see one another for the first time.
Fans have been wondering whether or not those two characters will potentially find love, or at least an alliance-driven marriage by the end of the series, so who knows: Maybe Dragonstone is for lovers? Let's see if Rachel's Bachelorette overnight date with Eric leads to love, and maybe that will either spell success or disaster for the Game of Thrones duo.