The Backstreet Boys Are Launching A Tequila Brand & It's Your Fire, Your One Desire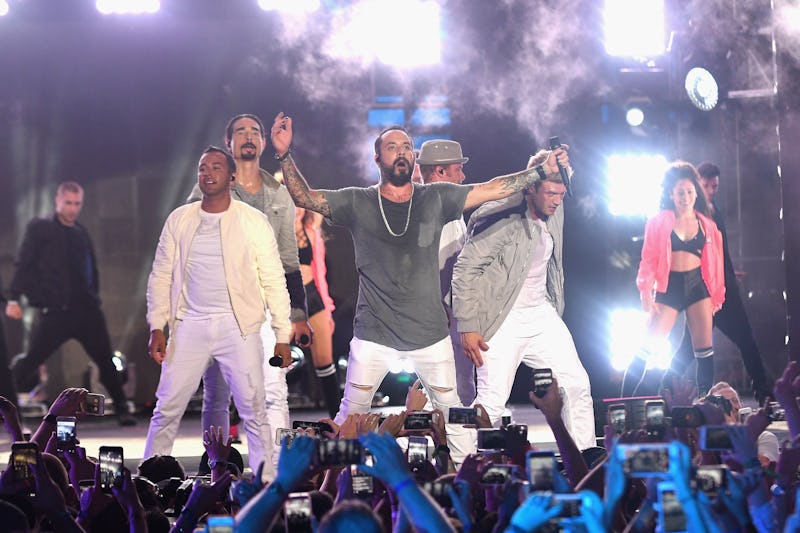 Jason Koerner/Getty Images Entertainment/Getty Images
If you were under the impression that Bon Jovi wine was the greatest pairing of music royalty and alcohol, think again. There's a new pop-booze combo coming to town, and I will be Incomplete until it comes to fruition. Indeed, the Backstreet Boys are launching a tequila brand, a pairing that perfectly encapsulates The Shape of My Heart, seeing as they are the reigning boy band of both the '90s and my Spotify playlists.
The former Boys of Backstreet revealed their new venture to Tasting Table recently, after putting on a two-show performance at Cancun's Moon Palace resort. The interview started innocently enough, with Kevin Richardson musing on his preferred types of tequila.
"I like a good reposado or añejo," Richardson said to Tasting Table, and the jig was up.
"And that leads us into talking about our tequila venture that we'll be coming out with. [We] just need to find a partner here in Mexico," Nick Carter said.
WHAT.
Shoot an arrow Straight Through My Heart!
Indeed, it appears the BSBers are hopping on the tequila train, following in the footsteps of fellow former '90s stars Justin Timberlake (the Backstreet Boys were better than 'NSYNC, don't @ me) who helms the tequila brand Sauza 101; Diddy, who previously purchased DeLeón Tequila; and forever bae George Clooney, who helped co-found tequila brand Casamigos, which was sold to Diageo for about $1 billion over the summer. Clooney: eternal salt-and-pepper hottie, one-time Batman, Hollywood aristocrat, and accidental booze genius/billionaire. Doug Ross never saw it coming.
Few real details exist regarding the Backstreet Boys' new venture, and it seems like they're still in the process of just trying to shop the idea around, both to potential investors and actual tequila producers. Per Tasting Table, in Mexico tequila can only be manufactured in the state of Jalisco, which explains why they're looking for a local partner. Not that it should be too hard — as Tasting Table notes, a celebrity-endorsed tequila brand would be a boon to the local economy, in addition to my apartment's liquor cabinet.
The Backstreet Boys aren't just in Mexico for the booze, though. "I had the most amazing dinner at [one of the resort's] Mexican restaurants," AJ McLean told Tasting Table. "I got to talk to the chef afterwards. The food's been great, and the people have been awesome here. We definitely want to come back [to Moon Palace]; that's for sure."
Might there be a restaurant pairing with the tequila, à la Timberlake's beloved Southern Hospitality chain? Sure, I have to walk through Times Square to get there, but the brisket is palatable, and you never know when Justin's going to show up. A girl can dream.
Whenever this tequila brand does get off the ground, I look forward to throwing my own launch party, complete with tequila-based cocktails like "Quit Playing Games With My Tequila Sunrise"; "More Than That [Tiny Useless Dash of Salt You Put on the Rim of My Margarita, You Miser]; "I'll Be the One [Shot That Puts You Under the Table]"; "I'll Never Break Your [Long-Stemmed Glass Holding This Matador]"; "I Don't Care Who You Are [After Two of These Palomas]"; and "Tequila Slammer Your Body Down And Wind It All Around LOL JK That's the Spice Girls But Same Era, Shrug."
The bad news (for me) is that tequila and I do not mix particularly well, and I can only imagine that upon first imbibing I would be Black and Blue after spending the night Get[ting] Down over a toilet, the porcelain bowl looming Larger Than Life as I regurgitate a "Show Me the Meaning of Being Disgustingly Drunk Off A Tequila Sour."
Tequila ain't nothing but a heartbreak, after all.
Editor's note: This piece was updated from its original version on March 20, 2018.