The Backstreet Boys Went Country At The ACMAs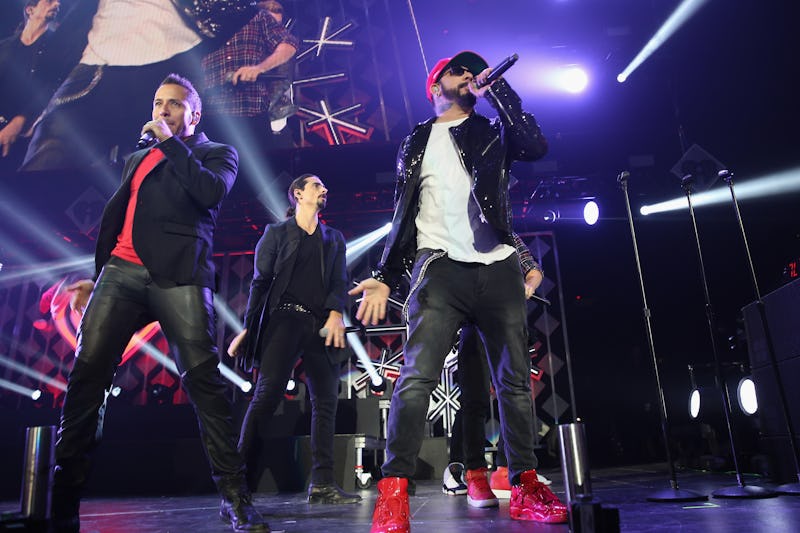 Tasos Katopodis/Getty Images Entertainment/Getty Images
The Academy Of Country Music Awards is famous like the Grammys for bringing together artists of different genres and origins and smashing them together. I like a good mash-up, myself — it's always interesting to see what the producers and artists themselves come up with. Luckily, this year was pretty good — the Backstreet Boys and Florida Georgia Line's Academy Of Country Music Awards performance turned both bands into one country-singing, "Everybody"-dancing super group.
I was mad that the show's producers made me wait until the very end (!) of the show to see this super group from, but hey — ratings! What can you do? If you're asking why the Backstreet Boys were singing on a country music show, the short answer is that this show was taking place in Las Vegas and the Backstreet Boys are pushing their brand-new Las Vegas residency hard (remember their little date on The Bachelor?). The performance started out with Florida Georgia Line's "God, Your Mama, And Me," and just when you thought this was going to be an all-country show, all seven men started singing "Everybody (Backstreet's Back)," and I'll be darned if the audience didn't erupt in delight. You can have a country-loving audience, but since most of the people in said audience are my age (almost 30) and older, they all know the Backstreet Boys and they love them. They can all do the dance moves, too!
I mean, I was doing the dance moves in my living room, too. Even Keith Urban and Tim McGraw were doing the hand-flap motion done in the original choreography. It just goes to show you that you never truly outgrow your favorite boy band. It's also worth noting that now the Backstreet Boys know that they can grab either of the men in Florida Georgia Line if they need a replacement member for the group's Las Vegas residency.