Watch The Backstreet Boys Perform 'I Want It That Way' With Classroom Toys For An Epic TBT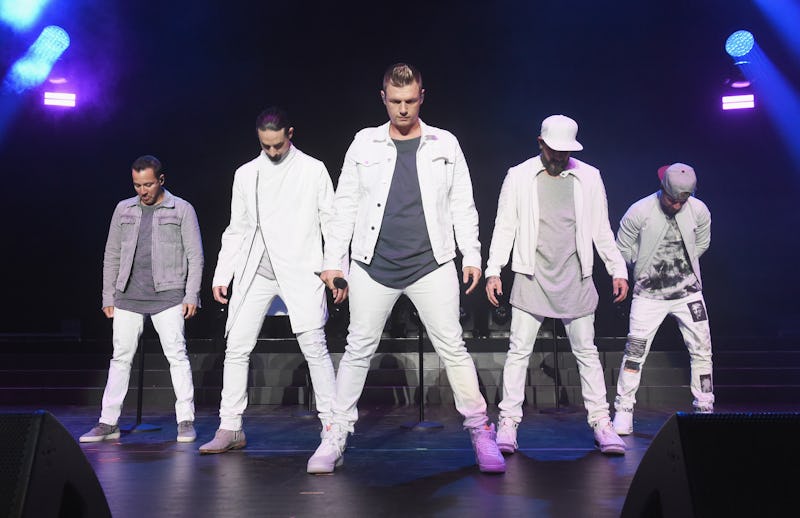 Nicholas Hunt/Getty Images Entertainment/Getty Images
Here's something that'll totally transport '90s fans back in time. The Backstreet Boys performed "I Want It That Way" with classroom instruments on The Tonight Show Starring Jimmy Fallon and its certainly a moment you never knew you needed until now. The quintet were guests on the late night talk show on June 28 and were backed by Fallon and The Roots, to recreate the classic 1999 hit using instruments like a mini xylophone, ukulele, wood block, tambourine, shakers, and a triangle.
It was a moment of epic proportions as all of the guys crammed together in one room to harmonize. Nick Carter, Brian Littrell, Howie Dorough, AJ McClean, Kevin Richardson were all on hand for the jam session
Littrell kicks the song off, belting out the lyrics to the iconic song's fist verse, while Carter later joins in on verse 2. The entire group sings along to the chorus when McLean lends his vocals to part 3. Richardson and Dorough both jump in to sing their respective parts as they lead Fallon into a shining moment where he gets to gloriously lead into the chorus. The entire collaboration is something that Backstreeters won't soon forget.
The hugely famous boy band ended the Thursday night episode by performing their latest single "Don't Go Breaking My Heart," which Rolling Stone indicates will be part of their forthcoming ninth album. On the project, which is slated to debut this fall, the band is expected to make an exploration into the genre of country music. Back in October of last year, BSB member Kevin Richardson told Rolling Stone that the group has "cut some Nashville songs recently" and said that they were "in the lab playing around, experimenting" with the genre. AJ McLean also recently debuted his single "Back Porch Bottle Service" which is his first track from his upcoming country inspired solo album, according to Entertainment Tonight. McLean is also set to participate in Lance Bass' upcoming documentary about boy band impresario Lou Pearlman, The Lou Pearlman Project, which expected to premiere later this year on YouTube Red.
Although pop has been their main thing for decades, it seems that BSB is ready to explore some new territory now that they've celebrated their 20th anniversary as a group. The guys began dabbling in the country genre in 2016 when they collaborated with Florida Georgia Line on their song "God, Your Mama, and Me." The single, which was a Billboard hit, became the first Backstreet Boy song to chart since "Inconsolable" in September 2007.
Along with their new album, BSB has plans to continue their Las Vegas residency and launch a new world tour.
While it's great to see the guys not missing a beat when it comes to their music, things haven't been all rosy for Nick Cater as of late. In November 2017, Dream singer Melissa Schuman claimed that Nick Carter allegedly sexually assaulted her when she was 18-years-old and later filed a police report against the singer in February 2018. During that time, Carter's reps released a statement to Bustle which read:
"I am shocked and saddened by Ms. Schuman's accusations. Melissa never expressed to me while we were together or at any time since that anything we did was not consensual. We went on to record a song and perform together, and I was always respectful and supportive of Melissa both personally and professionally. This is the first that I am hearing about these accusations, nearly two decades later. It is contrary to my nature and everything I hold dear to intentionally cause someone discomfort or harm."
The guys certainly brought some good vibes to the late night circuit this week, helping to remind what made them one of the biggest boy bands of all time.