The Process For Making A Royal Wedding Cake IS WAY More Complicated Than You Think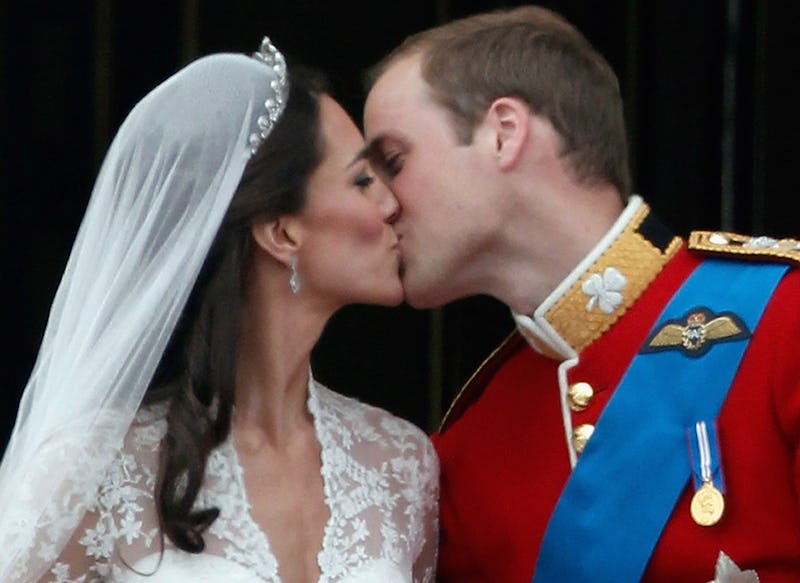 Christopher Furlong/Getty Images Entertainment/Getty Images
As we await the much anticipated play by play of the royal nuptials between Meghan Markle and Prince Harry, let us reminisce over the sweet details of a former ceremony. The baker for Prince William and Kate Middleton's wedding cake has revealed what the process of participating in the royal wedding is actually like in an interview with Town & Country. And literally every crumb of information is delicious.
Constructing a wedding cake is no easy feat. It is an architectural ~project~ that includes not just baking but building layers. Because you must ensure that those layers don't cave in on each other. (No pressure.) The towering dessert is a significant part of the wedding and often draws the attention of all in attendance. So, it's got to look good as the centerpiece of the dessert spread. Baker Fiona Cairns, who whipped up Kate Middleton and Prince William's 8-layer fruit cake, referred to the task as an "enormous responsibility". But, of course, the process of getting all the icing florals right was just as delectable as the final product.
Cairns's interview with Town & Country gives us insight into the details of the second sweetest course of the royal wedding. Because the first serving of sweetness happens on the alter. We'll have to wait a few more weeks until pictures of London based baker Claire Ptak's lemon elderflower creation for the upcoming royal wedding are released. But until then, I'll be here eating up every detail of what it's like to make a cake for a royal.
As we all know — because at this point we're all amateur royal family biographers — there are strict protocols for the descendants of the Queen when it comes to participating in events. But that doesn't mean that a royal bride can't have a say in their big day. Especially when it comes to cake. Cairns revealed that Kate Middleton practically designed the cake herself, saying to Town & Country that, "... she knew very clearly what she wanted and did not want ... we had meetings with her, and the brief was from Kate." Just like any other bride, the Duchess had a working relationship with the baker building her wedding cake.
Hopefully Claire Ptak is getting restful nights, because according to Fiona Cairns, she didn't sleep much at all. Understanding the responsibility of presenting a proper cake that will be adored and then promptly demolished by very important people, Fiona recalls, "As soon as we were commissioned, from the time of the phone call, I had sleepless nights." She continues, "it's a very important part of the royal wedding, and it was the biggest, most important commission that we as a business had ever received."
As we know now Cairns and her team of bakers succeeded in delivering an edible structure — I mean, wedding cake — that could be both gawked at and enjoyed. Just not exactly how you would expect it to.
To bake the most famous fruit cake ever made took a little over two months from commission to display, Cairns told Town & Country. Factor in maturation time for the cake itself as well as construction time, and you're looking at a nearly three month long process. To build the entire cake for the royal wedding took several days — two and a half to be exact, according to Cairns. And you thought frosting a birthday cake was a time investment. What resulted was the stunning, photogenic three-foot cake that weighed upwards of 200 pounds. But it wasn't enjoyed the night of the wedding. Cairns told Town & Country that the cake stood on display and was served for breakfast. Dear Kate, I like your style.
As Claire Ptak of Violet Cakes begins to prepare Meghan Markle and Prince Harry's cake with the season's best produce and ingredients, Cairns joins the rest of us in anticipation to see the end result. She said to Town & Country of the chosen dessert, "I can't wait to see it. It sounds so beautiful." And with the enjoyable yet stressful process of baking a historical fruitcake behind her, I can only hope for Cairns that she's finally sleeping soundly.