These Aretha Franklin "Respect" Covers Are The Perfect Way To Honor The Queen Of Soul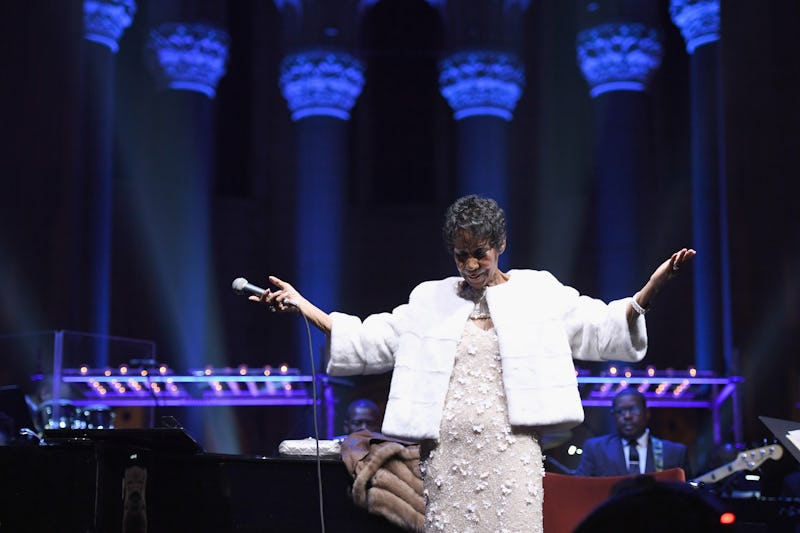 Dimitrios Kambouris/Getty Images Entertainment/Getty Images
It's safe to say that Aretha Franklin's 1967 hit "Respect" is one of the all-time greatest songs in musical history. And in light of the sad news of Franklin's passing, the song has taken on a brand new significance. Since its release, "Respect" has become one of Franklin's most iconic hits. It's been covered many a time by many an artist, and it likely will be again, but the best Aretha Franklin "Respect" covers are the ones that honor the singer's original version while making it their own. That is, after all, exactly what Franklin did when she took over the song in 1967.
The original "Respect" was actually written and performed in 1965 by Otis Redding. Performed from the male perspective, the "Respect" as listeners first knew it was a song that told a very different story. In fact, it was kind of a regressive one, as it chronicled a man begging for respect (for himself and his financial contributions) from his wife. When Franklin took it over, though, she made it something special. And artists covering "Respect" have been attempting to do the same thing ever since.
Each artist's version of "Respect" brings something unique to it. Whether it's the original writer himself doing a bouncy solo rendition, a folk singer's reimagining, or multiple supergroups bonding together for one massive hit, "Respect" is pretty much always that good.
Here are a few different versions of "Respect" to try out for the times when you've exhausted your ability to listen to the late Queen of Soul's.
Otis Redding
Technically this is not a cover, as it was Redding who originally wrote the song in the first place. It wasn't until Aretha — correctly — flipped it on its head, that "Respect" turned into something truly special. But, still, it's important to recognize that Otis' is also quite lovely.
Diana Ross & The Supremes, The Temptations
Is literally anything cuter than this 1960s joint TV performance by Diana Ross and The Supremes and The Temptations? No, because what could be. Also a tremendous version of the song, and one that plays with the male/female dynamic in the best way.
St. Louis Union
Arguably the most unique of the "Respect" covers, this enthusiastic version by English mod-rock (and self-described "freakbeat") band St. Louis Union deserves some appreciation — if only for the sheer boldness of the attempt. The website Pop Culture Experiment unearthed this one, and if that project name doesn't line up perfectly with this cover of "Respect", then nothing can.
Laura Guarch's One-Woman Version
This woman is clearly a genius. Where is her record contract? She arranged and recorded this all by herself!
Kelly Clarkson
Clarkson paid tribute to Franklin on Twitter, writing, "Aretha Franklin is the reason why I sing from that part deep inside of me that few could ever reach." Perhaps that's what helped her perform this invigorating and oft-overlooked version of Franklin's 1967 hit.
This College A Cappella Version
A bunch of shy-seeming white guys expertly covering "Respect" at a college a cappella concert is the last thing you'd expect — or want to see, even — but this 2016 rendition performed by a group at UMass Amherst is an actual day-brightener.
Tina Turner
Turner's energetic, breathless cover of Franklin's hit is a must-watch because it looks, feels, and just sounds like 1971. It's as intense and exciting as its predecessor, but in a different way. There's just something about Turner's frenetic energy that adds something a little darker to this version, making it all the more unique.
These are just a few of the many, many versions of "Respect" that fans can listen to. Aretha Franklin's take cemented the track's place in history, but as you can see above, there are so many ways to do it. If you're busting it out at karaoke anytime soon, you'll probably want to warm up at home first. You don't just fall into the nickname the Queen of Soul; make Aretha proud.