Let These Hillary Clinton Signs Inspire You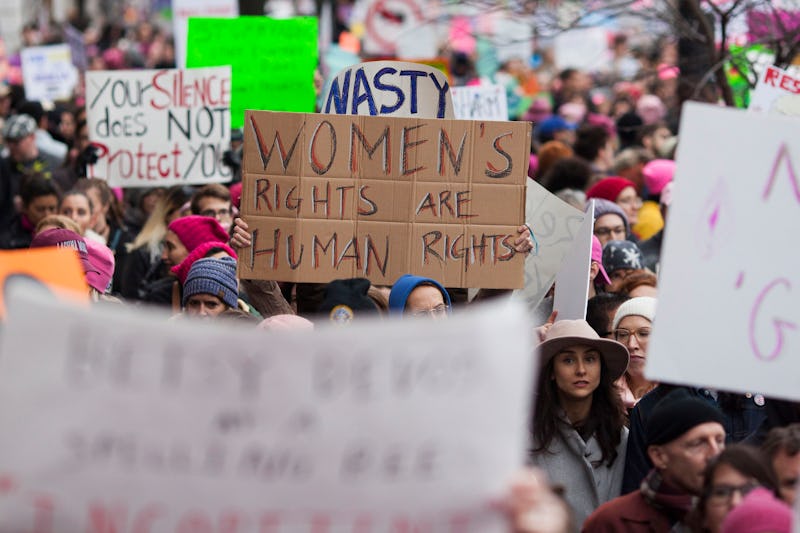 Jessica Kourkounis/Getty Images News/Getty Images
Unless you've been living in a bubble devoid of social media, you're probably well aware that huge numbers of people across the U.S. gathered Saturday to participate in the Women's March on Washington and protest Donald Trump's inauguration. And what's a massive, inspiration-packed protest without tons of empowering protest signs? The underlying message of the Women's March — respect, equality, and inclusivity for all — is super important, and even the most hilarious protest signs prove that things like strength, humor, and love overpower hate and intolerance any day. But I gotta say, these Hillary Clinton Women's March signs are some of my favorites.
Naturally, many who are unhappy with Trump as POTUS are even more upset because his win meant the loss of Hillary Clinton — who could have been the first woman president. Even though she's not going to be our leader for the next four years, many who were marching still found ways to show respect and continued support for Clinton. Her iconic feminist quote — "women's rights are human rights" — is short, sweet, and to-the-point, so naturally it has found its way onto many people's signs. And as if you needed more reason to feature her on your sign, Hillz has already tweeted her support of the Women's March.
Here are some of the very best Hillary Clinton signs at all the Women's Marches. If you need me, I'll be recreating these and hanging them all over my bedroom for inspo to get me through the next four years.