These Kentucky Derby Fashion Memes & Jokes Are Too Funny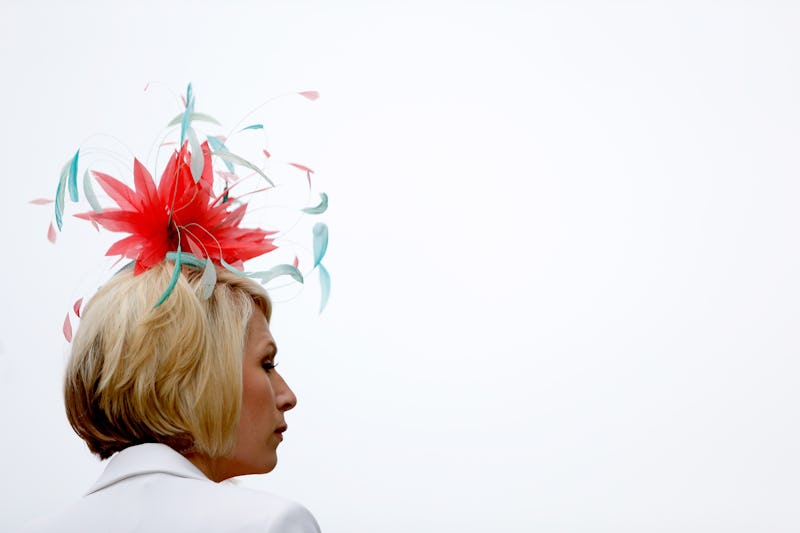 Michael Reaves/Getty Images Sport/Getty Images
The Kentucky Derby has become known for its wacky fashion. So, definitely don't be surprised if a few of these hats start to dominate your social media feed. These Kentucky Derby fashion memes and jokes will have you laughing all Derby Day long. Because seriously, when this many crazy hats show up at one event — there's going to be plenty for the Internet to have a little fun with.
One of the most noteworthy headpieces in my mind is definitely the flamingo hat from 2016, but then again, Johnny Weir also came practically dressed as a magical pony, so it's hard to pick a favorite. This year's definitely got some doozies, too. There's everything from hats that double as umbrellas to hats that serve as your mint-julep cup holder — so at least these designs serve a purpose!
Folks are loving the Derby Day action on Twitter. People are posting photos of dogs in hats and joking that the Derby would be better if the horses wore the hats, so clearly, there's a theme here. Animals in hats for the win! Whether you're lucky enough to attend this uniquely fashionable affair in person or no, it's definitely nice to be able to get a sense of the experience through the posts online. Trust me, these Kentucky Derby fashion tweets will have you wanting to attend 2018's Kentucky Derby IRL. Because I don't care what anyone says — Derby Day is all about the fashion.
1. Doggy Dress Up
Yep, hats on dogs are just better.
2. The Best Of Derby Day
When yo combine your love of food and fashion, something magical happens.
3. Horses In Hats
I have to admit — I'd tune in to that event.
4. Sea Of Hats
It's only worth wading through a sea of enormous headgear if it's for your cat.
5. Foxy Grandpa
Well, that's one way to get noticed.
6. Perfect Excuse
Any reason will do!
7. Must-See
These styles are the main reason why the fashion-obsessed watch the Derby every year.
8. Very Interesting
Even if you're not interested in horse racing, these fashion moments will keep your attention.
9. Hats And Horses
It might as well be called "Hats And Horses," as those are the two main attractions, for sure.
10. You Decide
I have a feeling I know which one you'll choose...
11. A Funny Sight
Derby Day is an interesting sight, to say the least.
The Kentucky Derby never fails to be an incredible event for sports and fashion, and 2017 was certainly no different.