Everything You Need To Clean Your Phone, From Disinfectant Wipes To UV Lights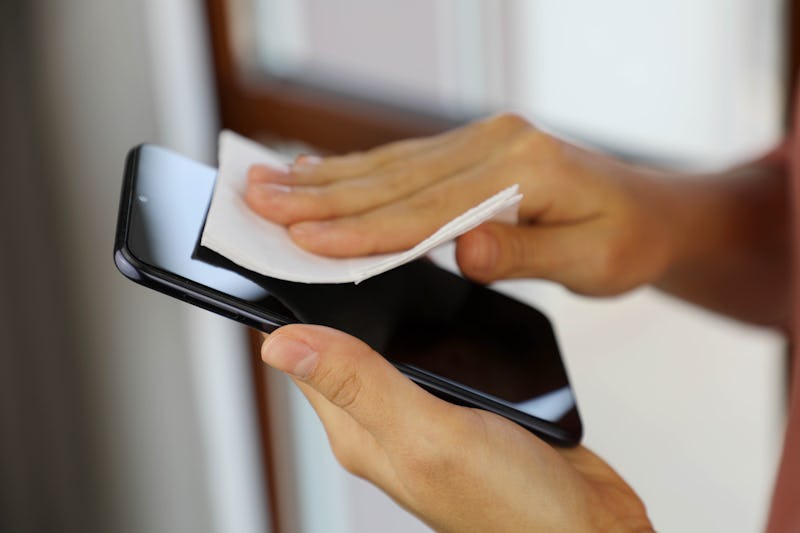 Shutterstock
We touch our phones so often that, if not properly cleaned, they quickly turn into a breeding ground for germs and bacteria. In fact, Time reported that scientists at the University of Arizona found that the average individual's smartphone is 10 times dirtier than a toilet seat. So, if you want to keep germs off your cell phone, using the best phone sanitizers can come in handy.
There are different methods of sanitizing your phone. Phone sanitizing devices exist for serious cleaning. They use UV light that can destroy up to 99.99% of germs and bacteria — all you have to do is place your phone inside and press a button to start the sanitizing process. (It usually takes around five minutes to clean a phone.) Note: Some sanitizing devices also clean other objects like keys and credit cards.
Many major electronics manufacturers have also approved the use of 70 percent isopropyl alcohol wipes which claim to get rid of over 99.99% of bacteria (and even viruses like Influenza A). Although it should be noted that Apple specifically warns against allowing any moisture to get into openings.
Of course, the method you choose is entirely up to you. They all help to eliminate germs. For some great suggestions, check out my roundup of the best phone sanitizers, below.
We only recommend products we love and that we think you will, too. We may receive a portion of sales from products purchased from this article, which was written by our Commerce team.
This article was originally published on