7 Best Sexting Apps For Long Distance Relationships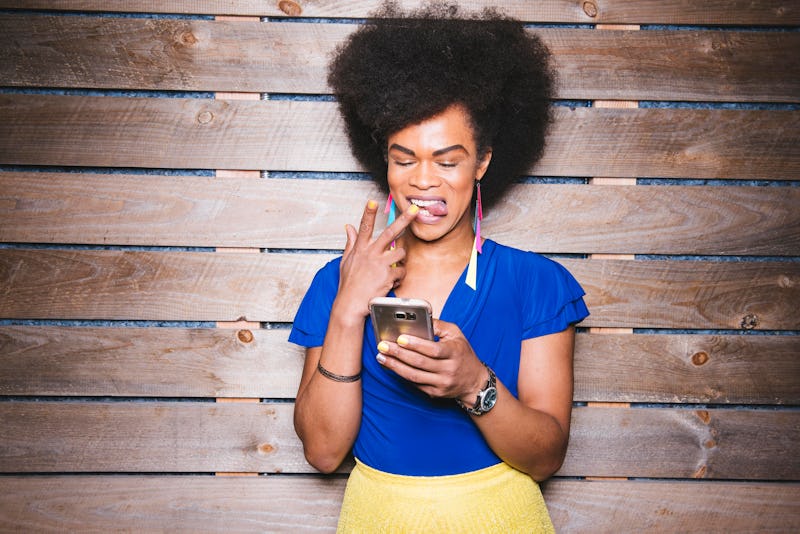 BDG Media, Inc.
Earlier this year, my boyfriend started a new job after years of working freelance. One day I was feeling kind of frisky, so I sent him a sexy photo via Facebook Messenger. That's the app we usually use to chat and I've sent him photos there before, but I forgot one very important detail that day. Namely, the fact that he was in an open office. With other people. And a giant computer screen. Oh, and it turns out he was in a meeting when I sent it and Messenger was up on his screen and it was very, very possible that his new coworkers were looking at parts of me that I did not want them to see — ever. Cue my incredibly embarrassed, bright red face.
So, after that, I decided there would be no more sexting done via Facebook Messenger. (I'd also forgotten the fact that Messenger default displays all of your images in the righthand toolbar, whoops!) But I didn't want to stop sexting altogether. He and I got in the habit of sexting for the couple of months when our relationship was long distance and I like it as a way to build tension and flirt, even though we live together now.
Things have changed quite a bit on the sexting app scene in the past few years. For one thing, we're a lot more concerned about encryption now than we used to be — which is definitely good. (Encryption means that your sexts and sexy photos are safe from hackers or thieves, which is definitely a feature you should be looking for when you're sexting.) For another, disappearing photos are no longer the novelty they were when Snapchat came on to the scene. And speaking of Snapchat, you'll notice that it's conspicuously absent from this list. That's because while they may have been one of the first to push the disappearing photo idea, they haven't done enough in subsequent years to protect users against screenshots.
But I do recommend these seven apps for sexting in a long-distance relationship. (Or a work-from-home/work-in-an-office relationship.) Have fun and happy sexting!