The Best Super Bowl Halftime Costumes Ever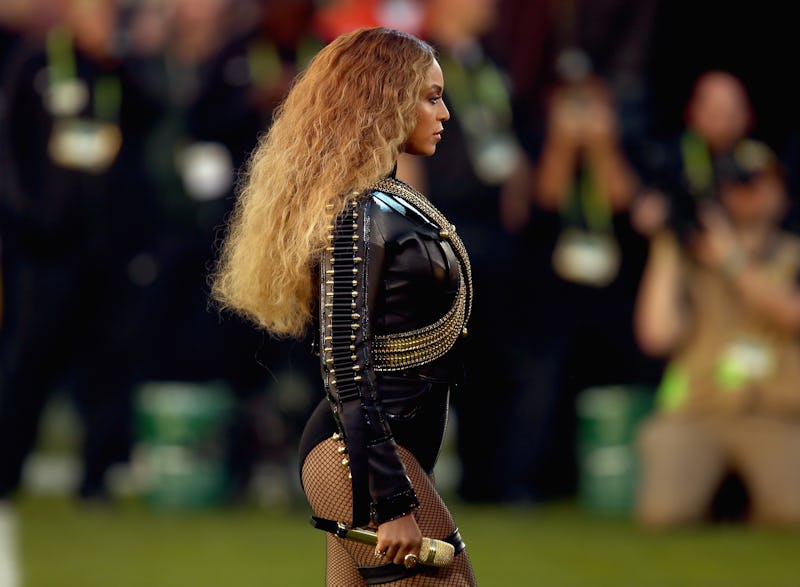 Matt Cowan/Getty Images Sport/Getty Images
Lady Gaga is playing the Super Bowl this year, and boy does she have her work cut out for her. The clothes alone are quite an act to follow — really, the best Super Bowl halftime costumes give Lady Gaga a lot to live up to. Think about it: Beyonce has performed not once, but twice in the past five years — that's a lot of fabulous Sasha Fierceness to contend with.
From the aforementioned Beyonce, to Katy Perry and her meme-generating back-up dancer (better known as Left Shark), there have been many superlatively awesome Super Bowl halftime outfits over the years. It's a big venue, and the costumes tend to go along with that, invoking everything from large amounts of jewels to tiny amounts of leather to help stand out.
Even with all the greatness that's come before her, though, we all know Lady Gaga will do what it takes to shine, both figuratively and literally. She's already revealed that she'll be suspended in the air for part of the halftime show — who knows what fabulosity will follow? At any rate, let's take a walk down memory lane and look at 13 of the best ensembles from Super Bowl halftime shows past.
1. Fergie in 2011
Fergie went super on theme with her football shoulder pads-inspired glittery get up — and what an assist from the iconic Slash, in an artfully studded top hat!
2. Katy Perry in 2015
Katy Perry wore some truly great outfits at the 2015 Super Bowl — she had several costume changes, and each was better than the last.
3. Janet Jackson in 2004
Come on. You knew this list of Super Bowl halftime costumes had to include Janet Jackson and her iconic wardrobe malfunction.
4. Gwen Stefani in 2003
This look is pretty much peak 2000s — and peak Gwen Stefani, for that matter (girl really knows how to rock a sparkly bra and sparkly abs).
5. Nicki Minaj in 2012
This look is part WWE, part cheerleader, and Nicki is totally making it work.
6. Prince in 2007
A blue suit, an orange shirt, and a purple guitar? Prince's facial expression and triumphant body language say it all.
7. Shania Twain in 2003
It's like the most rhinestone-encrusted version of The Matrix, ever.
8. Beyonce in 2013
No wonder over 100 million people tuned in to Bey's epic halftime show in 2012 — she looks as amazing as she sounds (and we all know that means a lot).
9. Michael Jackson in 1993
Let the literal sparks flying in the background do all the talking for this memorable military-inspired costume.
10. Left Shark in 2015
Straight up iconic. Honestly, Left Shark's glory will be tough for even a superstar pro like Lady Gaga to replicate.
11. Beyonce in 2016
Beyonce may have been a guest performer at Super Bowl 50, but she 100 percent stole the show with her rendition of "Formation." Plus, her outfit's actually a nice homage to Michael Jackson's 1993 costume, when you think about it.
12. Diana Ross in 1996
Quite possibly the Super Bowl halftime dress to end all Super Bowl halftime dresses.
I can't wait to see what Gaga wears for this year's event.