People Are Sharing How They Blow Off Steam & You'll Want To Jot These Down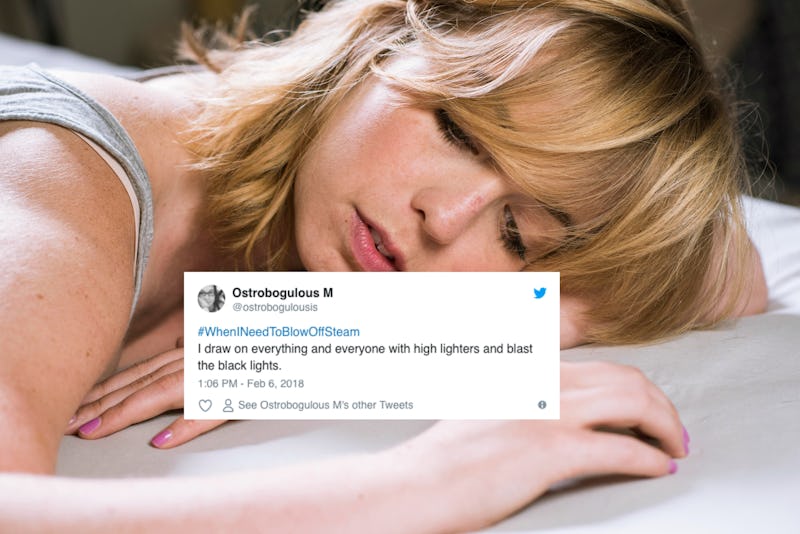 BDG Media, Inc.
Stress sometimes hits us when we least expect it: when we're planning a trip, hitting our stride on a work project, or trying our hardest to fall asleep at night. But tips for managing stress and anxiety can come in handy when these tiny morsels of doubt creep into our brains, taking us captive. Instead of focusing on feeling overwhelmed, take a step back and try your hand at a management technique.
Whenever I feel mentally strained, I tend to turn to something physical to relieve the tension. This can range from any form of exercise to my personal favorite, playing the guitar: by fully immersing my body into an empowering action, my psychological stress feels less significant.
Finding innovative means for coping with stress is more prevalent now than ever. According to a 2017 Survey by the American Psychological Association, stress levels in America have risen for the first time in 10 years, increasing from 4.8 to 5.1 on a 10 point scale. So when #WhenInNeedToBlowOffSteam started trending on Twitter, I sat up and took notes — because there is nothing worse than staring at your ceiling and twiddling your thumbs at 2 a.m. Need some inspiration? Here are 13 creative ways to blow off steam, according to Twitter.