These Are The Best Women's Strike Signs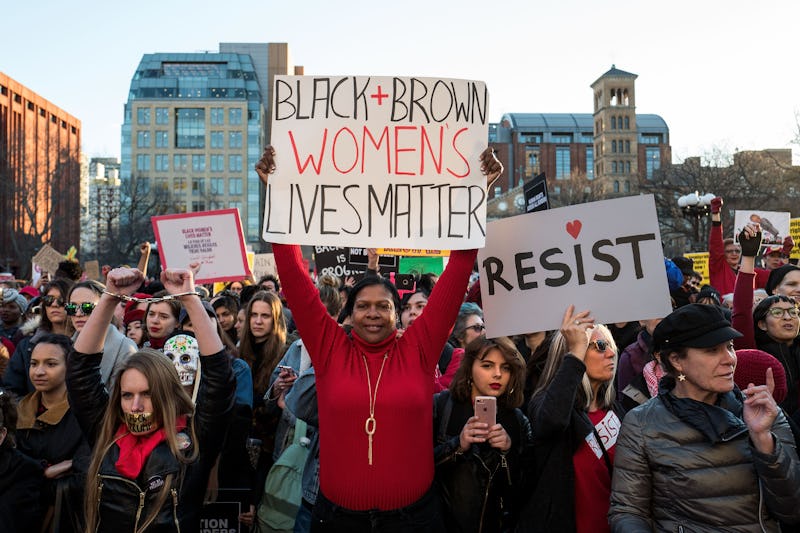 Drew Angerer/Getty Images News/Getty Images
On Wednesday, March 8, women around the world went on strike to highlight their contributions to a society that fails to recognize their worth time and time again. If you paid attention to the Women's March on Washington, you know that the bar for the best Women's Strike signs seen during the protests was set fairly high, but the ladies (and gents, and all people of all genders) of Wednesday's rallies didn't disappoint. You see, participants weren't only encouraged to take the day off, both from the paid and unpaid labor they perform on a daily basis; they could also attend any of the demonstrations being held in cities across the country — and what a showing of support there was.
According to NBC New York, about 1,000 people gathered for one of the first demonstrations of the day on Fifth Avenue in New York... directly in view of Trump Tower. It's safe to say the location was chosen as a pointed reference to the current president, whose self-professed "tremendous respect" for women is belied by his actions. In the afternoon, organizers of the Women's March blocked traffic outside the building "as a form of civil disobedience," after which they were arrested. In the meantime, protests took place in dozens of other cities; in Washington, D.C., a handful of women in the House of Representatives walked out, including Nancy Pelosi.
The strike's lasting influence remains to be seen, but it certainly drew international attention. Here are some of the best signs from the Women's Strike and similar protests in the past.