The 'Big Little Lies' Ending Was Different From the Book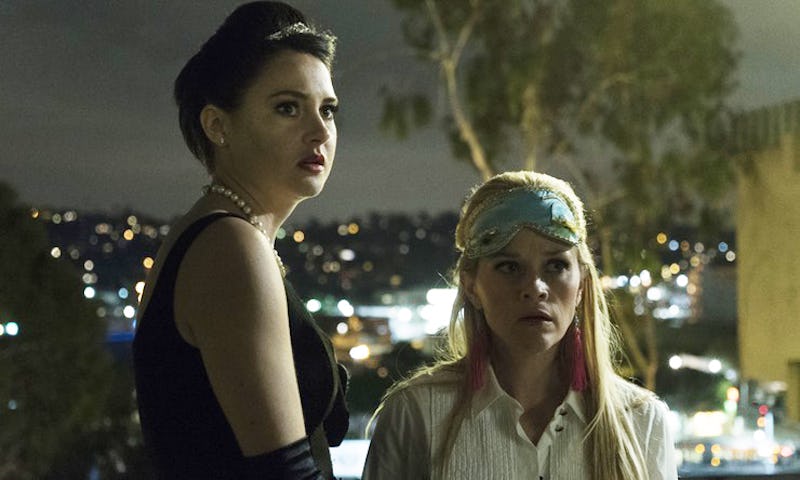 Hilary Bronwyn Gayle/HBO
On Sunday night, Big Little Lies capped off its limited seven episode run with a big little finale. After a season packed with palatial views, heartbreaking realism, and plenty of high-stakes drama, the HBO series finally unmasked the mysterious murderer of Monterey. The killer shouldn't have come as a surprise to those who read the Liane Moriarty novel the series is based on, but there were plenty of other differences between the Big Little Lies ending and the book. Caution: Major spoilers for the Big Little Lies finale ahead.
For the most part, the show's final moments stayed faithful to its source material. First, it's revealed that Celeste's son, Max, is actually the one who's been bullying Amabella — implying that Perry's violent behavior has trickled down to his sons. Later, Perry inadvertently learns of Celeste's plans to leave him. She initially manages to slip away unscathed, but he eventually tracks her down at Trivia Night in a desperate rage. It's there that things finally descend into the chaotic, fatal confrontation that's been flickering throughout the season. In a rapid avalanche of events, Renata, Madeline, Celeste, and Jane all gather at the top of the stairs, where Jane suddenly realizes that Perry is the man who raped her. He charges the women, attacking Celeste in an unbridled frenzy, and then Bonnie sprints forward, pushing Perry to his death.
In the show, her motivations aren't entirely clear — marking one of several changes between the book and the show.
1. Bonnie's Backstory
In the novel, Bonnie's father was a domestic abuser, and watching Perry assault Celeste dredged up painful childhood memories. The show, however, skirts over her motivations, making it seem more like a heat-of-the-moment response than a deep-seated, visceral reaction. In an interview with The Hollywood Reporter, director Jean-Marc Vallee explained that they felt her upbringing wasn't critical to understanding the story.
"We had a line from the detective and it was too much explaining. We decided not even to shoot the line. It's not about that. Whether or not she has been abused, she is going to push this motherf*cker. He's beating the sh*t out of four women. This guy is f*cking strong. And then the smallest guy pushes him, not to kill him, but the accident happens. To give it a reason and justify that because she was abused and had a thing against men, it's not about that."
2. Jane's Reaction To Perry
In the book, Jane verbally acknowledges Perry as her rapist. He tries to dismiss her, but she insists she's sure that they've met before. "Except you said your name was Saxon Banks," she asserts. But HBO's version approaches the realization with deafening silence. As Perry approaches the women in pursuit of Celeste, Jane's face contorts into a look of sudden recognition, and a mere exchange of knowing glances is all it takes for Madeline and Celeste to put together the pieces.
3. The Setting
As described in the novel, Trivia Night takes place in a large, glass-enclosed room on the school's second story, and Perry falls to his death from a balcony just outside. But, in the series, the event unfolds outdoors, with Perry meeting his demise by plunging down the same caution-taped staircase that was pictured several times throughout the show.
4. The Witnesses
In the book, Ed and Nathan were among the witnesses to Perry's death, but, in the televised version, it seems fitting that only the women are present. It's a powerful testament to their strength that they take him down alone.
5. Renata and Gordon
The novel also featured a story line in which Renata discovers her husband, Gordon (named Geoff in the book), was sleeping with their nanny, and then Gordon finds out the nanny was also having an affair with Harper's husband, Graeme. Adding to Trivia Night's anarchy, Gordon and Graeme come to blows and crash through the event space's glass encasing just as Perry tumbles over the balcony. As a result, Renata leaves her husband and decides to move to London with Amabella. None of that was present in the show, but, with a slimmer format, it makes sense that Big Little Lies would trim its focus.
6. Abigail's Virginity Auction
In the book, an 83-year-old man from Sioux Falls, South Dakota, named Larry Fitzgerald writes to Abigail saying that he'll donate $100,000 to Amnesty International if she closes her virginity auction immediately. Madeline suspects that Larry Fitzgerald is actually Celeste, but it's never confirmed. The series streamlines Abigail's narrative by simply having her shut down the site herself, likely because there was limited screen time and anything more may have cluttered the ending.
7. The Aftermath
The show ends shortly after the turmoil of Trivia Night, giving viewers one last look at the women gazing across the beach before rolling the final credits. But the book, of course, lends a little more context to what their lives look like post-Perry. She moves into her new apartment as planned, returns to her career as a lawyer, and commits herself to reclaiming her voice and sharing her experience. Elsewhere, the women cover for Bonnie, but she ultimately turns herself in and receives 200 hours of community service.
Most of these shifts appear to be due to the show's truncated format. With only seven episodes, there simply wasn't enough time to squeeze in a full novel. But the story didn't suffer: Big Little Lies was just as affecting, heartfelt, and satisfying as ever, whether you read the book beforehand or not.