The 'Big Little Lies' Ep4 Songs Set A Perfect Mood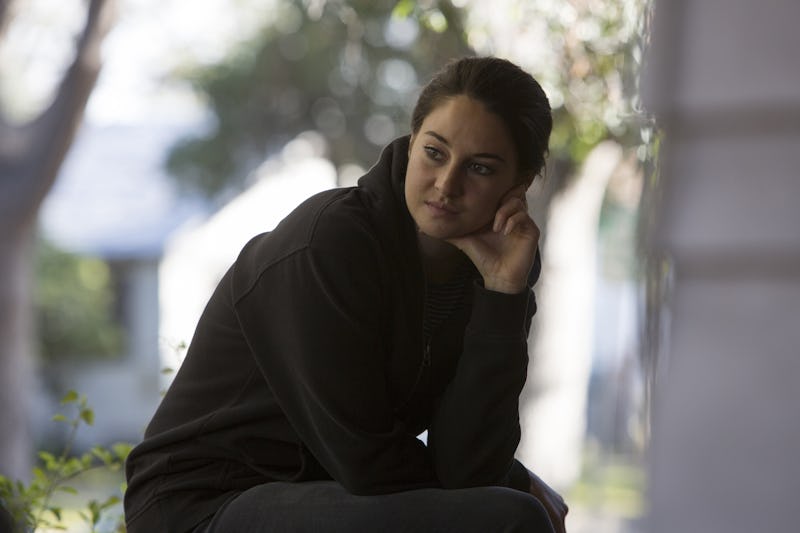 Hilary Bronwyn Gayle/HBO
Four episodes in, and Big Little Lies may not be giving us much in the way of clues about which character is dead — but the show's incredible soundtrack is giving us plenty of clues about how to feel during any given scene. The songs from Big Little Lies episode 4 (ominously titled "Push Comes To Shove") continue the HBO drama's terrific trend of using music to set the tone and craft compelling emotional cues.
The show's not particularly subtle about it, either. The music has as much of a presence on the show as the impeccable houses or stunning ocean vistas, as characters are constantly turning on playlists and deciding what song best fits their current mood. In other words, they're cultivating the soundtrack of their lives just as carefully as they are cultivating everything else about the image that they project to the outside world. But just like the cracks that lurk under those "perfect" facades, there are also understated themes of heartache and pain that lie beneath the hip synth strains of the soundtrack if you actually pay attention to the lyrics of the chosen songs.
Like every episode so far, "Push Comes To Shove" starts with the now-familiar tune of Michael Kiwanuka's "Cold Little Heart" playing under the title sequence. And here are the nine other musical cues that gave Episode 4 its uneasy atmosphere:
1. "This Feeling," Alabama Shakes
This song — from the blues band's second studio album, 2015's Sound & Color — opens the episode immediately after the conclusion of the opening credits, as Madeline is driving down the picturesque Monterey highway and reminiscing about watching her daughter pack up and leave to go live with her father instead. While the lyrics are definitely mournful, they're also slightly hopeful, which speaks to the character's fighting spirit and unrelenting optimism: "See, I've been having me a real hard time. But it feels so nice to know I'm gonna be alright."
2. "One Night With You," Elvis Presley
You'll remember it was announced during last week's episode that the theme for the school's upcoming gala fundraiser would be Elvis Presley and Audrey Hepburn. So this song has more of a plot context than most, as Madeline's husband Ed is practicing it in full Elvis costume when she gets home. Fun fact: The lyrics of this particular song ("One night with you is what I'm now praying for") originally had a rather more suggestive tone ("One night of sin is what I'm now paying for"). You could easily say that paying for one's sins is a major theme of Big Little Lies.
3. "Pocketful Of Rainbows," Elvis Presley
Of course, leave it to Madeline and Ed's six-year-old daughter Chloe to have a firmer grasp of what's "cool" than her parents. She insists that "One Night" is too cliché, and suggests that her dad sing this lesser-known track instead. In keeping with the show's tone, even a song with such a cheerful title has rather melancholy lyrics, talking about "grey skies above" and "Mister Heartache."
4. "Changes," Charles Bradley
How cool is this song that Bonnie plays during her kickboxing class, when Ed comes to pay her a visit? The tune by this Florida soul singer — the title track from his third and most recent album — sounds just as hip as the yoga instructor always seems. But holy crap, listen to these lyrics: "I feel unhappy / I feel so sad / I lost the best friend / That I ever had." "But soon the world / Had its evil way / My heart was blinded / Love went astray." Are these depressing lyrics perhaps speaking to Bonnie's inner emotional state? Or are they hinting at Ed's heart being blinded and his love going astray? He did seem surprisingly covetous of his wife's ex-husband's new bride in their brief interaction…
5. "Everyone's A Little Bit Racist," Avenue Q
Like the two Elvis tracks, this song from Avenue Q has a plot context in the show, as members of Madeline's theater company are seen rehearsing it. But they could have chosen to highlight pretty much any number from the Tony-winning musical, and this choice definitely feels intentional. In this song, the youthful residents of the titular neighborhood realize that none of them are quite as progressive as they thought — an ironic song to hear immediately after the heated debate at the mayor's office over the musical's appropriateness.
6. "White Rabbit," Jefferson Airplane
This track from the 1967 sophomore album of the California psychedelic rock group plays while Jane and Ziggy take a trip to the aquarium, and then in the car during their drive back. (Of course Ziggy is able to sing along to every word.) It's an interesting choice for this mother/son excursion, given the lyrics' implication of a mother's ineffectiveness: "One pill makes you larger, and one pill makes you small. And the ones that mother gives you, don't do anything at all."
7. "Cold Little Heart," Michael Kiwanuka
This is the first time that I can recall the show's theme song cropping up elsewhere during the actual course of an episode, and it's interesting that it doesn't play for any of our three protagonists, but rather underscores a scene between Bonnie and Nathan, in which they debate briefly about parenting his daughter Abigail. Maybe it's speaking to the effort Nathan is making toward being a good dad to Abigail: "I believe if I just try / You believe in you and I."
8. "Straight From The Heart," Irma Thomas
While Celeste and Perry make love, this song from the New Orleans blues singer can be heard playing — and it speaks eloquently to both the pain in their marriage (emotionally and physically) and the co-dependency that makes it hard for them to extricate themselves from such an abusive relationship. "Do you need me like I need you / Look at me I'm crying from wanting you / Make me forget the pain that you cause / Understanding it's a great thing / If it comes from the heart."
9. "Bloody Mother F***ing Asshole," Martha Wainwright
Jane is listening to this song while she's out running, then having some sort of emotional breakdown while she imagines throwing herself over a cliff, and it continues to play over the episode's final credits. And it's scathing. The title track from a 2005 EP by folk rock singer Martha Wainwright (younger sister of Rufus Wainwright), it's a fiery, profane tune full of anger and pain: "I will not pretend / I will not put on a smile / I will not say I'm all right for you / When all I wanted was to be good / To do everything in truth." It's the perfect, searing note on which to end an episode so full of different kinds of pain from so many different kinds of women.
There may not be an official Big Little Lies soundtrack yet, but a playlist consisting of just these songs would tell you pretty much everything you need to know about the show's musical sensibilities and its emotional themes.