The 'Big Little Lies' Theme Song Is A Perfect Fit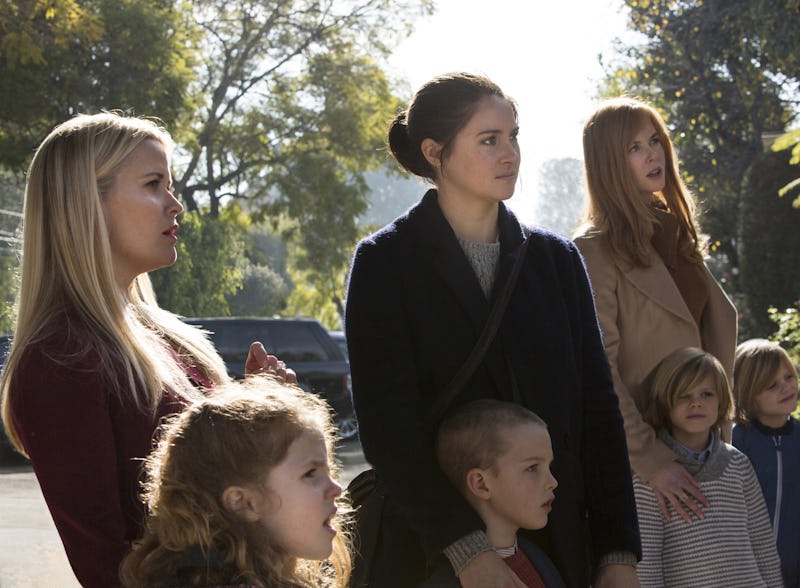 Hilary Bronwyn Gayle/HBO
One of the best side effects of our current Golden Age of Television has been the renaissance of the title sequence; beautiful opening credits from the likes of Game Of Thrones, True Blood, and Westworld have turned the practice into its own art form. The Big Little Lies theme song and title sequence, on the surface at least, may not fit into the mold of other examples set by its aforementioned brethren on HBO. After all, there is no stunning animation, no helpful maps that lay out the geography of the show, no ultra-close-up shots of an object that is gradually revealed in its entirety. But though it may not be flashy, the Big Little Lies sequence is brilliant in its own way — and that's in large part due to its use of music.
Upon a first viewing, the sequence is rather simple: it's just a series of shots in which the show's protagonists are seen driving down the highway with their children in the backseat, interspersed with glimpses of crashing waves, floating sea creatures, and writing naked bodies. It's all the same visuals audiences are used to seeing if they've watched any promos for the new series. But if you watch the sequence with your ears as well as your eyes, you start to sense the menace roiling beneath the surface of the beautiful imagery — which is perfect commentary for a show that's all about the darkness that lurks behind the flawless facades of its characters.
The song is called "Cold Little Heart," and it's by British soul singer Michael Kiwanuka. The 29-year-old musician made his debut with the 2012 album Home Again; this track hails from his sophomore effort, Love & Hate, which just dropped in July of last year. In its original incarnation, "Cold Little Heart" is a sprawling 10-minute mood piece… but all it takes is the 90-second excerpt employed by Big Little Lies to understand why it's an ideal match for the blackly comedic domestic drama.
"Did you ever want it? Did you want it bad?" are the first words you hear when you tune into the show created by David E. Kelley (Ally McBeal). The women of Big Little Lies are constantly striving for more: more success in their careers, more appreciation from their children, more respect from their peers. "We can try to hide it," the melancholy lyrics continue. "It's all the same. I've been losing you one day at a time." And, of course, the chorus from which the song gets its name:
"And I know / In my heart, in this cold heart / I can live or I can die / I believe if I just try / You believe in you and I"
(Ironically, the sequence skips over perhaps the most appropriate line of all: "Oh I, I can't stand myself." Perhaps that was deemed too on the nose even for this scathing sequence.)
HBO employed Kiwanuka's "Cold Little Heart" in their promotion for Big Little Lies (like in the trailer above), and it's no surprise that they decided to stick with it for the show's title sequence. For a series with characters so full of ambition, envy, and self-loathing, there's perhaps no song they could have chosen that would be more appropriate to kick off the action each week.