You Have To See This Birchbox & 'Vogue' Collab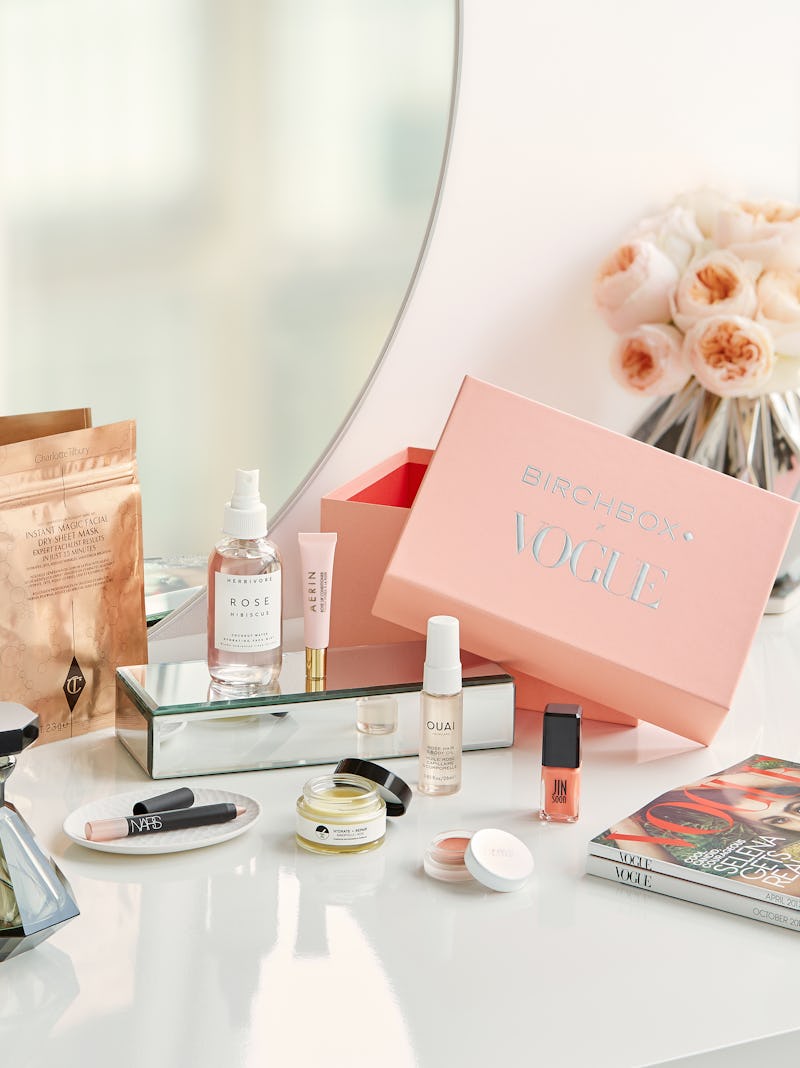 Courtesy of Birchbox
If you need a reason to celebrate, I'd say the 125th anniversary of a legendary publication like Vogue is a pretty good one. So the iconic magazine is teaming up with Birchbox on the Birchbox x Vogue 125 box, and I for one am super pumped for this collab. Birchbox has long been one of my favorite places to shop for under-the-radar beauty products and cult favorite brands, but the addition of limited-edition boxes to its product offerings has been a game changer. The specially curated boxes combine products based around a specific theme, and you get full- and sample-size products at some steep discounts compared to what they'd retail for.
So what's the theme of the Birchbox x Vogue 125 box? It's all centered around roses — specifically the specially created Vogue Anniversary Rose. The magazine teamed up with a horticulturist to create a "vibrant peach-colored flower" that perfectly emulates the iconic brand. Then, Birchbox and Vogue teamed up to make the limited-edition box, which is full of gorgeous rose-colored and scented beauty products. The box has some newly launched products I've been dying to try out, and Vogue beauty director Celia Ellenberg also worked with brands like rms beauty, NARS, and JINsoon to create exclusive "Vogue Rose" shades of some of their products. The rest of the products are gorgeous peachy shades, and the box is on sale on the Birchbox website now.
Limited Edition: Birchbox x Vogue 125, $68, Birch Box
The box retails for $68, but according to Birchbox it's a $224 value — talk about a good deal. So what do you get in it? The box includes a NARS Soft Touch Shadow Pencil in Vogue Rose, a Herbivore Botanicals Rose Hibiscus Face Mist, a Charlotte Tilbury Instant Magic Facial Dry Sheet Mask, an RMS beauty lip2cheek cream in Vogue Rose, the brand new Ouai Rose Hair & Body Oil, an Earth Tu Face Face Balm, a JINsoon Nail Laquer in Vogue Rose and an AERIN Rose Lip Conditioner. Can you believe how much you get in the box?
Here's a better look at everything you'll get. How gorgeous do all those peachy products look together? As with other limited-edition Birchbox boxes, some of the products are actually full-size (unlike normal Birchbox boxes). The NARS pencil, rose hibiscus face mist, lip2cheek cream, face balm, nail laquer and lip conditioner are all full-size, which is pretty amazing.
Considering how much you get for $68, I for one think this is an amazing deal.