The 'Black Panther' Sequel Is Happening & That's Not Even The Best Part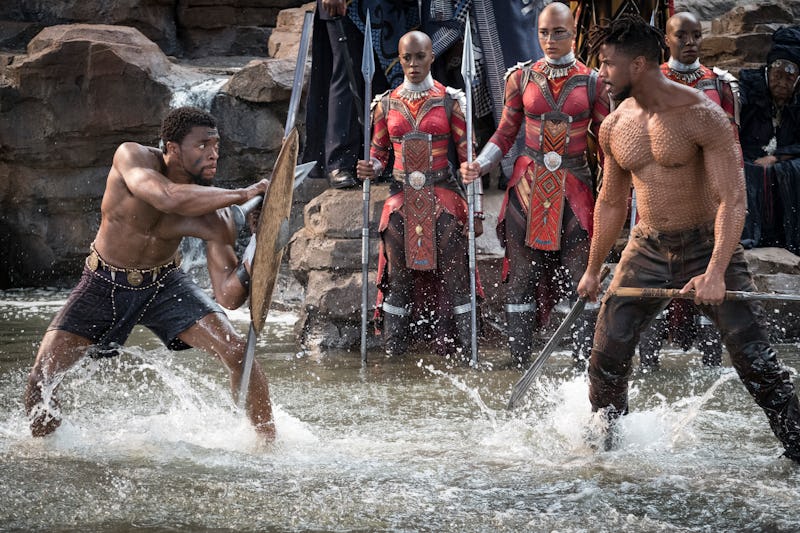 Marvel Studios
If you're still packing the theaters to see Black Panther, then congratulations, but also good news: the Black Panther sequel is confirmed, according to Marvel Studios president Kevin Feige. Was this even really a question? Considering the runaway success of the movie and the amount of lives that it's touched and even changed, the fact that Black Panther is getting a sequel is less of a surprise than it is an inevitability. But Feige's interview with Entertainment Weekly made it clear that plans for the sequel are even further along than you'd expect — and have been in the works even before the first film debuted in February 2018.
"Nothing specific to reveal [about the sequel], other than to say we absolutely will do that," Feige said. "One of the favorite pastimes at Marvel Studios is sitting around on a Part One and talking and dreaming about what we would do in a Part Two. There have been plenty of those conversations as we were putting together the first Black Panther. We have ideas and a pretty solid direction on where we want to head with the second one."
Can you say "Wakanda forever"? Because it certainly seems like fans will get to explore the country forever (or what seems like forever in film time). And what a gift to us all.
And as far as any of the characters from Black Panther's outstanding ensemble getting their own movie goes, Feige told EW,
"I think Shuri's astounding, and you'll see much more of her in our universe. Okoye, I think I'd watch three action films just Okoye. I'm not saying we're doing that, but I'm saying that we're intrigued by them. Frankly, as I've said before, finishing these first 22 movies is really all we're thinking about at this point."
So while those Shuri and Okoye spinoff ideas may be too good to be true for now, rest easy knowing that the first Black Panther movie won't be the last you'll see of those fantastic characters.
As fantastic and exciting as this news is, it's not entirely unexpected. When Variety asked Feige if a sequel was on the horizon right before Black Panther hit theaters on Feb. 16, he offered up a pretty promising reply. Feige told the publication,
"We always say we work on one movie at a time. If you have any good ideas, put it in the movie you're making. If you don't, you might not be able to make another one. That said, Panther has been around for more than half a century in the comic books and there are many, many stories to tell."
When Variety asked him if Ryan Coogler would direct this hypothetical sequel, the Marvel Studios president said he "absolutely" hopes so. Right there with you, Feige.
Speaking of the acclaimed director who stood at the helm of Black Panther, Coogler also recently said some things that suggest he'd like to tell more of T'Challa's story. Last month, Coogler told ScreenRant,
"So, you know, in the [books] he was kind of a guy who was a child king, you know? He got his throne when he was very young. So when you meet him you know you dealing with a guy who's thirty-four years old who's been king for a long time. So he has a different type of poise and confidence in his position, you know? Whereas, in our film that character is just settling in. So I'd be really interested to see, you know, what kind of king he is with experience and how that affects his performance in the stories."
If Coogler does end up returning to Black Panther 2 , he would get to do precisely that. Once again, what a gift to us all.