This Letter The 'Black Panther' Director Wrote To Fans Will Instantly Make You Misty-Eyed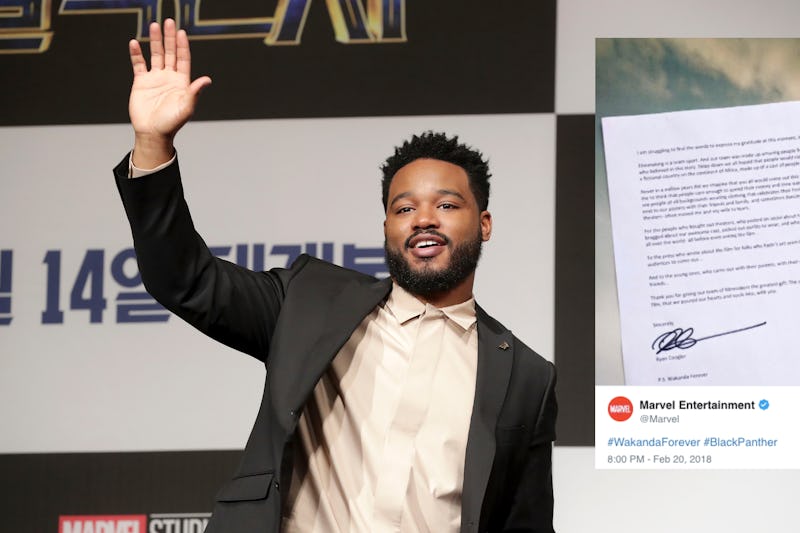 Han Myung-Gu/Getty Images Entertainment/Getty Images; Marvel/Twitter
It's official: Marvel's Black Panther is taking over Hollywood. The film brings the fictional African country Wakanda to life beautifully, and with its all-black leading cast in tow, it's slated to be an international success. Appreciative of all of the love surrounding the work, Black Panther director Ryan Coogler wrote a thank you letter to fans, and it'll be sure to fill anyone thrilled by the film with pure happiness.
Coogler published the heartfelt letter on Marvel Entertainment's official Twitter on Feb. 20. He wrote,
"I am struggling to find the words to express my gratitude at this moment, but I will try. Filmmaking is a team sport. And our team was made up [of] amazing people from all over the world who believed in this story."
Not only did the director point out just how much of a team effort it was to bring this marvelous story to the theater, but he also admitted he had a bit of doubt surrounding the acceptance of the project. A major motion picture based on an African continent, not to mention starring an all-black lead cast, breaking box-office records internationally isn't something that many would think could happen. But Coogler, with his team backing him, was able to make the dream a reality. He continued:
"Deep down we all hoped that people would come to see a film about a fictional country on the continent of Africa, made up of a cast of people of African descent. Never in a million years did we imagine that you all would come out this strong."
The love Coogler speaks of was so real for the film. Leading up to its premiere, fans raved about just how excited they were — planning out their outfits in advance, buying out theaters in support of the social media rally cry #BlackPantherChallenge, as well as crafting viral social media videos surrounding their exhilaration for the film's existence. It only being Coogler's third major film, you can imagine how much pressure he felt to deliver greatness to the Marvel Universe. The positive reviews from critics, however, proved that the fan's premature excitement was not in vein. Black Panther is a beautifully crafted film, and its cultural significance alone explains why the film had the second biggest opening weekend ever, directly behind Avengers.
The fans and critics aren't the only one's praising the director, cast ,and crew for their amazing performances, both in front of and behind the camera. Chairman and CEO of The Walt Disney Company Bob Iger, along with Marvel Comics' Stan Lee made a point to sing of the film's praises on social media as well. In a Feb. 20 tweet, Lee, who had a hilarious cameo in the film, wrote, "What a thrill it is to be able to witness all the records this dynamic, thoughtful movie is smashing."
In closing, Coogler thanked all of those who contributed, even the slightest, to the buzz surrounding the film, writing, "Thank you for giving our team of filmmakers the greatest gift: The opportunity to share this film, that we poured our hearts and souls into, with you." But the real gift, is what Coogler's recent story has done to help mend the tested relationship between black art and the entertainment industry.
So far, Black Panther has grossed more than $400 million worldwide, and according to Vanity Fair, is the "third-highest gross in history for a four-day opening weekend." Coogler has done more than bring an African story to Hollywood, he's helped to debunk long-time myths that black stories don't perform well overseas. And that's something that can help positively shape the trajectory of black art in the future.
There's a lot to be said about Black Panther's cultural impact, but celebrating the film is impossible with first acknowledging the man behind its brilliance. Bottom line: Coogler isn't just one to watch, he's a gem, and the industry must protect his genius at all costs.