Here's Everything We Know About 'Black Panther 2' So Far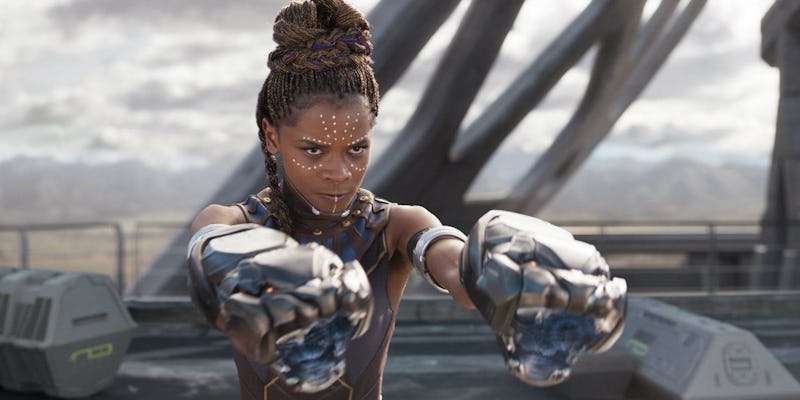 Walt Disney Pictures
Even before the movie's big premiere, Black Panther is already one of the most buzzed-about superhero movies of all time. The film's Rotten Tomatoes score stands at a staggering 97 percent after 100 reviews, which if it holds, will be a record for a superhero film. The movie also sold more pre-sale tickets than any other movie in Marvel Cinematic Universe (MCU) history on Fandango, and is tracking toward a massive opening weekend. So with all of the hype surrounding the film, it'll be no surprise at all if Black Panther 2 is happening.
Although a sequel is not yet confirmed, the odds that there will be a Black Panther 2 are extremely high, with a big reason for that being the need for Marvel to develop some new franchise stars. As of right now, the future of the MCU is largely up in the air, with the franchise's phase three set to close out next year with the release of the currently-untitled fourth Avengers movie. That film is expected to change the MCU in big ways, with a likely shift in focus from OG characters like Iron Man, Thor, and Captain America toward newer faces like Spider-Man, Doctor Strange, and the king of Wakanda himself, Black Panther.
Marvel currently has a reported 20 movies planned following Avengers 4, but very few of them have been officially announced. The only ones fans know for sure are happening are the sequel to Spider-Man: Homecoming, which will kick off phase four on July 5, 2019, and Guardians of the Galaxy: Vol. 3, which is expected in 2020. Marvel is also finally developing a standalone Black Widow film, which will likely premiere sometime in the next few years. After that, nothing else has been confirmed, which makes it seem awfully likely that Black Panther 2, and probably Black Panther 3, find themselves among the other 17 planned films.
So far, nearly every Marvel character who has had their own film has been granted a sequel. Even 2015's Ant-Man, which had the lowest box office take of any MCU film released since 2011, has a sequel on the way with next summer's Ant-Man & the Wasp. Doctor Strange, which premiered in 2016, is widely rumored to have a sequel in the works, too, with Deadline reporting in 2017 that director Scott Derrickson will be returning. The lone exception is the Hulk, but his case is a bit complicated. The Incredible Hulk was the second ever MCU film, released in 2008, and it remains the lowest-grossing franchise installment. The film's star, Edward Norton, was replaced with Mark Ruffalo in the Hulk's future appearances, and the rights regarding another solo Hulk movie remain murky between MCU owners Disney and Universal Studios, which distributed The Incredible Hulk. But since Black Panther has no conflicting rights issues with other studios, and since the film is expected to outgross both Ant-Man and Doctor Strange, it would be mind-boggling if Marvel didn't produce a sequel.
Even though no Black Panther sequel has been confirmed yet, that doesn't mean that no one's talking about making one. Ryan Coogler, who directed and co-wrote the film, was recently asked by Screen Rant about where he saw the character of T'Challa going in future films, and while he was pretty tight-lipped and didn't reveal any specific details on a potential sequel, it certainly sounds like he's thinking about making one.
"Without getting into specifics, what I'll say is something that I kind of, you know, what I struggled with at first is the difference between T'Challa in the comic books versus T'Challa in the MCU. And I always think that the differences lie in how old he was when he lost his father," Coogler said. " You know, in the comic books he's very young when [his father] T'Chaka is killed. In the MCU, he's a man, you know? And those are two different things ... So I'd be really interested to see, you know, what kind of king he is with experience and how that affects his performance in the stories."
There may not be a Black Panther 2 in production just yet, but don't worry, there's almost no chance that Marvel is going to limit their hottest new series to just one film.