All 28 Celebrity Cameos In 'BoJack Horseman' Season 6, Part 1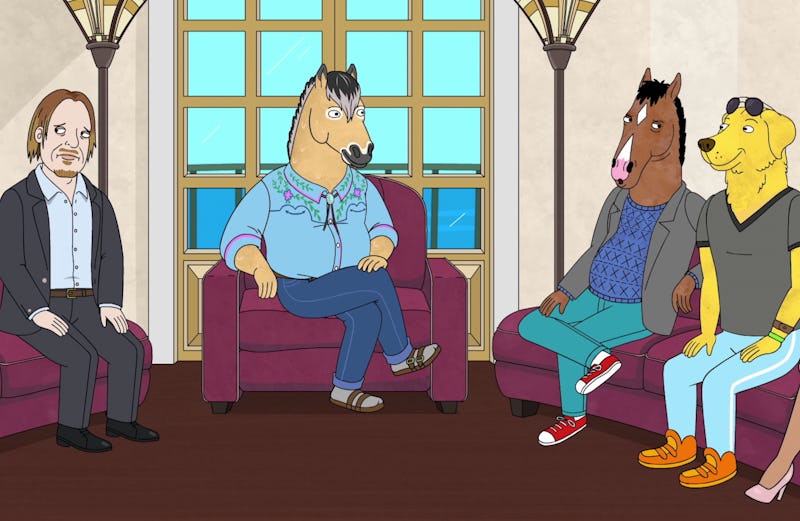 Courtesy of Netflix
Spoilers ahead for BoJack Horseman Season 6. Animated shows allow for celebrities to make small cameos without the fuss of being on-camera, and BoJack Horseman's Season 6 voice cast is evidence of that. In addition to mainstay voice actors like Will Arnett, who plays the titular horse-man, Amy Sedaris (Princess Carolyn), Alison Brie (Diane), Aaron Paul (Todd), and Paul F. Tompkins (Mr. Peanutbutter), there are both exciting newcomers and returning cast members that help populate the Netflix show's universe.
The series returned for Season 6, Part 1 on Friday, Oct. 25, and follows BoJack as he enters rehab for the first time. Meanwhile, Princess Carolyn struggles with the pressures of being a new mom, Diane battles depression as she finally sits down to write her memoir, and Todd discovers his professional calling. Mr. Peanutbutter has a very BoJack-like trajectory, as he's forced to come to terms with his infidelity and the ensuing vitriol directed at him from his typically adoring public.
Season 6 features returning voice talent like Adam Conover, who's played a number of characters such as a "A Ryan Seacrest Type" and "Guy Who Thinks Ghostwriters Write For Ghosts." Kristen Schaal also reprises her character Sarah Lynn, whom audiences see in flashbacks this time around.
In previous seasons, celebrities like Angela Bassett, Laura Linney, Issa Rae, and even Sir Paul McCartney have made cameos on BoJack Horseman. Jessica Biel in particular has been a standout castmember, whose character good-naturedly poked fun at her real-life career. This time around, there are some similarly impressive cameos.
Here's who appears in Season 6, Part 1 of BoJack Horseman.