How 'The Bold Type' Is Course Correcting On One Key Issue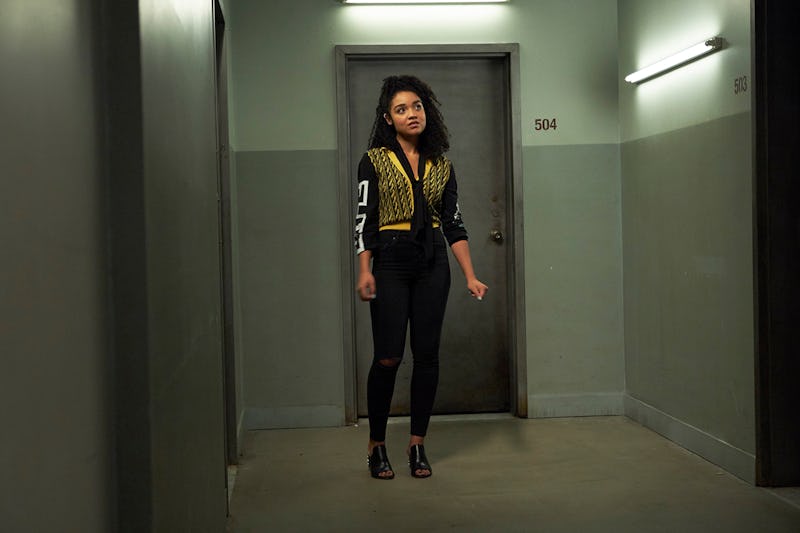 Freeform/Phillippe Bosse
The Bold Type has given star Aisha Dee the exact adjective she needs to describe her character's journey, right in the title — but she regrets having to use it. "I didn't expect [the writers] to be that bold," she tells Bustle of the season premiere, then laughs. "As much as I hate using the word bold, because it feels like a cop-out." But playing Kat Edison, Scarlet magazine's social media director, means finding a lot of synonyms for bold. The gutsy, barrier-pushing Season 2 premiere featured an oral sex scene between Kat and Adena (Nikohl Boosheri), her girlfriend. Dee says she was surprised but excited that the season kicked off by going there.
"It just felt like the natural next step," she says. "I think it's something that a lot of women feel when they're in their first queer relationship. There is this fear, and I hope that people are comforted by that and feel less alone."
Dee embraces the fact that The Bold Type is hitting home with fans who see themselves represented in Kat and Adena, a biracial woman (Kat's father is black, her mother white) and a self-described "proud Muslim lesbian." But she also finds something universal in the characters' relationship — not in spite of how unique they are, but because of it. "It's a really specific story," Dee says. "So whether or not it's your story, it doesn't really matter. I think you just respond to something that feels genuine. And to me it's always just been about love, period."
Like a lot of Bold Type turning points, the intimate moment in the premiere got its start at a fancy Scarlet magazine party, where Adena let slip that Kat hadn't gone down on her. The confession led to a heart-to-heart, which, to hear Dee tell it, could be the first of many this season. She describes Kat's feelings at this point in the relationship as "infatuation" and teases that moving to the next level with Adena will require navigating some difficult conversations. "I think a lot of last season was really about outside factors preventing Kat and Adena from being together," Dee says, "and I think this season is going to be more about the personal stuff."
That's not to say the challenges surrounding Adena's visa have all fallen away; Tuesday's episode finds Kat worrying about whether Adena, an artist, will secure enough work for her portfolio to stay in the country. But Dee sees Kat's nerves as the symptom of something larger. "I think the anxiety in relation to Adena's visa is really just coming from the fact that she's so scared that she could maybe lose [the relationship] because of something that she can't control," she says.
As if her relationship weren't complicated enough, the season premiere also pushed Kat to consider her racial identity. After a black colleague urged her to describe herself in her bio as Scarlet's first black female department head, Kat wound up sitting down with her parents to unpack why she was hesitant to own the label. "It was so touching to me that the writers found this story that I had never seen before [on TV]," Dee says. "I'm also biracial, and even though my story is very different from Kat's story — we come from completely different places, we are different people — I connected to it."
"There's this feeling or fear of not fitting the typical definition of black or white," Dee continues, "and that's a real thing that I think so many biracial people feel. And not even just biracial people. We all walk around in the world with many different identifications. None of us fits the typical mold of anything."
The Bold Type took some heat in its first season for refusing to engage with Kat's blackness, even when it definitely would have affected her experiences (with cyberbullying, for instance) and her worldview (Kat somehow couldn't understand why Adena didn't trust the police). In an interview with BuzzFeed News, new showrunner Amanda Lasher, who took over after creator Sarah Watson left the series at the end of Season 1, said she noticed the show's aversion to addressing Kat's race and set out to course correct. "I wondered what it's like for Kat as a character to have two white best friends and to live in this [media] world," Lasher said. "I wanted to hear her point of view, and for her to talk about her racial identity, since obviously it's a part of who she is."
For Dee, the shift was welcome. "For me personally, and I think a lot of people felt this, I really wanted to talk about that in Season 1," she admits. Still, she sees some upsides to the fact that the show is tackling Kat's identity as a biracial woman now, with a year of character work already under its belt. "We were able to tell this story that was different to the one that might have been told in Season 1," she says. "I think the fact that we got to know [Kat] first just meant the story evolved in a different way, and I'm really glad that we got to explore it in Season 2."
And there's more to come — Dee promises that The Bold Type didn't touch on Kat's racial identity just to check off a box and move on for good. "We're just scratching the surface when it comes to exploring Kat's identity," she says. "I think that's really what this season is about for Kat: coming to terms with who she is, and exploring and learning and trying not to mess things up in the process."
It sounds like Dee isn't done finding new ways to say "bold."