Massive Crowds Flooded The Streets Of London To Demand A Brexit Redo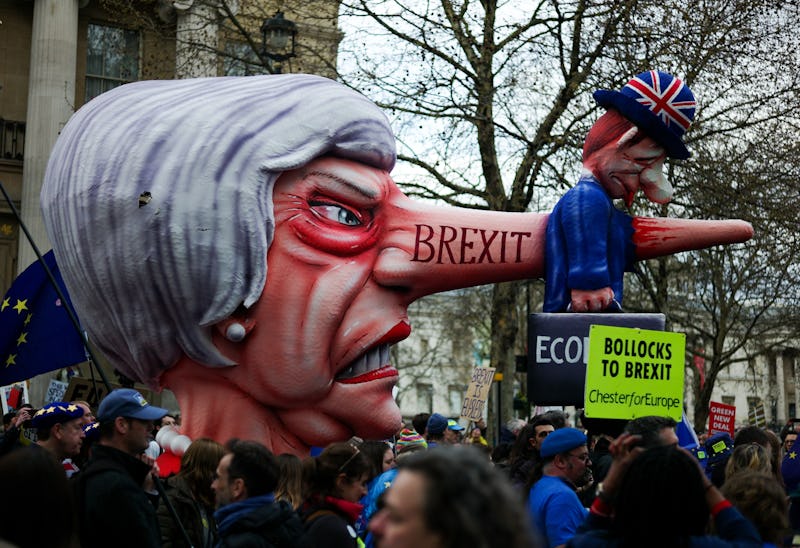 Ian Forsyth/Getty Images News/Getty Images
Anti-Brexit protesters flooded the streets of the United Kingdom's capital city Saturday, asking British Prime Minister Theresa May to, once again, "put it to the people." As May struggles to garner sufficient support for her Brexit deal, People's Vote March participants and supporters are asking the government to hold a second referendum regarding Britain's exit from the European Union. And if the crowd at Saturday's march is any indication, there's more than a few people hoping for a redo. Organizers behind the anti-Brexit protest in London say more than a million people turned up to march.
"It is almost impossible to put an exact figure on the size of this immense crowd because it is spilling out across central London," a spokesperson for the People's Vote March reportedly told The Guardian. "Our estimate is based on professional expert advice and whatever the exact number, there can be no doubt that this ranks as one of the greatest protests — possibly the biggest ever — that this country has ever seen. We have no doubt that this march is bigger than the last with our early estimate putting the size of the crowd at around 1 million."
According to TIME magazine, local police have not provided a crowd size estimate for Saturday's march that could be used to verify organizers' estimate.
But People's Vote March organizers told The Guardian that Park Lane, the march's starting location, had already been "filled to bursting point" when the march got underway with more people still arriving. As a result "many thousands of people are trying to make their way to Parliament Square through side streets," a spokesperson for the march said. Saturday's march saw protesters make their way southeast from Park Lane at Hyde Park to Parliament Square.
If organizers are correct in estimating that Saturday's march drew at least a million protesters, it will have indeed topped the march organizers held in October. According to CNN, the People's Vote March held in 2018 garnered roughly 700,000 participants.
March organizers said they'd hoped to "make the calls for a People's Vote too loud to ignore" with Saturday's event. "Our demand is a simple one," they wrote on the event's official website. "That any Brexit is put the people so that we can have the final say."
Outside of Saturday's protest, a number of U.K. residents have also voiced their support for revoking the country's invocation of Article 50, a section of the European Union's Treaty of Lisbon that gives member states the right to leave the political and economic union. As of Saturday afternoon, the "Cancel Brexit" petition had received more than 4.6 million signatures since it was launched in late February. According to The Washington Post, British Parliament considers any and all petitions that garner more than 100,000 signatures, meaning lawmakers will at least be discussing remaining in the EU.
Saturday's march comes just days before Britain's initial Brexit deadline. The EU recently agreed to extend Britain's date of departure from March 29 to April 12 or May 22, depending on the outcome of an upcoming vote. According to CNBC, Britain would have until May 22 to finalize their exit from the EU if Prime Minister May is able to garner sufficient support for her current withdrawal deal.
On Friday, however, the BBC reported that May had warned lawmakers that the upcoming vote on her plan for withdrawal may not happen if the plan does not appear to have sufficient support to pass. If her deal fails to pass Parliament, the country would have until only April 12 to extract itself from the EU.