Abbi & Ilana Are Finally Back In The 'Broad City' S4 Trailer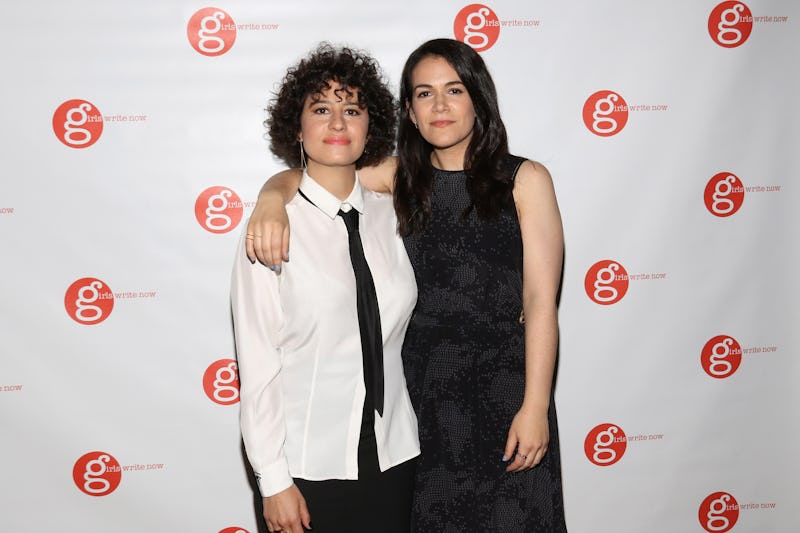 Janette Pellegrini/Getty Images Entertainment/Getty Images
Summer TV will get kicked up a notch when Broad City returns on Aug. 23, and I couldn't be more excited. It's been over a year since Abbi Jacobson and Ilana Glazer's Comedy Central series graced the screen, but good news: the Broad City Season 4 trailer is here and it's sex-positive AF. The preview of the new season shows Abbi and Ilana (as their TV show alter egos) up to brand new adventures, which includes self-caring for their woman parts, blowing actual smoke at an abortion protester, and engaging in different kinds of sexual exploration.
Set to Jennifer Lopez's song "Get Right," the trailer indicates that Abbi and Ilana may even take a trip to Florida, where the humidity makes their hair frizz and they encounter armed senior citizens. The approximately 90-second preview also features some top-notch guest stars (RuPaul, Steve Buscemi, Wanda Sykes, to name a few) and the return of a beloved recurring star: Hannibal Buress is back as Lincoln. At the end of Season 3, Lincoln decided to stop hooking up with Ilana in order to start a serious relationship with another woman, so it's nice to see that he and Ilana may still be friends.
While the show has always been super open and refreshingly honest about women's sexual experiences, the Season 4 trailer shows that Broad City is not holding anything back this time around — and that is so amazing to see on TV. At the end of the trailer, Ilana gives a shoutout to the current president while masturbating with a vibrator.
It's not the first time Jacobson and Glazer have spoken out against President Donald Trump. Since the 2016 election, the duo released a few Broad City shorts to the internet — which harkened back to the show's roots as a webseries. In January, Jacobson and Glazer released a "Hack into Broad City" short fear Trump's inauguration. In April, the women starred in an April Fools' short in which they take a "friend break" (or not) and another short in which they celebrate April 20 together.
Those videos were fun and helped us all through some serious Broad City withdrawal, but having the show back is the best gift of all. Watch the Season 4 trailer below.
It's so good to have Abbi and Ilana back.