Lincoln's Time On 'Broad City' Better Not Be Up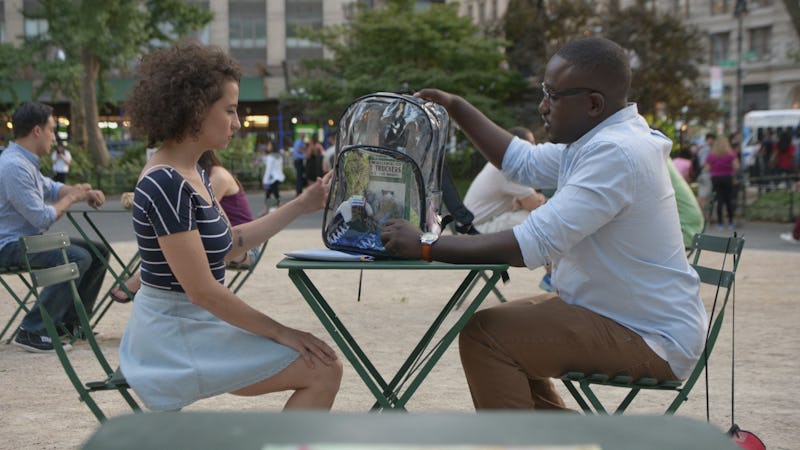 I can't say I didn't see this coming. When I saw that the title for the April 6 episode of Broad City was "Burning Bridges," I had a bad feeling that Ilana and Lincoln were going to break up. Unfortunately for Hannibal Buress fans, Lincoln did in fact end his relationship with Ilana. As cool as Ilana likes to be about their open relationship, she took the news harder than expected and spent the rest of the episode acting out due to her emotional vulnerability. But, what about Lincoln?! He told her he couldn't be "just friends," so does this mean Hannibal Buress is leaving Broad City?
Although Broad City is more about Ilana and Abbi's friendship than any of their romantic forays, Buress has been on the season as a love interest for Ilana since the beginning of Season 1. He isn't in every episode, but when he does show up as Ilana's sex buddy on the series, his deadpan delivery perfectly plays off of Ilana's wackiness. Yet, he has never been as open about his sexuality as Ilana, and her casual attitude toward their relationship was really what made Lincoln move on to his new girlfriend. In a truly awkward breakup scene, he gave Ilana's cock ring back to her as he carried his newly acquired murse — Blake Griffin's sneaker, which Ilana gave to Lincoln after her own sexual encounter with the basketball superstar.
Ilana, unable to handle her emotions about the ending of this relationship, legitimately ran away from the situation with Lincoln astutely observing, "Her running is a metaphor." But, just because Ilana and Lincoln can't deal with seeing each other now, doesn't mean it will be that way forever on Broad City. The press release from Comedy Central about Broad City Season 3 said that Buress would be a series regular, but his "series regular" status may have run out after "Burning Bridges," since he's monogamously dating a new woman. Unfortunately, I couldn't find any definitive statement about whether or not Buress will be in the remaining two episodes of Season 3, but I think it would be a missed opportunity not to have him back on the series at all, especially since it already was renewed for Seasons 4 and 5.
While I don't necessarily want Ilana pining for Lincoln, it could lead to comedic gold if they happened to run into each other out and about in New York City. Since Buress' own Comedy Central show Why? With Hannibal Buress hasn't officially been renewed or canceled, I'm hoping he'll have time to stop by and hang out with the Broad City ladies again sometime soon. Hey! Maybe Abbi could use some more dental work?
Images: Comedy Central (2)