Peter Dinklage Spitting Straight Fire In This Commercial Is The Best Thing You'll See All Day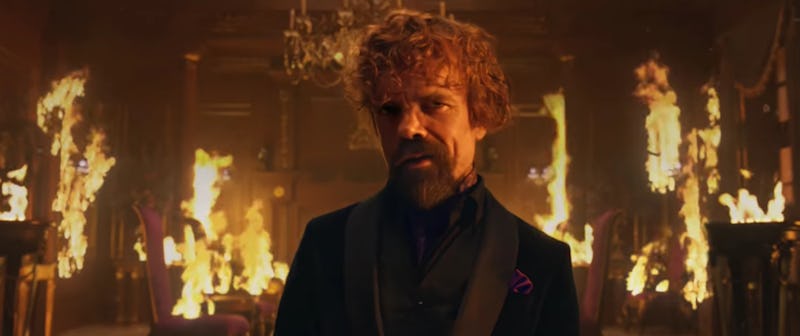 Screenshot/Youtube
Busta Rhymes has been a constant presence in rap and pop music since his career kicked off in the early '90s, and one of his most impressive performances is getting showcased in Doritos' 2018 Super Bowl Commercial. The ad features Peter Dinklage of Game of Thrones (director: Michelle MacLaren) expertly lip-syncing a lightning-pace verse performed by Busta Rhymes while in a burning room that, one assumes, went up in flames the minute that Tyrion Lannister started spitting fire. Dinklage rapping a Busta Rhymes song is truly a Super Bowl-worthy affair.
The verse in the commercial is from the 2011 hit "Look At Me Now," which technically by Chris Brown, with a Busta assist. Busta Rhymes' triple-time verse comes about a minute into the song. And you may want to skip straight to it, due to Brown's problematic reputation.
However, the Doritos-sponsored collaboration between Dinklage and Busta is so fruitful, that their future together doesn't need to stop here. The Game Of Thrones star didn't mind being the vehicle for introducing this verse to a wider audience. Dinklage shared with Yahoo! his enthusiasm for lip-syncing to Busta Rhymes and the his appreciation for the rapper's lyrical content.. "Busta does these play-on-words rhymes," Dinklage said. "For example, he'll rhyme 'cocky' with 'floppy.' They work so well in his style and really open up the world of rhyme."
With that much respect for Busta Rhymes, why should Dinklage stop at one song? There are plenty of others that we'd like to see Tyrion try out:
A Tribe Called Quest - "Scenario"
Busta Rhymes' verse on the A Tribe Called Quest song "Scenario" (which begins at 3:07 in the track's music video) may be a perfect example of a verse that was made to be lip-synced to. It's bombastic, full of variety, and has endlessly quotable lines tucked in throughout. This 1991 track brought Busta Rhymes into the spotlight when he was just 19, and has gone on to become a defining moment in the rapper's career. Lines from his verse have been borrowed and twisted by everyone from Nicki Minaj to the Barenaked Ladies, and who wouldn't want to see Tyrion Lannister lip-sync the line "Raar, Raar like a dungeon dragon?"
Busta Rhymes - "Woo Hah!! Got You All In Check"
Does Peter Dinklage come through to rep the discotheque? We know that Busta Rhymes does, as he reminds us frequently over the course of his platinum-selling solo debut single. While Dinklage lip-syncing Busta's solo debut may not be as impressive as the rapid-fire "Look At Me Now," there's another element of Busta Rhymes' music that Dinklage would excel at — the outfits. Dinklage has already proven he can rap the words, but it has yet to be seen if he can also look the part by adapting Busta Rhymes' vibrant music video presence and colorful outfits.
Pussycat Dolls - "Don't Cha"
After the Spice Girls educated the world on what it took to be their lover, but before Fifth Harmony explained that they were C-O-N-F-I-D-E-N-T, another girl group was asking listeners an all-important question. Don't cha wish your girlfriend was hot like them? Don't cha? While Busta Rhymes never answers that question, his flirty verse provides ample opportunity for Dinklage to put his smoldering expressions to the test.
The pairing of Busta Rhymes and Peter Dinklage is simply too inspired in theory and too entertaining in practice to be limited to one song. With so many other challenging and enjoyable tracks for Dinklage to spit fire over, it'd be a shame for this 2018 Super Bowl ad to be their sole collaboration.