'Call Me By Your Name' Will Make You So Nostalgic For Your First Love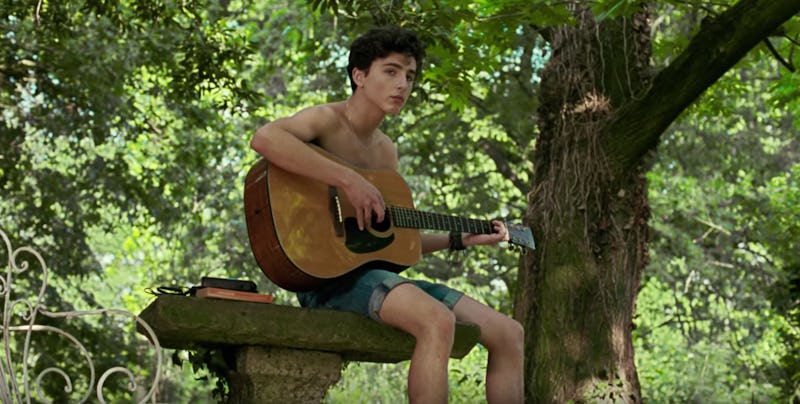 Sony Pictures Classics
Call Me By Your Name, Luca Guadagnino's film about a teenager coming of age and falling in love has been consumed in Oscar buzz since it's debut at the Sundance Film Festival. In other words, it's no ordinary film, and so it follows that the Call Me By Your Name soundtrack is no ordinary soundtrack. With an original score by Sufjan Stevens and composer Ryuichi Sakamoto, as well as two original songs by Stevens, written specifically for the film, the Call Me By Your Name tracklist is bound to be as popular as the movie itself.
The Call Me By Your Name official soundtrack has a great variety of original music, popular songs, and classical music, but, it has to be said that Sufjan Stevens' original songs for Call Me By Your Name are the standouts. Stevens' original tracks aren't just nice to listen to on the soundtrack, they're also crucial to the film. During production, director Guadagnino reached out to the musician personally to ask him to write an original song for the movie. He wanted a way to guide the film's protagonist, Elio (Timothée Chalamet), without using a voiceover — a technique often used for adaptations (Call Me By Your Name is based on a book by Andre Aciman).
"In a way the narrator became Sufjan Stevens with his new songs, made contemporary, about our story, which is back," Guadagnino said during a Q&A at the New York Film Festival, via The Film Stage. "We wanted a sort of narrator that could make justice of the book, of the film, drawn from the narrative of Elio."
The result was two originals songs — "Mystery of Love" and Visions of Gideon" — as well as a new version of "Futile Devices." All three songs help bridge the gap from Elio's subjective point of view in the book to Guadagnino's more omnipresent camera, a job the director felt only Stevens could accomplish. "I felt Sufjan's lyricism, both in the voice and the lyrics itself, had some beautiful elusiveness on one hand, on the other hand poignancy that were really resonate," he told the audience at the NYFF. The director worked closely with Stevens to help guide him in the right direction, adding, "When he said yes, his tools were the script, the book, our conversation about the characters and I would say his own inspirations."
The songs were integral to the director's vision of the film, so much so in fact, that Chalamet used one of the songs to prepare for a climactic emotional scene. "Luca knew he was going to put a Sufjan Stevens song over that scene, so I listened to that song in my ear when filming that scene so I could channel what was happening in that moment," the actor said at the Toronto International Film Festival, via Screen Daily.
Of course, the Call Me By Your Name soundtrack is more than just three Sufjan Stevens numbers. The 17-track album also features a handful of songs from the '80s, like "Love My Way" by The Psychedelic Furs (aka the song star Armie Hammer dances to in a previously released clip, spawning the superb — and now defunct — "Armie dancing to" Twitter account), and classical pieces, as well as French and Italian music.
Call Me By Your Name will finally hit theaters nationwide on Nov. 24, but the film's official soundtrack is currently available for purchase on iTunes, and through other retail sites. And the entire album is also available to stream on Spotify. So, fans, go ugly cry or dance your heart out all you want — the Call Me By Your Name soundtrack is here for you, no matter what mood you're in.