Dairy Queen Just Brought Back Its Iconic Candy Cane Chill Blizzard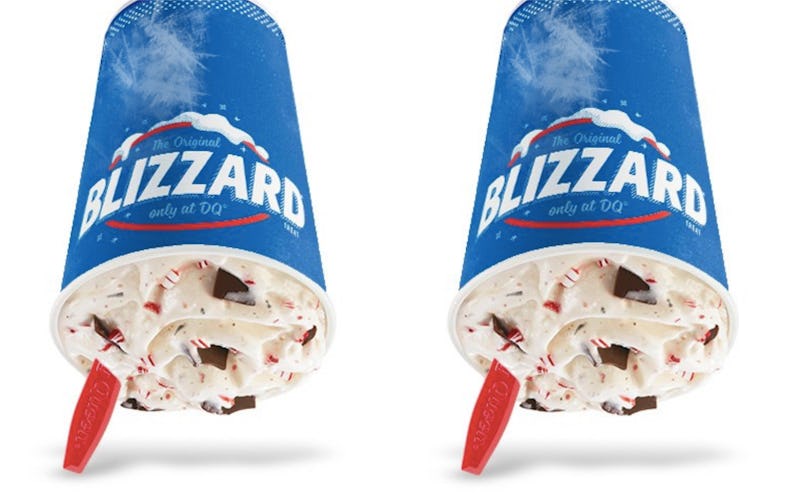 Dairy Queen
It's never too cold for ice cream if you're committed enough. For those who never tire of the bar-none best dessert in the game, Dairy Queen is a godsend. Every month without fail, one of the most iconic treats and eats chains in the U.S. adds a special limited release treat to its menu. The opportunities are endless, and the flavors limitless. This December, Dairy Queen looked to a classic flavor combination for its Blizzard of the Month — you can munch on a Candy Cane Chill Blizzard during your holiday shopping escapades this season.
Per Dariy Queen, the Blizzard is "candy cane pieces and choco chunks blended with creamy DQ vanilla soft serve". During a time of year when peppermint is the most prominent flavor, this blizzard offers a creative take on the classic. Think of it as a peppermint bark-filled treat, since that's basically what it is. Peppermint bark is traditionally made by thinly spreading tempered chocolate on a tray and topping it with sprinkles of broken candy canes. The resulting confection is sweet, with an undeniable chill from the peppermint. Mixing these flavors with a cup of vanilla soft serve only amplifies them, and adds another layer of richness. Basically, Dairy Queen has once again reworked a classic into something spectacular.
In addition to the Candy Cane Chill Blizzard, Dairy Queen introduced an entire line of winter-themed blizzards for the season. The other flavors include the Pumpkin Pie Blizzard, the Dipped Strawberry made with Ghirardelli Blizzard, the Snickerdoodle Cookie Dough Blizzard, and Reese's Outrageous Blizzard. Each of these blended treats is modeled after holiday favorites, and contain pumpkin pie pieces, chocolate and strawberries, snickerdoodle cookie dough, and Reese's pieces, cups, and caramel, respectively. A fifth blizzard, the Oreo Hot Cocoa Blizzard — packed with fudge and Oreo pieces — was the Blizzard of the Month in November. It will continue to be available through winter.
If you *swear* you've had the pleasure of tasting the Candy Cane Chill Blizzard before today, you're probably right. Both it and the Oreo Hot Cocoa Blizzard were first introduced for the season last year.
On the other end of the seasonal dessert spectrum, during the summer of this year, Dairy Queen also created a Blizzard to honor of the release of Jurassic World: Fallen Kingdom. The treat, fit for a Tyrannosaurus Rex, was aptly named the Jurassic Chomp Blizzard, and was an absolute mammoth when it came to flavor. DQ combined giant chocolate-dipped peanut butter bites with hot fudge sauce and thick vanilla soft serve. The resulting creation was along the lines of a peanut butter cup blizzard taken to the extreme. This was no ~hint of peanut butter~ business, this was a treat to be enjoyed only by true PB stans. Whether or not the Jurassic Chomp Blizzard will ever be saved from extinction remains to be seen.
But, in the meantime, you can snag a Blizzard flavored like chocolate's second best friend: peppermint. The Candy Cane Chill Blizzard will be available through the end of the year then (presumably) for however long supplies last.