The Game Of Thrones Cast Looked Amazing In All Black At The Golden Globes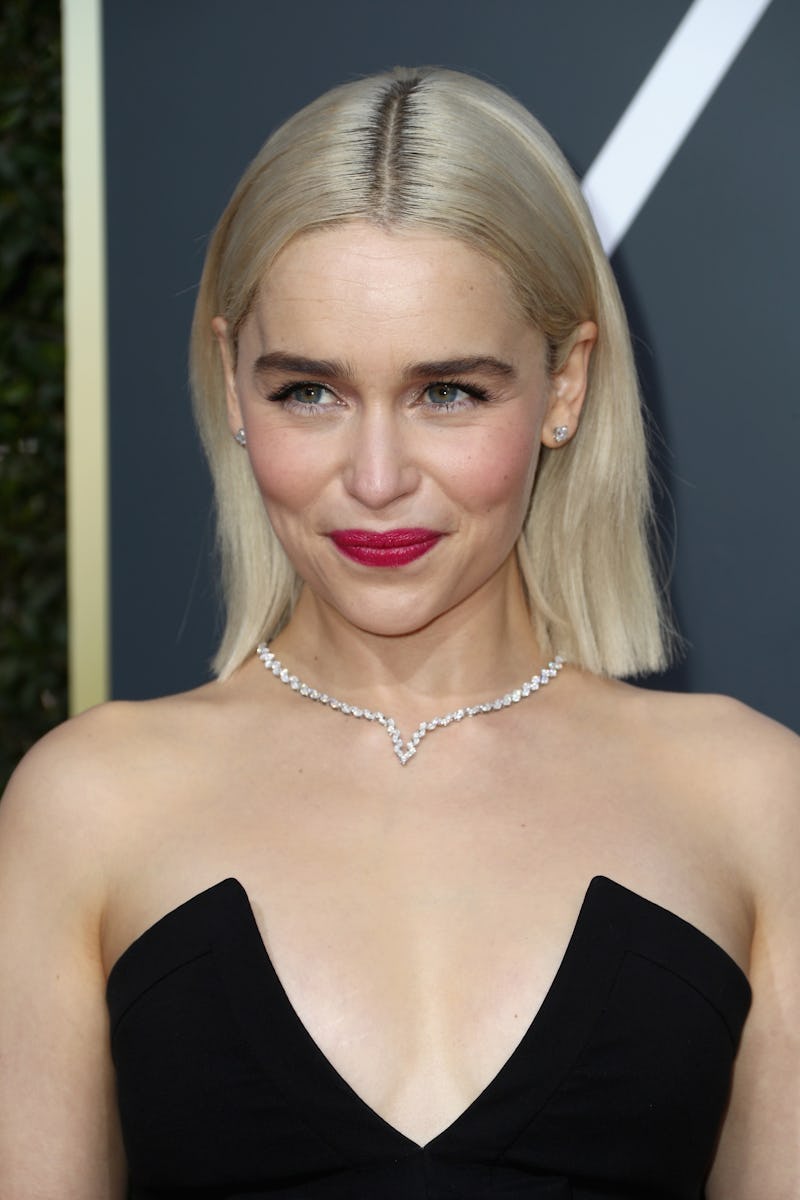 Frederick M. Brown/Getty Images Entertainment/Getty Images
By now, we've all come to expect the very best from the cast of Game of Thrones on the red carpet. It seems the series is always nominated for something come awards show season — and rightfully so. It's obviously a great series, and one that's chock full of people with incredible talent. But there's also their overall chicness. Each year, at every award show, the actors seem to step out on the red carpet looking more polished and more stylish than the last. (Seriously, how do they do it?)
And yet, at the 2018 Golden Globe awards, the cast shined for another reason: they all wore black.
This was the rumor leading up to Sunday night's show; that all the celebs — male and female — would wear black to protest the gender inequality and sexism in the entertainment industry. So the fact the entire cast of GOT followed through, and donned the dark hue in solidarity? Well, that just goes to show how awesome they truly are.
Black gowns and tuxes were a major theme of the evening, with everyone from Millie Bobby Brown, to Reese Witherspoon, to Halle Berry taking a stand. The evening's go-to look was connected to #MeToo, as well as Time's Up, which is sending a message in light of the sexual assault allegations against Harvey Weinstein that the "time is up," and we need to make a change.
Whether it was a sleek black tux, or a gorgeous black gown, our GOT faves — those who were attendance, anyway — really went all-out in the style department. And, by doing so, helped to make an incredibly important statement. Take a look at their red carpet outfits below.
Emilia Clarke
As always, Emilia Clarke looked perfectly stylish on the red carpet. The star wore a strapless black dress, which featured a bow tied at the waist. The column of beautiful black fabric made her look utterly statuesque.
The dark color of the dress also perfectly set off her signature bleach blonde hair, which stood out in bold contrast. She wore her strands down, parted in the middle, and sheered off at the shoulders.
Clarke topped off her royal look with a diamond choker necklace, dark brows, and a bright pink lip. And what a combo it was.
Lena Headey
Lena Headey is always one to watch on the red carpet, this time by showing her support with a romantic, ruffled number. It appealed to the actress's sultrier side, with a cutout panel along the midriff, and flowing floor-length fabric.
Her hair was super romantic, too. She wore it down, with loose tousled waves. Aside from a few gold bangles, the actress went completely jewelry-free; her only accessory being her super cool tattoos.
Kit Harrington
Like so many other men of the evening, Harrington went for the all black look, including his shirt and tie. The actor kept his signature beard intact, and simply swept back his hair.Very dapper.
Nikolaj Coster-Waldau
Coster-Waldau went for black, too. But he paired his tux with a crisp white shirt. We still got the message, though.
Gwendoline Christie
And, last but not least, we got to see the amazing Gwendoline Christie, who stunned in a semi-sheer gown. The hem flowed out around her, with beautiful ruffles and volume at the bottom. And her short blonde hair topped it off perfectly.
The cast, whether they're scooping up awards or simply looking stylish on the red carpet, never fails to impress us. And the fact they wore all black, and sent such a powerful message? Well, it made us love them even more.