What The Cast Of Harry & Meghan's Lifetime Movie Looks Like Compared To Their Royal Counterparts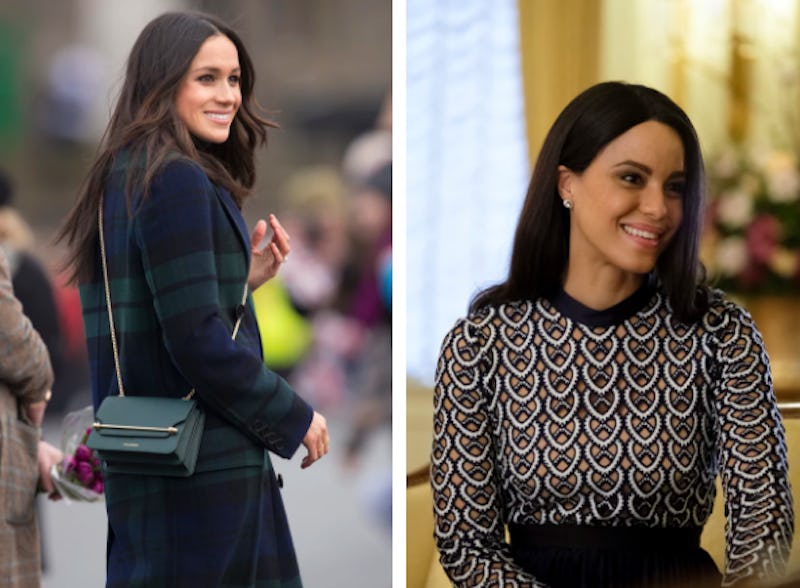 Getty Images / Lifetime
Creating a biopic focused on one of the famous families in the world has its challenges. Not only do you have to get the logistics of the events correct when the family in question is notoriously tight-lipped about their personal lives, but you also have to find the perfect cast of lookalikes. Impressively, most of the cast of Lifetime's Harry & Meghan: A Royal Romance looks nearly identical to their real-life counterparts.
Casting any biopic is tough: The talent has to be there, without question, but all the actors also must bear a strong resemblance to their real-life counterparts. And unlike other historical dramas where actors are tasked with playing real people from another time period, A Royal Romance has the distinct challenge of having to cast lookalikes for two very famous people still alive and in the forefront of public consciousness today. With Prince Harry and Meghan Markle dominating the headlines leading up to their May 19 wedding, and Prince William and Princess Kate welcoming a new baby just weeks ago, the casting for A Royal Romance needed to be spot-on. And, in large part, it is. Here's a closer look at the actors and the real-life people they're playing.
Prince Harry
Chris Jackson/Getty Images Entertainment/Getty Images
Lifetime
Murray Fraser plays the role of Prince Harry in the film, and while no one can truly replicate Harry's adorable charm, it looks like Fraser could come close. His (unverified, inactive) Twitter account suggests that Fraser isn't a natural redhead, but you could have fooled me. The blazers and the scruffy beard are part of Harry's signature look as of late, and apparently the film took note of that.
Meghan Markle
WPA Pool/Getty Images Entertainment/Getty Images
Lifetime
This one really hits the nail on the head. In my opinion, this particular Lifetime still of Parisa Fitz-Henley as Markle doesn't even do the resemblance justice. Fitz-Henley shared some snaps on Instagram as she geared up for the role, and wow, is it uncanny.
I mean, come on. Between the smile and the eyes, she and Markle could be sisters. The casting department knocked it out of the park with this one.
Prince William
Chris Jackson/Getty Images Entertainment/Getty Images
Lifetime
Another solid choice — same smile, same hair, same affable attitude. Burgess Abernethy doesn't really resemble Prince William all that much when you check out photos of him out of character, but he wears the role well when he steps into those shoes.
Kate Middleton
Lifetime
Chris Jackson/Getty Images Entertainment/Getty Images
Princess Kate Middleton's doppelganger seems to pull off her character pretty successfully as well. The hair stylists for A Royal Romance even perfected her signature loose hair waves, and from the looks of the press photos, they've also kept her elegant, classic style intact.
Prince George
Handout/Getty Images Entertainment/Getty Images
Lifetime
Prince George is quite possibly the cutest little boy on the planet, and A Royal Romance managed to nab a child who could tie him for that title. They even dressed him in the baby blue tops George tends to don. I'm just as invested in Harry and Markle as the next gal, but can we also just have a 90-minute feature film on George and Princess Charlotte?
Prince Charles
Lifetime
Carl Court/Getty Images News/Getty Images
Prince Charles, Harry and William's father, also nabs some of the limelight in this film. Actor Steve Coulter has the stoic, grandfatherly aesthetic down flawlessly, but the film has definitely aged him a bit. According to his IMDb page, he was born in 1960, making him about 12 years younger than the real Prince Charles.
Camilla Bowles
Georges De Keerle/Getty Images News/Getty Images
Camilla Bowles, Charles' wife, is portrayed in the film by actor Deborah Ramsey. Aside from Ramsey's natural resemblance to the duchess, A Royal Romance nails the feathered blonde hair, as well as Camilla's affection for fun hats and headpieces.
Queen Elizabeth
Chris Jackson/Getty Images Entertainment/Getty Images
Lifetime
Stepping into the role of Queen Elizabeth can't be easy, especially when Helen Mirren and Claire Foy have so impeccably pulled off the role in recent years. But it certainly seems like A Royal Romance did well, at least as far as resemblance goes, when it cast Maggie Sullivan. In the film, she's got the hair, jewelry, pink tones, and even a cup of tea to boot, all lending to a worthwhile rendition of the Queen.
Princess Diana
Lifetime
Clive Mason/Getty Images Sport/Getty Images
It's unclear exactly how Princess Diana will appear in A Royal Romance, given the fact that she was tragically killed in 1997, when Harry and William were still young boys. But regardless of how the film pays tribute to her, Bonnie Soper looks like a great Diana. The hair, the style, and the physical features all fit right in with those of the late princess, and it's clear that the film achieved what it was going for.
While it remains to be seen how exactly the writing and dialogue of the production will reflect the real-life royal family, the main players in A Royal Romance appear to be up to the task of portraying their counterparts. It's always a treat to feel like viewers are being let into the lives of a family that's usually so incredibly private, and hopefully, with this ensemble, A Royal Romance doesn't disappoint.