Here's Everything We Know About The Cast Of Joaquin Phoenix's 'Joker' Movie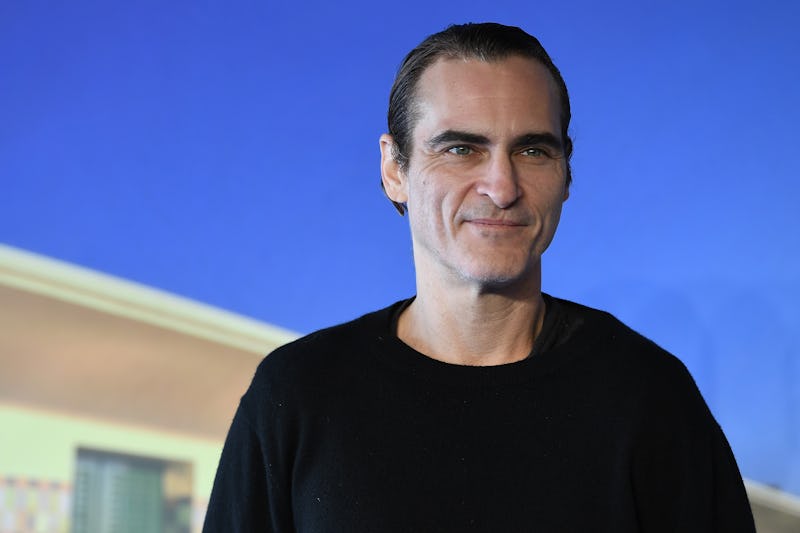 Pascal Le Segretain/Getty Images Entertainment/Getty Images
DC and Warner Bros. are continuing to grow their cinematic universe with an origin story of the Joker, the sadistic villain that sets out, time and again, to foil (and kill) Batman. With only a few set pictures and one official character portrait released, there's still a lot fans don't know about the film. Luckily, the full cast of Joker movie has been announced and the movie is becoming more real than ever.
In August 2017, The Joker movie was announced, as reported by Deadline, with Todd Phillips, who directed The Hangover franchise, already attached to direct, but without a star. It wasn't until later that Joaquin Phoenix took on the title role, increasing anticipation for the film tenfold. But excitement over Phoenix's take on the character aside, it wasn't until this week that fans learned a bit more of what's in store with this Joker origin story. The movie will follow a pre-Joker Arthur, an ordinary man who dreams of being a standup comedian. And now, thanks to a press release from Warner Bros. received by ComicBook.com, fans know a whole lot about the cast and plot of Joker.
The statement sets the movie up as not "only a gritty character study, but also a broader cautionary tale." It's possible that the character study will include a bit of history on the Joker's connection to Batman through his father, Thomas Wayne, who will be played by Brett Cullen. As ComicBook.com reported, Thomas Wayne is going to be a much harsher version than what fans have seen before, which makes it sound like he might have something to do with Arthur's transition form ordinary man to villain. Moreover, the website also reported that Batman will be making an appearance in the film. This did not appear to be in the press release, but the site claimed that the film would include an appearance by a very young Bruce Wayne, one who would never dream of being a superhero.
Along with the recent casting of Cullen as Thomas Wayne, Warner Brothers officially announced that Robert De Niro, Frances Conroy, and Zazie Beetz. According to The Hollywood Reporter, De Niro is set to play a talk show host, possibly playing a big role in the creation of the Joker. The outlet also reported that Zazie Beetz, who was a standout in Deadpool 2, will be taking on the role of single mother who becomes a potential love interest for the Joker — at the very least, she peaks his interest. Meanwhile, Conroy, who's had huge roles on American Horror Story and Castle Rock, is reported by The Wrap to be playing Arthur Fleck's mother, Penny. The press release also revealed that Bradley Cooper would be joining the project as a co-producer with Phillips and Emma Tillinger Koskoff.
There are so many different origin stories for the Joker in the comics and other iterations that this movie, one of two Joker-centric films in development at Warner Brothers, will certainly stand on its own. Joker, which is set for an Oct. 4, 2019, will definitely give more insight into the villainous legend.