'The Catch's Elvy Yost On Being New In Shondaland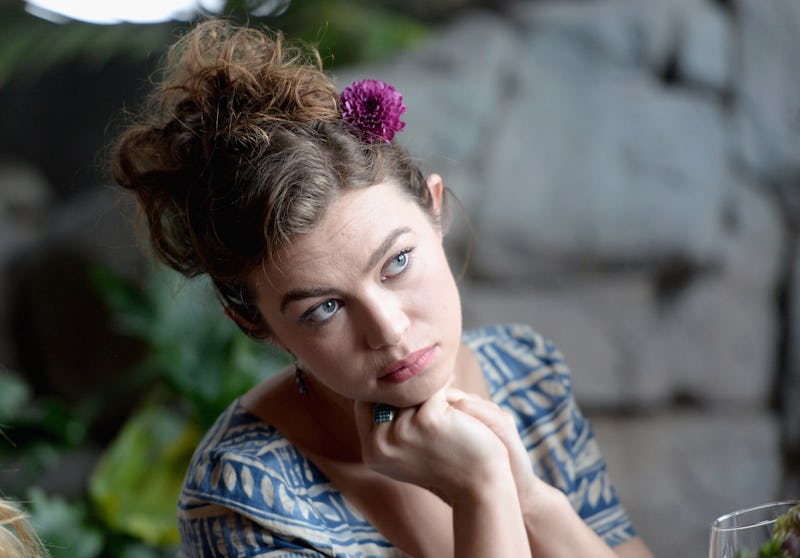 Vivien Killilea/Getty Images Entertainment/Getty Images
Yes, joining the iconic roster of Shondaland women including Kerry Washington, Viola Davis, Mireille Enos, and Ellen Pompeo is as badass and unreal as you'd imagine, according to one newcomer. However, it's also not as intimidating as you may assume. And surprisingly, actual face time with Shonda Rhimes (understandably) remains as scarce and sacred as it would be to anyone else. Elvy Yost, the 29-year-old who plays Sophie Novak on Allan Heinberg's The Catch, tells me from recent experience. Although she "definitely feels like a badass" being part of the show, joining Shondaland has been a significant learning curve for the actor. Even though she works so heavily with Rhimes' material, Yost still has her own questions for the show's executive producer if ever given the chance to ask them, just as any fan would. Since Shondaland has blown up into such a pop culture phenomenon, I'm fascinated to know what it's like on the inside, especially from someone new.
The girl power Rhimes breeds in her projects is contagious. Yost admits she didn't know what to expect joining the show, but she was immediately put at ease by the team and its atmosphere. "Luckily, the people who welcomed me onto the project were so welcoming that I didn't feel intimidated or overwhelmed at all," she explains. "Such wonderful people brought me on." Not to mention, she can't stop raving about her co-star Mireille Enos.
"Being around badass women like Mireille, like Julie Ann Robinson, who directed the pilot, has been so wonderful," Yost says. "Mireille is the most dreamy, gorgeous, brilliant, talented, capable, soothing, wonderful presence. A wonderful mother and family woman and such a dream to work with... really [a] role model."
And Yost respects her character just as much. "[She] is such a fascinating, unique one and very multifaceted. I love that she speaks many languages, she's an intellectual that doesn't flaunt that — she's just there to help," the actor says. Yost even pulls inspiration from Sophie. "It's been a really fun, interesting challenge to have her be so multifaceted... I'm constantly impressed with the amount of things that she's able to juggle. I aspire to be like that." And although she's grown significantly from watching Enos and portraying Sophie, directly learning from Rhimes is still a dream.
"I really don't know Shonda," Yost says with a laugh. "She has so many projects going on, it must be hard for her to be everywhere at once. I have seen her three times in my whole life and she said two words to me total," she says with good humor. Still, she feels Rhimes' presence in how she uniquely runs her operations.
Rhimes runs a tight ship, but one with creative freedom. "The whole show is different than we expected, because when we signed on it was one thing and then it got completely retooled and became another," Yost explains. The interworking is fascinating to Yost. "I've never experienced anything like that before, nor has most of the cast. It was really interesting to see," she says. "They know what they want to produce so clearly, [but] it doesn't always fall in line to what they see right away."
Clearly, it's working. "They run several tight ships all next to each other and they're all very different ships with brilliant women at the helm," Yost adds. That said, Rhimes's motivation blows her mind. Mostly she wonders: What is success in Rhimes's mind?
She has accomplished so incredibly much and is such a powerful force, that I think I'd ask her: 'You achieved the dream, so now that you have, what is your greater dream?' I'm wondering how someone who's built such an empire — do they just want to keep running that ship, or do they want to expand, or go back to their roots? I'd be fascinated to know what her ideas for next-level is, because she's already at the top.
Still, learning from Rhimes's unconventional yet successful methods allows Yost to harness those lessons to impart advice for any future Shondaland members. "Track the logic behind all of your actions and do your best to try and reconcile everything that happens to you and what you do for who you think your core character is," she says. "There's just so much that happens on these shows, that it's really important to pay attention to your trajectory and what makes the most sense, getting from Point A to C."
Now that shooting The Catch's second season (premiering March 9) has wrapped, Yost talks a breather to soak it all in. "I'm taking a moment of reflection," she says. "I'm really excited to reach into as many different mediums and genres and possible and stretch myself in as many ways as I can. Be challenged as much as I can. It sounds quite vague, but I mean it very sincerely." The future is bright for a talent like Yost, and having Shonda Rhimes in your corner certainly doesn't hurt.