The 'Charmed' Reboot Is Introducing Fans To A Whole New Generation Of Witches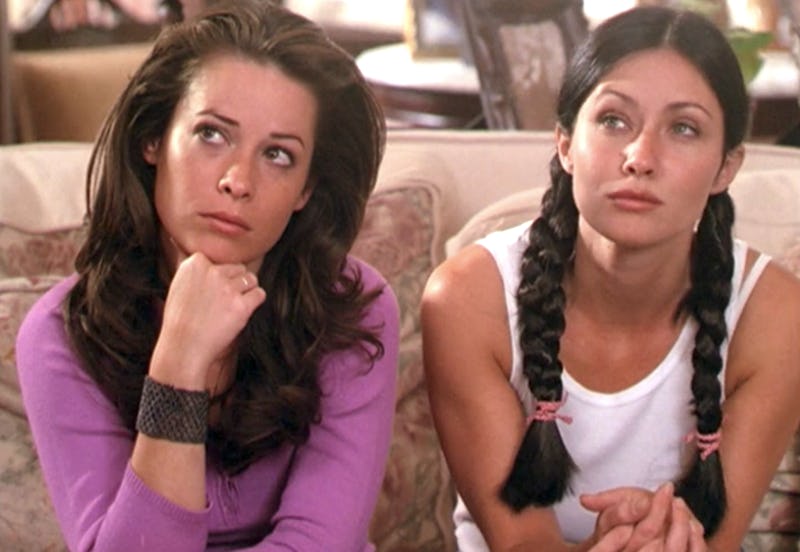 Paramount Television
Not long after it was officially announced that the beloved witch show is making a comeback, the Charmed reboot cast descriptions have been revealed by TVLine. While there have been years of rumors that the series might return, it was only recently confirmed that it's actually happening. And these descriptions of the new Charmed characters leading the reboot may make fans even more excited, as they will hopefully help bring more diversity to the series. Either way, fans will have plenty to say.
The adventures of the original Halliwell sisters, Piper, Phoebe, Prue, and later Paige, came to an end more than a decade ago in 2006. But the details of the reboot reveal that the updated version of Charmed will be receiving a total reimagining — particularly as far as the lineup of sisters is concerned. This time around, they've all got "M" names. As TVLine exclusively reported on Wednesday, Macy will be a "science nerd" in her late 20s with a Ph.D. in quantum physics. She'll move with her boyfriend named Galvin to Hilltowne, Michigan to do lab work. Possessing the power of telekinesis, she's convinced that she's related to Mel and Madison.
Mel is a lesbian in her mid-20s, who's in a relationship with a detective named Soo Jin. According to TVLine, an accident has made her angry and violent, even toward those who care about her. She has the ability to freeze time. Finally, there's Madison, a college student around age 18, who proves to be the complete opposite of her "feminist sister" Mel. Already worried about her social identity, Madison is not excited to discover she's a witch. As for her power, she can hear other people's thoughts.
Aside from the sisters, the reboot is looking to cast their "devilishly handsome" advisor, Harry; Macy's filmmaker boyfriend, Galvin; and Madison's "sensitive loner" ex-boyfriend Brian, according to TVLine.
Since the pilot order from The CW was announced a little less than two weeks ago, details about the production of the Charmed reboot are scarce. So far, all we know is that the show will be set in the modern day, and the pilot has been described by TVLine as:
"Fierce, funny, feminist reboot of the original series centers on three sisters in a college town who discover they are witches. Between vanquishing supernatural demons, tearing down the patriarchy, and maintaining familial bonds, a witch's work is never done."
The Charmed reboot will reportedly aim to be more inclusive than its predecessor, as far as casting and storylines. This is reflected in the decision to make Mel, one of the lead characters, gay, according to TVLine, while "all ethnicities" will reportedly being sought for all of the show's open roles. The inclusive casting decision appears to be part of Charmed's larger dedication of showcasing real-world diversity throughout the narrative of its forthcoming revamp, which sounds refreshing, to say the least.
Jessica O'Toole, Amy Rardin, and Jennie Snyder Urman (of Jane the Virgin) wrote an initial version of the show's script set to take place in the 1970s. However, that angle was ultimately scrapped in favor of the current plan. And who knows, a present-day setting could quite possibly leave the door open for guest appearances by Shannen Doherty, Alyssa Milano, Holly Marie Combs, and Rose McGowan. Although, some of the former cast members don't appear to be on board with the reboot idea.
Taking to Twitter to share her thoughts on the news about the revival's characters, Combs wrote:
"I have no words....... I mean I have a lot of words but at this juncture... sure...... yeah ......... We Wish Them Well .............."
Combs' use of the word "we" implies she's speaking for her former co-stars as well. Suffice to say, Charmed has become the latest reboot that has everybody talking — for better or for worse. But if the character descriptions are any indication, the show is trying to bring a fresh spin to the beloved series. Fans will just have to stay tuned and see how it all plays out.