There's A Christina Aguilera Cameo In 'Life Of The Party' & Yup, It Includes A Song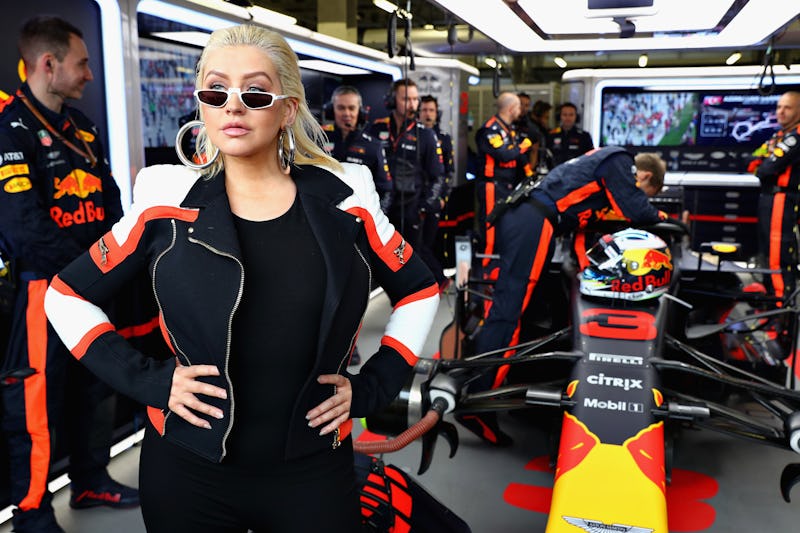 Mark Thompson/Getty Images Sport/Getty Images
Xtina is back. Although Christina Aguilera hasn't released an album since 2012's Lotus, and she's been keeping a relatively low profile since her last season of The Voice in 2016, that all ends now. Not only does the singer have a new single, "Accelerate," but she also appears in a new movie alongside Melissa McCarthy. And Christina Aguilera's cameo in Life of the Party proves that the superstar is ready to reclaim her spotlight. (It also explains why McCarthy showed up as a guest on Aguilera's "Carpool Karaoke" segment.)
In true Xtina fashion, the singer makes quite an entrance in Life of the Party, appearing in the last act of the film to save the day with her magical pipes. The movie follows Deanna (McCarthy), a middle-aged woman who goes back to college after her husband abruptly leaves her for a real estate agent, demands a divorce, and sells their home. With little money of her own and nowhere to go, Deanna enrolls at her old school to finish up her degree, and ends up crashing into her college senior daughter's social life in the process. Aguilera doesn't come in until the very end, when she swoops in to perform at a fundraising party put on by Deanna's daughter and her sorority sisters in an effort to raise the money for Deanna's tuition after her ex stops paying spousal support.
It's definitely a more glam version of Xtina than the one who just dropped "Accelerate." Clearly, the cameo was filmed a few years ago, as Aguilera has since ditched the colored hair and heavy make-up for a more natural look. But, as any fan will tell you, any Xtina is good Xtina. With her purple hair and glamorous attitude, the singer is as golden as ever, and she performs "Fighter" surrounded by Deanna and her new group of college friends — one of them even gets to sing a bit of the chorus with her.
Aguilera cultivates a reputation for being a diva in the industry, but according to director Ben Falcone, the singer keeps all her diva behavior on the stage. "Christina is a good actor. She came in and was so prepared and so ready," Falcone said in an interview with Collider. Of course, Aguilera has been performing professionally since she was a child, and got her start acting and performing on Disney's The Mickey Mouse Club, so her professionalism really shouldn't be too much of a surprise. In the interview, Falcone added that he made Aguilera's appearance a special event, even allowing his two daughters to come to set to watch her perform. "It was really late at night, but I woke up my girls and I had our wonderful nanny bring the girls to watch Christina do a little bit of her show. It was a whole family affair, where we're all singing and dancing and watching a pop icon perform in the woods in Atlanta."
Co-star Molly Gordon, who plays McCarthy's daughter in the film, added in a separate interview that she was nervous to act opposite the superstar. "All of those scenes, I was like peeing in my pants, I was so excited. And she was nothing but lovely. Just so lovely. So that was awesome," Gordon told TooFab of Aguilera.
Prior to the film's release, there were rumors that Aguilera would be premiering a brand new song on the Life of the Party soundtrack. Reports speculated that the song, supposedly titled "Feel So Good," could be heard in the trailers for the movie, and would be one of Aguilera's new songs. However, no such song is listed on the movie's official soundtrack, and when Aguilera released the track list for her new album, Liberation, "Feel So Good" was nowhere to be found.
New song or not, Christina Aguilera's cameo in Life of the Party is everything you want it to be and more. Xtina is back, and all is right with the world.