This 'Clueless' Fashion Trend Is Back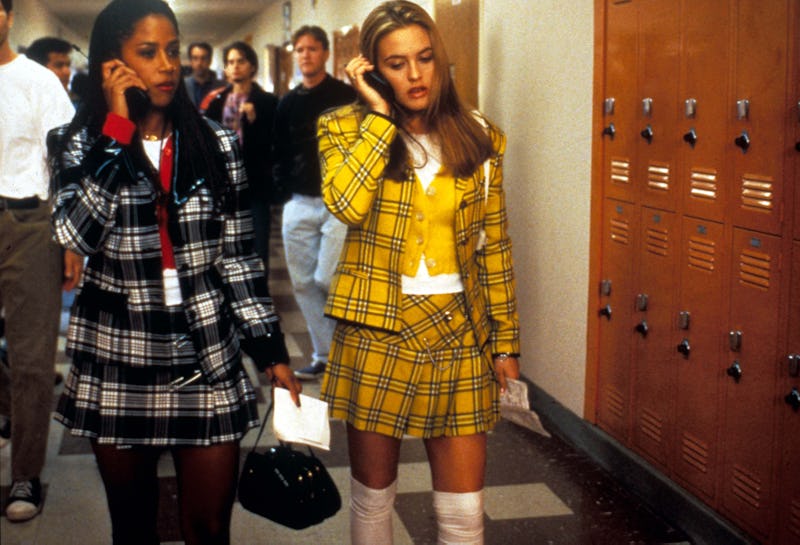 Moviestore Collection/Shutterstock
If you've been living under a rock for the past year, you might not have realised that '90s style is back in a big way. From bucket hats to dungarees, everything will remind you of your childhood. It seems as if the latest film to reference is none other than the 1995 classic that is Clueless. Thanks to high-end designers and those high street copycats, Clueless fashion trend are all over the place.
The film follows the lives of three high schoolers: Cher, Dionne, and Tai. Taking on the role of the school's prima donna, Cher (played by Alicia Silverstone) excited teenagers everywhere with her super computer that told her what to wear each day.
While secondary character Amber's OTT outfits are to be commended, the most memorable look has to be when Cher and Dionne (played by Stacey Dash) strut their stuff at the school entrance, wearing matching checked skirt suits. Dionne's monochromatic ensemble was easy enough to wear but every young girl lusted over Cher's brighter yellow look.
If you're anything like me, you may have already bought a copy of the iconic kilt in your younger years, garnering bewildered looks from everyone around you. But now, the upper echelons of the fashion world have decreed that yellow plaid is a bonafide trend.
The Autumn/Winter 2018 catwalks showcased a bunch of checked looks that went straight into the shopping basket of my dreams. Just like Cher, Donatella Versace sent out a full skirt suit that featured a multi-layered blue and yellow kilt-dress hybrid (I'm not really sure what to call it) and an oversized blazer.
American designer Michael Kors went down the covered-up route, pairing mustard yellow trousers with a red jacket that mixed checks and leopard print. The. Dream. Of course, there were lots of more muted options from other designers but the vibrant aesthetic is much more exciting.
Celebrities have been getting in on the act too. Last year, model slash actress Emily Ratajkowski stepped out in an orange checked crop top and bootcut trouser combo. And in December, the 27-year-old chose a strapless yellow jumpsuit in the style of Cher Horowitz. Fellow model Bella Hadid also loves a check every now and then.
The high street has listened to the calls for Clueless-inspired fashion and responded in the best way. Here's a few things to invest in pronto.
Note: If you do decide to purchase some of the above, people may think you're wearing Clueless fancy dress. Look to Cher's famous catchphrase for the ultimate response. (Hint: It's "as if!")