I Recreated All The Hairstyles From 'Clueless'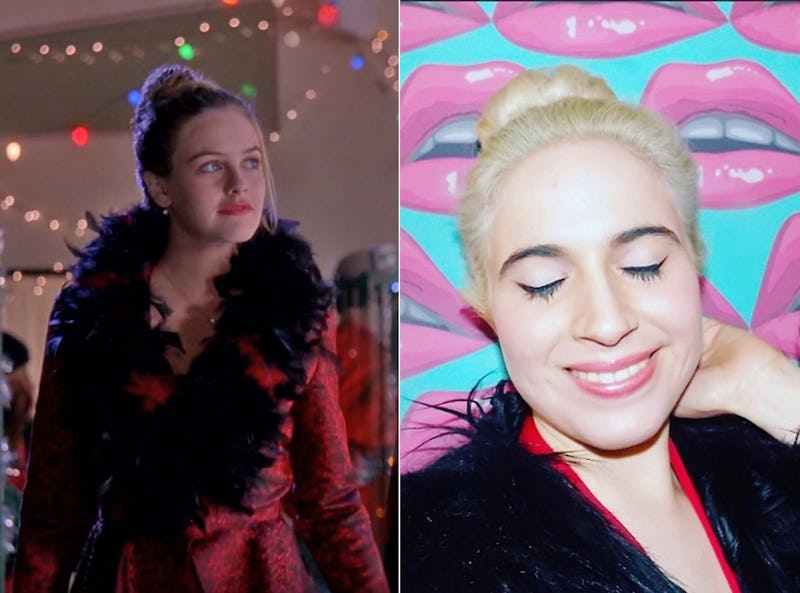 Even 21 years after it's release, I'll proudly admit I still have Clueless very much on brain. Maybe it's because being cool-girl Cher Horowitz has always been goals for me: My love for the teen queen stems back to '90s, when my sisters and I would play with our Clueless dolls (who else watched the television series religiously?) every single day. And while I idolized Cher's bubbly personality and killer wardrobe, what drew me most to the "ditz with a credit card" were her iconic beauty choices. She was a total Betty, right?
But while you'll probably see countless roundups of iconic Clueless fashion looks online, the fabulous beauty styles of the film are often overlooked. In particular, all the hairstyles in the film give me instant nostalgia anytime I come across a gif of Cher doing her signature hair flip.
Aiming to bring a new appreciation to film's tubular hairstyles, I grabbed my hairbrush, and recreated some awesome Cher, Dionne, Tai, and Amber hair looks. I figured wearing them IRL for an entire week would prove whether or not these '90s styles would still hold up in 2016. Wondering if I become a total Betty in the process? Read on to find out.
Day 1
If you haven't already guessed, Cher Horowitz is my absolute favorite Clueless character. Sure fellow blonde icons Elle Woods and Bridget Jones come close, but Cher was the original bubbly blonde, everyone (including me) desperately wanted to be.
Just like Cher, I was born in California. While I wasn't anywhere as popular as Cher back in school, I always imagined myself to be the prettiest girl in the Valley. Much like Phoebe, I decided to create Cher's classic windswept look on the first day of my epic Clueless hair journey. To do this, I simply straightened my hair, and tousled it back for that Valley Girl vibe Cher would definitely approve of. While the reactions to this look were pretty slim to none, my Clueless loving sisters definitely approved of it.
Day 2
Taking some inspiration from my babe Cher once again, I decided to recreate the infamous Alaïa look every Clueless fan remembers vividly. Now, Cher's Alaïa dress is definitely one of my favorite outfits in movie history, and I'm still on the hunt for a legit replica to this very day.
Creating this beauty look was surprisingly easy. Fashioning my hair into a ballerina bun took me less than 10 minutes to do. But even with short time to pull everything together, the reactions to it were pretty interesting.
Knowing that my simple bun wouldn't get too many comments on its own, I grabbed my best feathered coat and a red halter dress, and wore my Cher-inspired hair and garments out to dinner. Of course older people and children seemed to stare the most, but I won't deny the fancy feeling I got out of wearing the whole thing, even if I was overdressed. Somehow though, I think Cher herself would rather be overdressed than under-dressed, even when dining at a pizza joint filled with screaming toddlers.
Day 3
She may be a full on Monet, but Amber is probably the best-dressed character of the movie. Yes, her outfits may be over-the-top, but girl takes some serious fashion risks that definitely steal the show. Let's be honest, Amber should have been a Spice Girl; her outfits and over-the-top persona were totally perfect for it.
To capture Amber's tacky and wacky style, I decided to rock my best tiara and head out for a day at the mall. Reactions to my ensemble of faux fur, purple lips and crazy crown updo were pretty hilarious, as a handful of onlookers either pointed or stared for a good couple of minutes. One lady at Lord & Taylor asked if I was prom shopping. Eek.
As self-conscious as I felt when strutting around the food court, it was kind of thrilling to try something out of my comfort zone. I probably wouldn't wear a look like this again — I definitely felt like a washed out-punk rock princess — but it was fun for a day.
Day 4
Wanting to give Tai Frasier some love, I grabbed my curling iron and sought out to recreate the cute college party look she wore during the film. Of course my curls weren't as lively as Tai's, so to make up for my slightly-too-wavy coif, I was sure to find a blue ribbon just like hers.
As ridiculous as I felt wearing a bright blue ribbon in my hair, this look didn't get too many reactions when I wore it throughout the day. My twin sister and I agreed it looked more like Cinderella than anything, but that didn't really bother me, especially since she's my favorite Disney princess.
Day 5
Becoming Dionne for the day was kind of exciting, as Cher's sassy bestie was easily one of my favorite characters growing up. Dionne's hair is definitely cooler than mine, so instead, I payed homage with some stylin' hair accessories. Dionne wears some pretty darn cool hats in the film, so I grabbed an old Kentucky Derby hat and tried to be cool as any California girl could be.
That big white hat made me feel like I was channeling Dionne's confidence all day long. OK, nothing really tops my experience as Amber, but the questioning glances didn't even phase me at this point.
Day 6
Although Christian isn't coming over anytime soon, today's hair look was inspired by Cher's "date" with the Tony Curtis-loving dude. Like all Cher looks i've created so far, this look wasn't time consuming or challenging. I simply gathered a section of my hair, and pinned it back with a fancy feathered bobby pin. Yep, really hard huh?
Surprisingly, this look got a lot of compliments when I was out. When writing away at my local coffee shop for the day, people (mostly women) asked where I got my feathered pin. In addition, my barista told me that this style definitely brought out my face more, making me totally feel like I lived inside a Noxzema commercial, even if it was just for 15 minutes.
Day 7
And on the final day of my Clueless hairstyle experiment, I decided take yet another page out of the Cher beauty playbook, and rock a '90s-approved headband, all the girls in the film seem to wear effortlessly.
Fashioning an old velvet green headband onto my hair, this was an easy-peasy style that took under 10 minutes. But reactions to it at the dentist's office were sadly nonexistent, even if I was wearing a 20-year-old ( I have the school photos to prove it!) hair accessory. Perhaps it's because this is more of a classic look that won't ever go out of style? Whatever the case, I don't entirely mind, as it definitely beats the open-mouthed stares I got when I was channeling Amber
Conclusions
Since already I loved the fashions and unforgettable one-liners of Clueless, taking some time to appreciate the hair looks of the popular teen film was definitely a fun experience. Not only did I feel like a total Betty heading off to a Val party, but it was also amazingly nostalgic to appreciate all these '90s looks, we thought would never come back in style.
Would I wear some of these looks again? Girl, yes! Cher's looks (yes, I am biased) especially were a favorite of mine, and I would wear them time and time again. But I will draw the line at wearing white fur and a princess crown at the mall again. I swear security was keeping an eye on me the whole time.
Images: Courtney Leiva