Here Are The Clues That Justin Bieber's "Friends" Is Actually About Selena Gomez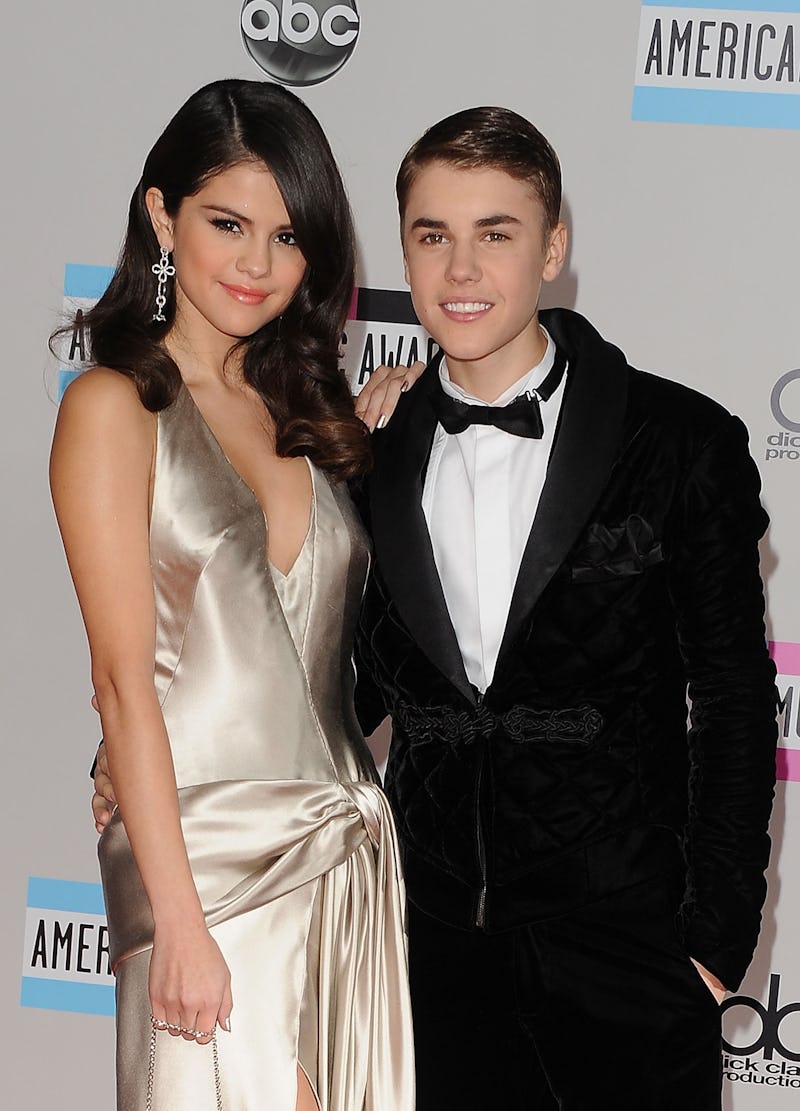 Jason Merritt/Getty Images Entertainment/Getty Images
No one would blame you for believing Justin Bieber's "Friends" is about Selena Gomez. After all, the track, produced by BloodPop, is all about trying to make nice with an ex, and, since his breakup with Gomez in 2014, that's all he's been doing. Bieber keeps things vague on his latest song, co-written by Justin Tranter and Julia Michaels (who just so happens to be friends with Gomez), never mentioning her name or any other girl's name for that matter. But it's worth taking a closer look at the lyrics for clues that "Friends" is actually about Gomez after all.
Let's start with the very first verse of this song, shall we?
"I was wonderin' 'bout your mama
Did she get that job she wanted?
Sold that car that gave her problems?
I'm just curious 'bout her, honest"
As Seventeen pointed out, Bieber has known Gomez's mom Mandy Teefey for as long as he's known Selena. It was actually Teefey, who was Gomez's manager at the time, and Bieber's manager Scooter Braun that set up a 2009 meeting between the two young pop stars. It was so the two could talk about working on a project together, but ultimately led to a three-year on and off relationship.
Honestly, playing the mom card is a great angle to getting back into a girl's life so points for Bieber for that.
But Bieber knows that, after all this time apart, it all seems a little weird that he's trying to come back around. "Girl, you wonderin' why I've been callin'?" he sings. "Like I've got ulterior motives."
The singer has never been shy when it comes to admitting that getting over Gomez wasn't easy, telling Access Hollywood in 2015 that "a lot" of Purpose was about Gomez, who he called his "first love." Days later, he told Us Weekly that Gomez will always be his "homie" and that the two still talked occasionally. "We don't talk every day. But every now and then, she hits my phone up," he said, adding, "I hit her phone up, too, I hit her phone up too! It's not just her... It goes both ways."
His description of their calls just sound like a chance to connect with an old friend. And that's all he swears he's looking for on this track, specifically asking, "Can we still be friends?"
So why is Bieber asking that question now if the two are on such good terms? Well, because the two got themselves into a bit of an Instagram feud that may have cut the cord on their blooming phone relationship. Bieber threatened to make his Instagram private last August after fans were going after his rumored girlfriend Sofia Richie. Gomez had some choice words for her ex, writing in the comments section: "If you can't handle the hate, then stop posting pictures of your girlfriend lol. It should be special between you two only. Don't be mad at your fans. They love you."
Bieber wasn't thrilled with that comment and responded with, "It's funny to see people that used me for attention and still try to point the finger this way. Sad. All love." Gomez would later apologize for her comments on her Snapchat writing, "What I said was selfish and pointless." And while she would later go on to compliment Bieber for his One Love Manchester concert, the damage may have been done. If Bieber's now looking to reconcile, what better way to do that then through song?
Of course, let's not pretend that this song is totally innocent. After all, Bieber does sing:
"Wonderin' if you got a body
To hold you tight since I left
Wonderin' if you think about me
Actually, don't answer that"
Gomez is currently dating The Weeknd, né Abel Tesfaye. But when TMZ asked him back in January if he listened to The Weeknd, Bieber said, "Hell no, that sh*t is whack." This may have resulted in The Weeknd putting his hot take of the Biebs on the NAV track "Some Way," because the Weekend sings, "I just took that chick, and I know you feelin' some way."
While it's fun to speculate just who Bieber's talking about on "Friends" by dissecting each and every line, this song could be about anyone. In fact, it could be about no one since it doesn't name names or give any concrete details that could ruin the mystique. And maybe that's part of the appeal.