The Coast Guard Refuses To Obey Trump's Transgender Military Ban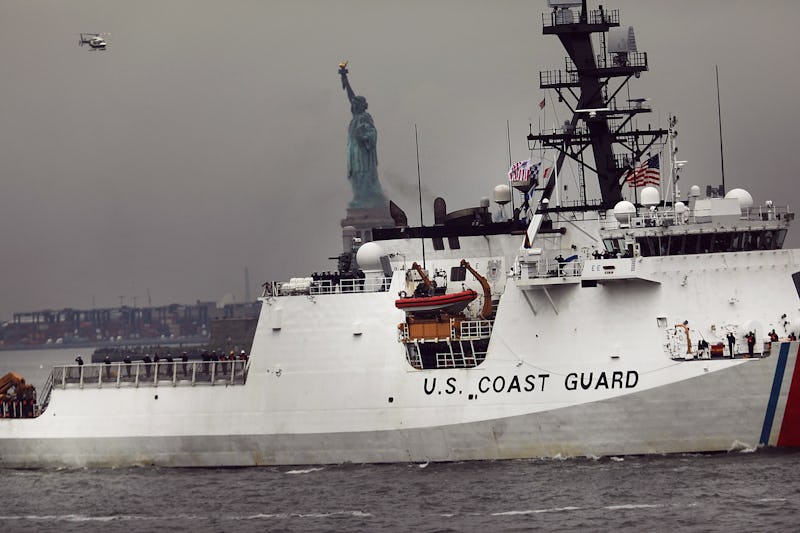 Spencer Platt/Getty Images News/Getty Images
Despite President Donald Trump's controversial Twitter announcement last week that his administration would bar transgender people from serving in the military, The Hill reports that U.S. Coast Guard officials will still support trans members, according to statements made by Commandant Adm. Paul Zukunft on Tuesday.
At a Center for Strategic and International Studies event in Washington Zukunft told attendees that, following the president's announcement, "the first thing [officials] did is we reached out to all 13 members of the Coast Guard who have come out" as transgender.
He also described a conversation with Lt. Taylor Miller, the Coast Guard's first officer openly transitioning, whose story was in a recent Washington Post article. Zukunft said that he the Coast Guard would show continue to show loyalty to her and her fellow transgender colleagues:
If you read that story, Taylor's family has disowned her. Her family is the United States Coast Guard. And I told Taylor, I will not turn my back. We have made an investment in you and you have made an investment in the Coast Guard and I will not break faith.
...And so that was the commitment to our people right now. Very small numbers, but all of them are doing meaningful Coast Guard work today.
Trump first announced his ban on Wednesday of last week, stating that transgender Americans wouldn't be allowed to serve in the U.S. military "in any capacity" in a series of tweets:
After consultation with my Generals and military experts, please be advised that the United States Government will not accept or allow Transgender individuals to serve in any capacity in the U.S. Military. Our military must be focused on decisive and overwhelming victory and cannot be burdened with the tremendous medical costs and disruption that transgender in the military would entail.
The Hill reports that Zukunft reached out to former-Homeland Security Secretary Gen. John Kelly — who was sworn in as White House chief of staff on Monday — about the announcement. Kelly then reached out to Defense Secretary Jim Mattis, who was reportedly caught off-guard by the tweets, alongside other service leaders and Joint Chiefs of Staff.
Zukunft's statements follow those from Marine Gen. Joe Dunford, who told fellow chiefs of military branches that they would continue to "treat all of [their] personnel with respect" despite the statements. As Dunford wrote in the internal communication provided to POLITICO last week:
I know there are questions about yesterday's announcement on the transgender policy by the President. There will be no modifications to the current policy until the President's direction has been received by the Secretary of Defense and the Secretary has issued implementation guidance.
While activists and allies of the transgender community remain troubled by the various implications of Trump's transgender military ban, an explicit show of support from military leaders is a notable first step to protecting trans people in service.