The Kim Kardashian Robbery Photos Are Upsetting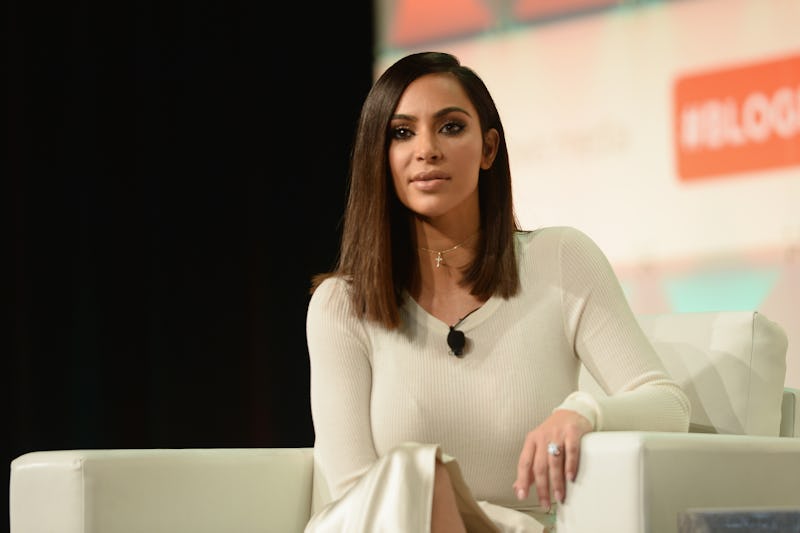 Matt Winkelmeyer/Getty Images Entertainment/Getty Images
Though Kim Kardashian was robbed at gun point back in October, news of the crime continues to come out as investigators piece together what happened that evening in Paris. Recently, crime scene photos from Kim Kardashian's Paris robbery were released to French news outlet LCI. Both individually and as a full gallery, the photos drive home the horror of what Kardashian must have endured, alone in that hotel room, terrified for her life. (Kardashian's rep had no comment on the release of the photos.)
The eerie collection of photos are marked with evidence tags, and the pictures include a photo of Kardashian's mussed bed at the Paris hotel where the incident took place, the bathroom where she was imprisoned, the roll of tape that was used to bind her hands, and what TMZ claims could be the gag that the thieves used to keep Kardashian quiet while they ransacked her room. There are also surveillance photos of some of the alleged suspects, 17 of whom have been arrested, although not all of them have been charged.
Looking at these series of images, I'm in head-to-toe goosebumps. For some reason, seeing something as simple as the roll of tape immediately makes me think what it must have been like to be in that room that night, to have your personal space invaded, your safety threatened, and your possessions rifled through. The theft itself was obviously a big deal, just because of the price tags attached to the items that were stolen, but I don't think I really understood until now the emotional toll that the experience must have taken on Kardashian.
Looking at these photos, it's no wonder to me that she stayed off of social media for as long as she did and that she's become so much more protective of her privacy. While I'm embarrassed that it took something as physical as crime scene photos to drive that home for me, I'm all the more glad that she made it out of the situation safely — because it all had to be unbelievably terrifying.