Kim Kardashian Robbery Suspects Have Been Arrested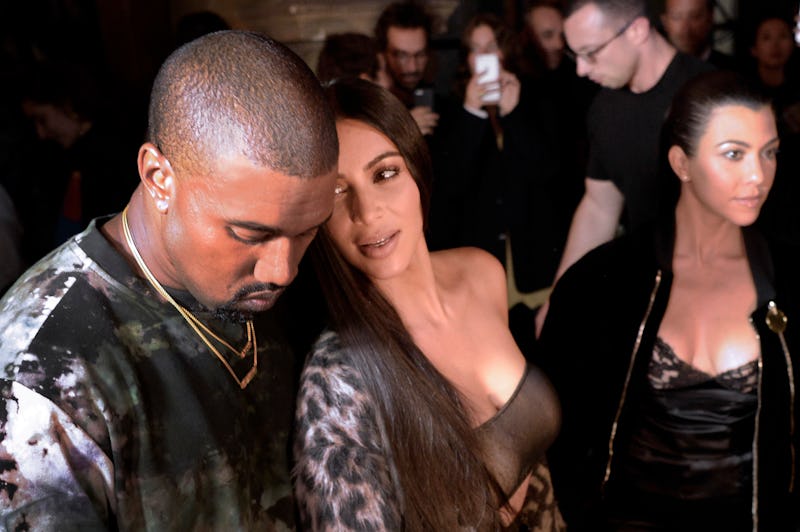 ALAIN JOCARD/AFP/Getty Images
After months out of the spotlight, it now appears that French police might be closing in on the people behind the Kim Kardashian robbery last fall. According to Europe 1 Radio, several suspects in the Kim Kardashian robbery case were arrested in France due to a possible connection to the highly-publicized theft of more than $9 million worth of jewelry from the reality TV star in Paris last October. At least 15 people were reportedly arrested and taken into custody on Jan. 8, and some remained in police custody for questioning. Update: CNN reported Monday morning that 17 people had been arrested in connection to the robbery. A spokesperson confirmed that people had been detained.
News of the arrests came just a few days after Kardashian's first time speaking publicly about her robbery in a teaser clip for the upcoming season of Keeping Up With the Kardashians. In the clip, Kardashian regales her sisters with the story of her robbery, claiming that she thought the robbers were going to shoot her in the back. Kardashian also returned to social media in the week leading up to the arrests following a long period out of the limelight.
While little news about the arrests have been released to the public, French police have revealed, along with the number of suspects arrested in relation to the case, that they tracked the suspects with DNA evidence found at the scene of the crime.
Early last October, news of Kardashian's stunning gunpoint robbery rocked social media — so much so that just a few days after the incident, a news report falsely and cruelly claiming that the reality TV mogul somehow faked her robbery was released. Speculation about the robbery reached a fever pitch less than a week after the incident. And later that month, Kardashian's lawyer set the record straight by offering a sobering update in the case, causing the inconsiderate jokes and claims of falsity to mostly die down.
In the months following her robbery, Kardashian was peculiarly out of the spotlight, especially following her husband Kanye West's hospitalization. When she did appear in public, many noted that TV tycoon seemed subdued and speculated that she might be traumatized by the horrific event.
Given all that the Kardashian-West family has gone through since October, news of the arrests of these suspects is certainly welcome. There's no doubt that Kardashian and her fans are hoping her robbers are brought to justice.