Claire Foy Could Be The New Lisbeth Salander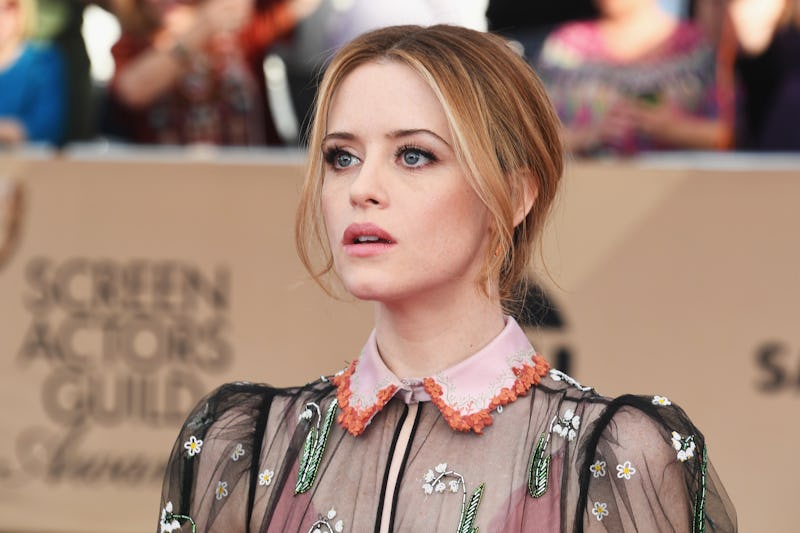 Alberto E. Rodriguez/Getty Images Entertainment/Getty Images
Can you think of two characters more diametrically opposed than Queen Elizabeth II and Swedish hacker Lisbeth Salander? Well, go ahead and try to reconcile those two images in your head, since apparently The Crown star Claire Foy is in talks to play Lisbeth Salander in Sony's upcoming adaptation of The Girl In The Spider's Web, according to The Hollywood Reporter.
Per THR's report, Foy was one of Sony's final two choices for the role of Lisbeth, the other being Rogue One star and Oscar nominee Felicity Jones. The studio has extended an official offer to Foy, who recently won a Screen Actors Guild Award for her portrayal of the British monarch — and is widely considered a frontrunner to repeat her victory at the Emmys later this year. THR reports that, at this point, an official announcement is contingent only on scheduling.
Dammit, Sony — leave it to them to find the one way to keep me interested in this franchise even after they announced that Rooney Mara wouldn't be back to reprise her role as the antisocial computer whiz, which earned her an Oscar nomination for Best Actress in David Fincher's 2011 adaptation of Stieg Larsson's The Girl With The Dragon Tattoo. Many fans of that critically acclaimed film were bummed when it was announced that the studio would be proceeding ahead with a sequel without the involvement of Fincher, Mara, or her co-star Daniel Craig; but I'm betting this news will have made many a filmgoer pause and reconsider their stance on Spider's Web. (The 2015 novel was written by David Lagercrantz, who continued the series after Larsson's death in 2004.)
As much as Elizabeth and Lisbeth may appear to be polar opposites at first glance, Foy's award-winning performance on the Netflix political drama should have prepared the actor well for tackling the role of Larsson's thorny hero. The two women could not belong to more disparate social castes… but they actually have more in common than one might perhaps think.
First of all, both the queen and the hacker are consummate outsiders. Lisbeth brands herself an outcast in order to keep the world — and anyone or anything that has the potential to hurt her — at arm's length. And as much as the crown that Elizabeth wears is meant as an honor, it also marks her as something more than human: as royalty. At their core, both characters share an unshakable loneliness brought on by their designation as an "other."
Secondly, both Lisbeth and Elizabeth share a similar reserved personality. While those unfamiliar with them may identify them as aloof or cold, both of their icy demeanors mask a complicated inner life roiling with conflict. While Lisbeth carries the scars of past abuse with her in every interaction she has in the present, Elizabeth is forced to alienate herself from those closest to her — her husband, her sister — in her efforts to fulfill her duties as queen.
Furthermore, both characters are women who manage to make their way in a man's world that is designed to work against them at every turn. Female monarchs aren't unheard of in Britain's history, but in The Crown, Elizabeth is still treated with disdain by the male politicians around her, and constantly embattled by her insecure spouse. Lisbeth's story is filled with men who victimize women: taking advantage of them, assaulting them, murdering them, and more. (Remember, the original Swedish title of Larsson's first novel literally translates to: Men Who Hate Women.)
Finally, neither Elizabeth nor Lisbeth is remotely considered with being likable. They don't coast by in life on charm or guile; they use their fierce intelligence and gritty determination — and sometimes sheer force of will alone — to make it in a world where the odds are never in their favor. Sometimes their prickly demeanors and questionable actions make them hard to "like" in the traditional usage of the word… but it's also what makes them so relatable and so easy to root for.
It will be exciting to see Foy step into the role of Lisbeth — assuming her busy schedule allows for it — and fully immerse herself in yet another challenging character. For all their similarities, Lisbeth and Elizabeth are still very different parts… and it will be exciting to see what Foy can do when she sinks her teeth into the role of the iconic hacker.