A Federal Judge Set A Date For When The Military Must Accept Openly Trans Members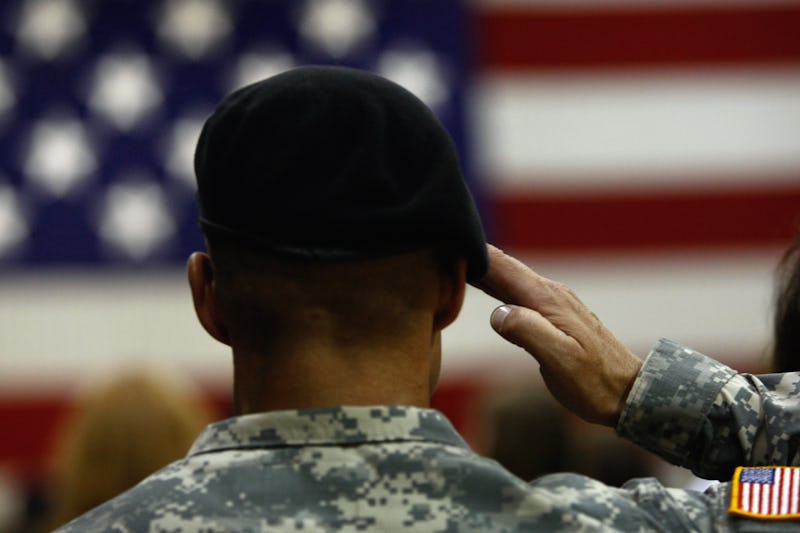 John Moore/Getty Images News/Getty Images
A federal judge ruled Monday that the U.S. Department of Defense may not delay Obama-era legislation that will allow openly transgender people to begin enrolling in the military on January 1. Judge Colleen Kollar-Kotelly issued the order after Secretary of Defense James Mattis requested clarification about her previous ruling that blocked President Trump's decision to ban transgender troops from serving.
That Oct. 30 order from Kollar-Kotelly, in which she declared that "the decision to exclude transgender individuals was not driven by genuine concerns regarding military efficacy," was the ban's first major roadblock. However, she seemed to leave in place Mattis' six-month delay on allowing openly transgender people to enlist.
In June 2016, the Obama administration reversed a long-standing policy prohibiting transgender people from working in the military, but its DTM 16-005 memorandum was not immediate: It gave instant protection to those who were already serving, but established Jan. 1, 2018 as the date that new recruits could begin to enroll.
The Trump administration attempted to justify a six-month delay on the new enlistment policy by arguing that the military needed more time to review the changes. In its request for clarification on Kollar-Kotelly's ruling, the White House asked whether she had, in fact, meant to prevent Mattis from delaying the Obama-era memorandum and "exercising ... his independent authority to study whether the DTM 16-005 will impact military readiness and lethality."
As it turns out, that's exactly what Kollar-Kotelly intended.
"The Court explained that the effect of its Order was to revert to the status quo with regard to accession and retention that existed before the issuance of the Presidential Memorandum [by President Trump] — that is, the retention and accession policies established in the June 30, 2016 Directive-type Memorandum," reads Kollar-Kotelly's order. "Those policies allowed for the accession of transgender individuals into the military beginning on January 1, 2018."
She emphasizes that Mattis is legally obligated to follow the court's decree, ending with this underlined sentence: "Any action by any of the Defendants that changes this status quo is preliminarily enjoined."
The Defense Department had begun pursuing an anti-trans agenda even before Trump tweeted on July 26 that he would stop transgender people from serving. Mattis had ordered the delay of DTM 16-005 on June 30, asking the military to re-review the policy and provide him with its updated findings by Dec. 1.
"I have emphasized that the Department of Defense must measure each policy decision against one critical standard," Mattis said at the time, "How will the decision affect the ability of America's military to defend the nation? It is against this standard that I provide the following guidance on the way forward in accessing transgender individuals into the military Services."
While there is no concrete data on exactly how many transgender troops are already serving in the military — until 2016, transgender service members were at risk of being kicked out if they disclosed their identities — the number is almost certainly in the thousands. A 2014 UCLA Law report estimated 15,500 troops; a 2016 RAND Corp. study estimated between 2,150 and 10,790.
Kollar-Kotelly's ruling is only the latest obstruction faced by Trump's transgender troops ban this week. A second federal court blocked his decision on Tuesday, writing, "It might be fairly said to shock the contemporary conscience."
These rulings don't necessarily mean the end of the ban. The Trump administration has appealed Kollar-Kotelly's original order, which means that a higher court may still reverse it. So far, though, Trump's decision has received scant legal or public support. A recent Reuters poll showed that a majority of Americans support transgender people serving in the military.