The Creator Of "The Death And Life Of Marsha P. Johnson" Is Getting Called Out For Allegedly Plagiarizing The Work Of A Trans Woman Of Color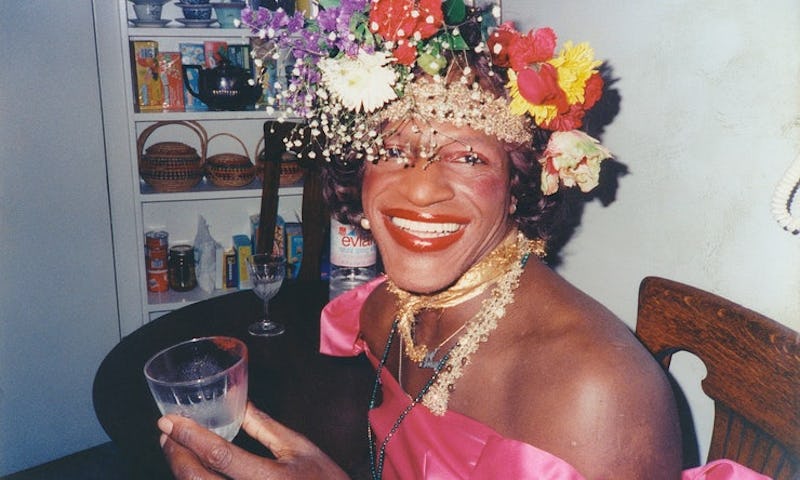 Netflix
On Oct. 6, The Death and Life of Marsha P. Johnson debuted on Netflix, chronicling the beloved activist's suspicious death in 1992, and her storied history of transgender advocacy throughout her life. On that same day, trans filmmaker Reina Gossett posted on her Instagram, alleging the film's director, David France, had capitalized on her decade-plus of archival work about Johnson for his documentary.
UPDATE: On Oct. 11, Kamran Shahraray, who worked on the film as an archival assistant from June to August 2016, released a statement with further allegations about the uncredited use of Gossett's materials. In the statement, which is posted publicly, Shahraray alleges, "Reina's account confirms many suspicions that had come up for me whilst going through the archival footage and research."
On Oct. 12, David France denied all allegations against him in an email to Bustle. "I stand accused of stealing a plan and not an idea, which of course didn't happen," he wrote. Bustle also reached out to Netflix, who declined to comment.
Earlier: In her post, Gossett alleged that while France was visiting the Arcus Center for Social Justice Leadership, he saw a grant application video she and her filmmaking partner Sasha Wortzel had submitted, and "told the people who work there [...] that he should be the one to do this film," per Gossett's Instagram.
France's film is admittedly engrossing from the start, but it's difficult, as a trans viewer, to watch archived footage of Johnson and not feel the shadow of Gossett's accusation that France, a white, cisgender gay man, is profiting off her uncredited research, and, according to Gossett, received a grant to aid him in the process.
After trans activist Janet Mock tweeted about Gossett's allegations, France responded on Twitter, saying his research about Johnson began in 1992, when he was a reporter for The Village Voice. "For years, on my projects wall, I have kept an index card with her initials: MPJ," he said in his tweet.
He claimed he returned to her story in 2012, and was inspired by others' work, but didn't learn of Gossett's film, Happy Birthday, Marsha!, until late in his process of making the film. According to France, he reached out to Gossett at that time because "worried we were duplicating efforts." As for the question of the grant Gossett said he received and his profit off what Gossett called his "multimillion-dollar Netflix deal," France claimed raising funds for the film was difficult, and that the production wrapped in debt.
But the question of whether or not France saw money from the film feels less pressing than the question of whether or not he allegedly took a trans woman of color's work and, as Gossett alleged in her Instagram post, that he actively interfered with their production of Happy Birthday, Marsha!
Gossett released an expanded statement on Oct. 11, speaking exclusively to them and Teen Vogue about her perspective on what exactly happened with France. "[F]or over a decade I dove into living rooms and libraries looking for whatever I could find [about Johnson], frequently facing down anti-black transphobic violence just to get in an archive's door," she explained. "But the work was feeding me so I kept going."
She said she joined with Wortzel to co-direct a film about Johnson and fellow trans woman activist Sylvia Rivera. To prep for production, "We did a ton of archival research, interviewing, and collecting oral histories," she said. "I felt like we were on a critical path that Marsha had laid out for us, like I was living my purpose by sharing her story with the world."
Gossett told them and Teen Vogue that once she and Wortzel realized France was planning to make The Death and Life of Marsha P. Johnson, they switched tacks and decided to make a short narrative film instead of a documentary, as they felt their lower budget and fewer resources would be a challenge. That short film, Happy Birthday, Marsha!, is in post-production and will premiere in 2018.
"But as France's documentary starts to make its way to large audiences, I can't stop thinking about the voices that have been pushed aside in the process," Gossett said. "Too often, people with resources who already have a platform become the ones to tell the stories of those at the margins rather than the people who themselves belong to these communities."
She added, "Every day a new piece comes out about transness that is written and published by cisgender folk with industry resources. Every day our stories and our images are misused, sanitized, and extracted from for the gain of others."
Gossett closed her statement by saying, "I truly believe this moment invites all of us not just to think about what we want to see represented on screen, but also how we want those images to be made and stories documented in the first place."
Her point is undeniable. While The Death and Life of Marsha P. Johnson feels lovingly and empathetically made, with true respect paid to its powerhouse subject, it's impossible to deny that trans people every day have their stories co-opted and corrupted by cisgender storytellers. From horrific messes like The Assignment to irresponsible documentaries like Transgender Kids: Who Knows Best?, cis-made productions, even well-meaning ones, often serve to reinforce our otherness.
And that's only what we see on screen. We will never know how much of what Gossett alleges happened to her has happened to other trans filmmakers. We will never know how many transgender creators have been barred from telling our own stories. All we can know for sure is that creative industries must do better. We must do better, all of us, when it comes to prioritizing trans stories as told by trans people.
Editor's note: The language of this story has been updated to remove the word "plagiarism" from the headline and to more accurately reflect the nature of the allegations against France.